What Are Stock Screeners?
Stock screeners are a type of search tool that allows investors to use a set of parameters and variables to stocks and find unique investment opportunities. Stock screeners usually work as a subscription-based service or as an add-on on some online brokerages.
The best stock screeners support all the most significant asset classes and offer highly customizable filters and triggers. Stock screeners are a must-have for intermediate and experienced investors who want a more direct approach to finding trading opportunities that fit their long-term goals.
The right stock screener will save you a lot of short-term time and help you reach your goals in the long run. In this summary, we have reviewed some of the best options – for a more detailed side-by-side comparison, we recommend checking out our full list of the best stock screeners.
1. TrendSpider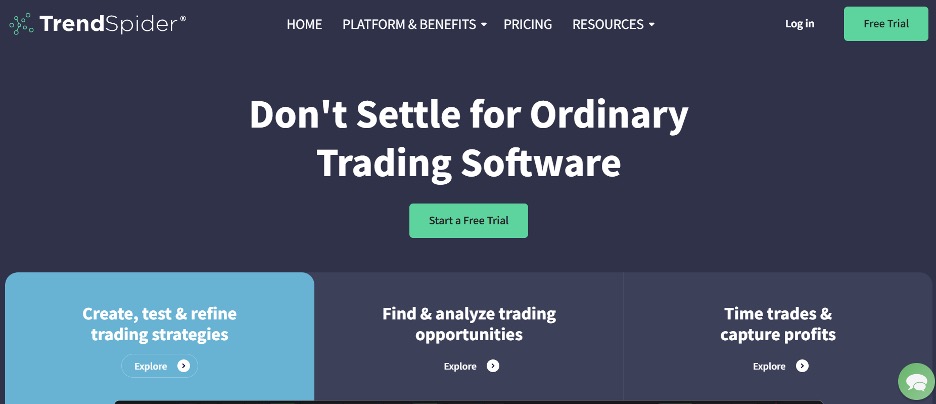 Headquartered in Chicago, TrendSpider is an automated technical analysis research tool and one of the most advanced platforms in the market. TrendSpider tracks more than 55,000+ assets across all major markets – stocks, ETFs, futures, crypto, and more –and sources data from the major stock exchanges and data aggregators worldwide.
With TrendSpider, you can set up automatic trendline & pattern recognition and smart watchlists and choose from 190+ indicators to narrow down unique investing opportunities. Additionally, you can access a backtesting environment with 50+ years of real market data to test and optimize your strategies.
TrendSpider is the platform for you if you want to automate repetitive tasks and simplify your overall research process. TrendSpider is available on Android and iOS, and it's our top recommendation for experienced investors.
Pros
Supports stocks & ETFs markets, futures, crypto, and more
Track 55,000+ different assets
190+ indicators and triggers
Advanced charting tools
Backtesting environment available on all subscriptions
Dynamic price alerts
7-day free trial
Available on Android and iOS
Cons
TrendSpider doesn't function as a broker
Investing experience is highly recommended
Only supports US-based stocks
Pricing
Essential Subscription: $14.25/month (or $153/year)
Elite Subscription: $39.50/month (or $390/year)
Elite Plus Subscription: $89.50/month (or $810/year)
2. Trade Ideas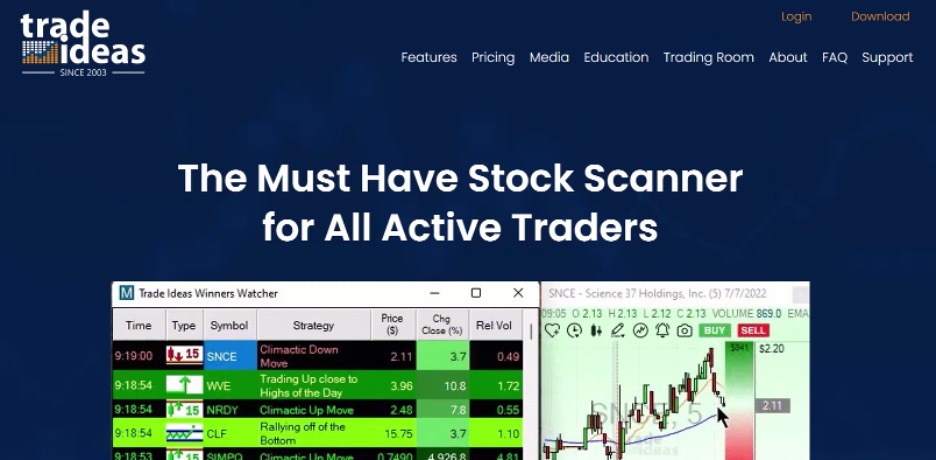 Trade Ideas is a robo-advisor and stock research platform with 20 years of experience in the market. Founded in 2003 by a team of fintech professionals. Trade Ideas is a unique stock screener in that it's powered by an A.I. software that runs thousands of algorithms every second.
The Trade Ideas A. I trading software, also known as Holly, can be customized to deliver real-time alerts and actionable recommendations based on hundreds of parameters and triggers. You can use any of the 60+ pre-made strategies Holly supports – including The 5 Day Bounce, Breakout, and Bullish Pullback –or create your own using dozens of triggers.
Alternatively, you can choose one of the three risk profiles available and get actionable recommendations that fit your long-term strategy. Trade Ideas is an excellent choice for beginners.
Pros
No commissions
Excellent for beginners looking for actionable recommendations
Powered by an advanced A.I.
Backtesting environment (Oddsmaker)
Filter investments by volume, type, timeframes, and more
Dedicated training & educational resources
Synchronize with your Interactive Brokers account
Cons
No free trial is available at this time
Subscriptions can be expensive
Pricing
Standard: $118/month (or $999/year)
Premium: $228/month (or $1,999/year)
TI Swing Picks: $17/month
3. TradingView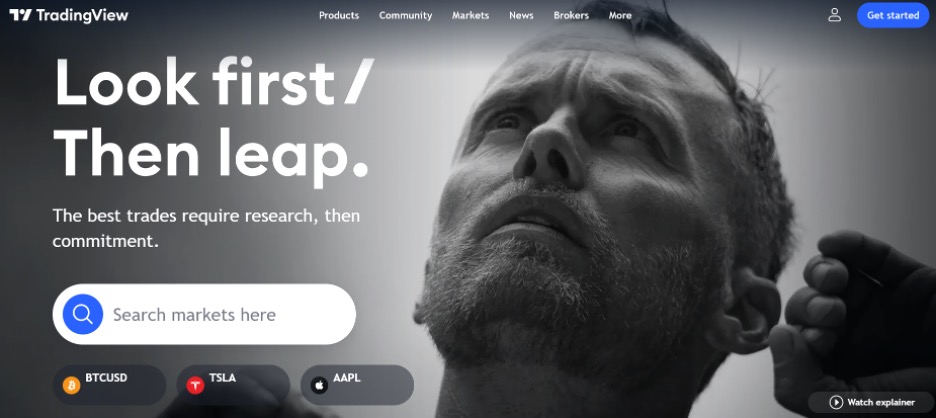 TradingView is one of the most established charting and stock screening platforms, with over 50 million users worldwide. TradingView was launched in 2011, and it has one of the most affordable subscriptions. You can choose from three subscriptions with fees ranging from $14.95 to $59.95/month, considerably lower than the industry average.
One of our favorite features of TradingView is how easy you can synchronize it with your favorite broker, track your investments, and even place orders – without leaving the TradingView dashboard. Currently, TradingView is compatible with 45 of the largest brokerages worldwide.
TradingView is available on desktop, as a web app, and on mobile devices. It offers 100+ pre-built market indicators – including volume and pattern recognition indicators –and dozens of smart drawing & charting tools.
Pros
Compatible with 45+ online brokerages
Test your strategies in a Paper Trading environment
100+ expertly built indicators
Excellent charting tools
Affordable subscriptions
Customizable charts
Tracks stocks, forex, and cryptocurrencies
30-day trial on all subscriptions
Cons
A limited number of compatible brokerages
Customer support reps aren't always helpful
Pricing
Pro Account: $14.95/month (or $155/year)
Pro+ Account: $29.95 (or $299/year)
Premium Account: $59.95 (or $599/year)
4. Benzinga Pro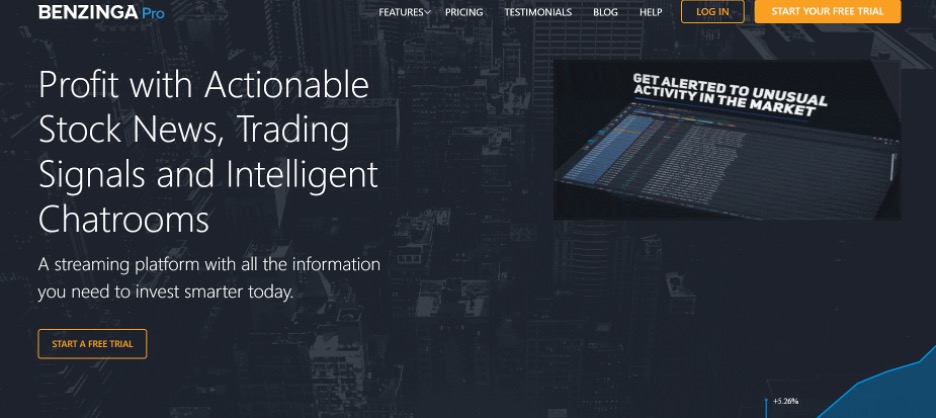 Launched in 2010 by Jason Raznick, Benzinga is a Chicago-based financial news and analysis service provider. Benzinga offers real-time news and data feeds, and you can sort all the information by technicals such as volume, price, float, source, watchlists, and more.
With Benzinga Pro, you can choose from four subscriptions – including a completely free plan. As a Benzinga Pro premium subscriber, you can access advanced features like watchlist alerts, real-time scanners & sentiment indicators, and Audio Squawk. This proprietary audio stream alerts you to key market changes in real time.
Additionally, you can opt-in for add-ons like the Unusual Options Activity – ideal for professional traders looking for an edge –and various newsletters, including the Enhanced Options Trading and the Options Tradings Newsletter.
Pros
Daily trade picks directly from professional day traders
Advanced stock scanners and alerts
Available on Android and iOS devices
Sentiment indicators
Customizable filters and exclusive news
Live streams of audio data
14-day free trial
Cons
Only supports stocks and options
Limited free account
Pricing
Free Account: Free
Basic Account: $27/month
Essential Account: $197/month (or $1,997/year)
Options Mentorship Account: $457/month (or $4,572/year)
Conclusion
Stock screeners can be one of the key aspects of a successful investing strategy. Alongside the best investment newsletters and the most profitable stock research websites, stock screeners are the best options for aspiring and intermediate investors looking to find their investments and get ahead of the curve. We recommend stock screeners for virtually all types of investors, regardless of your experience level of long-term goals.
FAQs
What's The Best Free Stock Screener?
Benzinga Pro is the best free stock screener on our list. As a free user, you can access two newsfeeds: Nasdaq basic quotes and the BZ Wire Newsfeed. Additionally, you'll have limited access to watchlists, daily movers, and Stock Stats.
Are Stock Screeners Worth It?
Yes – stock screeners are not just worth it but a must for any serious trader and investor. Stock screeners are the best way to filter investment options and narrow down specific ideas, strategies, industries, and market performance. The right stock screener can prove to be the most profitable investment you will ever make.
What Should I Look For In Stock Screeners?
The best stock screeners have a database of companies, a set of parameters or variables, and a screening engine. The first thing you should look for in stock screeners is the number of companies they track, how often they update their data, the number of filters and customization available, and how easy it's to use. Another important aspects are alerts; one thing is finding the right investment, and another is finding the best entry point. Alerts and customizable triggers can be key.