With so much going on on the internet, it's super easy for any message to get lost in the noise. Every brand is vying for attention, showcasing their glowing five-star reviews, and parading happy testimonials. And while you're making your attempt at it, diving into the realm of social proof, there's a persistent voice that troubles you: "Is this the best my brand can do?"
Let us tell you that you're not alone in seeking more. Everyone loves a success story, especially if it's their own. You're doing great already, but why settle for just "great" when "outstanding" is within reach?
You want your brand to be the one that stands out, to be the story that gets shared in your niche domain. To achieve that, you'll need to level up. Just touching upon the basics won't do – you'll want to start using smarter, tech-savvy strategies.
So, if you're up for the challenge, if you're eager to transform your brand's digital footprint and make it truly memorable, you're in the right place. Here, we'll thoroughly explore six tactics that'll revolutionize your brand's social proof game.
Create and Nurture an Online Community
Let's step up from just collecting reviews or testimonials. Imagine a thriving ecosystem where your customers don't just use your product but rally around it, championing it, discussing its nuances, sharing their experiences, and helping out newcomers. That's the magic of an online community.
Instead of having isolated interactions with each customer, you can create a buzzing hub where they interact with each other, all under the umbrella of your brand. This will help you turn customers into community members and passive users into brand advocates.
Take Aura, for instance. While they offer automated Amazon repricing software, they don't just stop at selling a product. They fostered a space – their "Amazon FBA Wholesale" Facebook group – where users can engage with each other.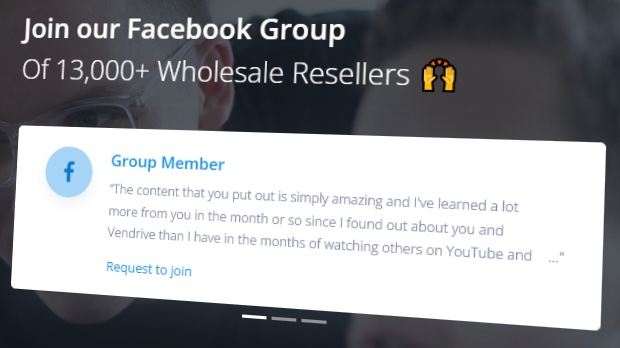 In this community, customers aren't left to navigate the intricate world of Amazon repricing alone. Instead, they're empowered by peers who share insights, tips, and tricks. And the result is a collective learning experience where Aura is more than a tool but a part of their users' success stories.
But you don't have to be a niche brand to tap into this magic. Look at Spotify, a behemoth in the music streaming world. They've dedicated an entire forum-like space where the Spotify community can thrive freely. This place isn't just about playing songs but about discovery and shared experiences.
There, users talk about their favorite tunes, spotlight new artists, and curate playlists for the community. By doing this, Spotify ensures not only to always remain as the platform in the background but to take center stage where these music conversations play out.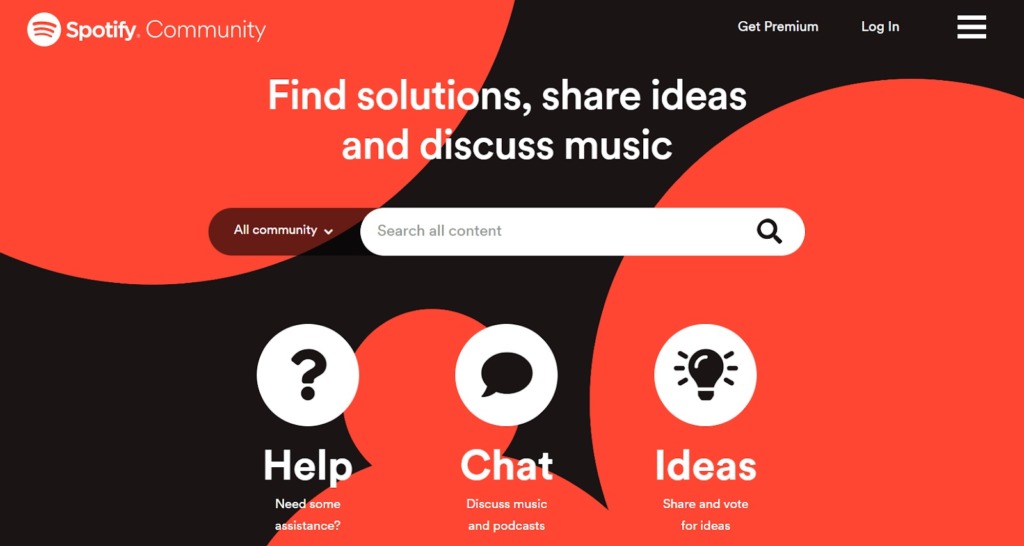 Tell Detailed Customer Stories
While the saying goes, "seeing is believing," in the world of brand enhancement, it's more honest to say "seeing sells." A simple review might say, "This product is amazing!" – but how did it make a difference? What journey did it catalyze? The trick to elevating your brand's social proof lies in delving deep into these transformative experiences.
So, don't just tell your audience that your brand works. Show them exactly how it's changing lives and businesses. It's storytelling but with a dash of tech and a sprinkle of authenticity.
Let's explore some examples:
Case Studies
We'll take a peek into the world of SellerPlex, an Amazon sales and management consultancy.
Instead of just offering testimonials, they've carved out a dedicated space on their website for in-depth case studies. Each study unfolds a story, walking potential customers through the challenges faced by existing users, the solutions provided by SellerPlex, and the triumphant outcomes.
This isn't just about showcasing success. It's also about painting a full picture of transformation that can establish you as a trusted brand right from the get-go.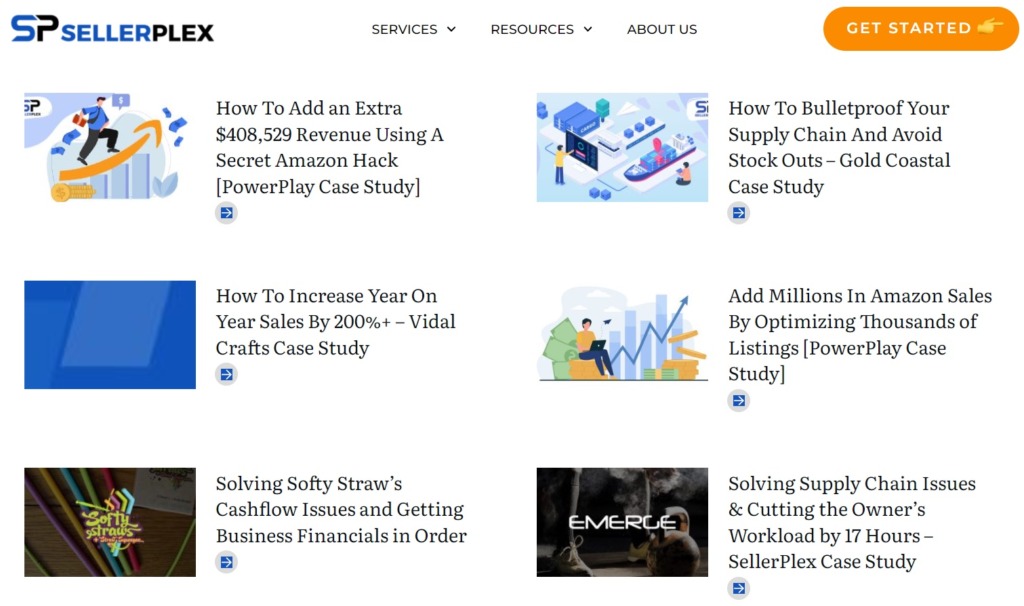 Testimonial Video Interviews
FreshBooks is a leading brand in the invoicing and accounting software niche. Let's step into the digital shoes of their users by heading to their YouTube channel.
There, you'll find a plethora of videos with customers candidly sharing their experiences. They not only praise the software but narrate entire tales of how FreshBooks made their business lives hassle-free.
Watching a real person detail how they could shift their focus from the nitty-gritty of accounting to the heart of their business? That's a narrative potential users can connect with.
Landscapers Marc & Darryl Broke Even in 3 Months Using FreshBooks
Social Media UGC
In the world of luxury hospitality, we found a tech-forward champion in Loews Hotels. Instead of merely showcasing their own snaps of plush suites, they've brought the guest experience front and center on their website.
How? Through a UGC (User Generated Content) section displaying real moments shared by guests across platforms like Instagram and Facebook.
By doing this, Loews isn't just promoting their services. They're letting potential guests see the hotel experience through the eyes of peers. This ingenious move fosters trust, as nothing screams authenticity louder than genuine customer experiences.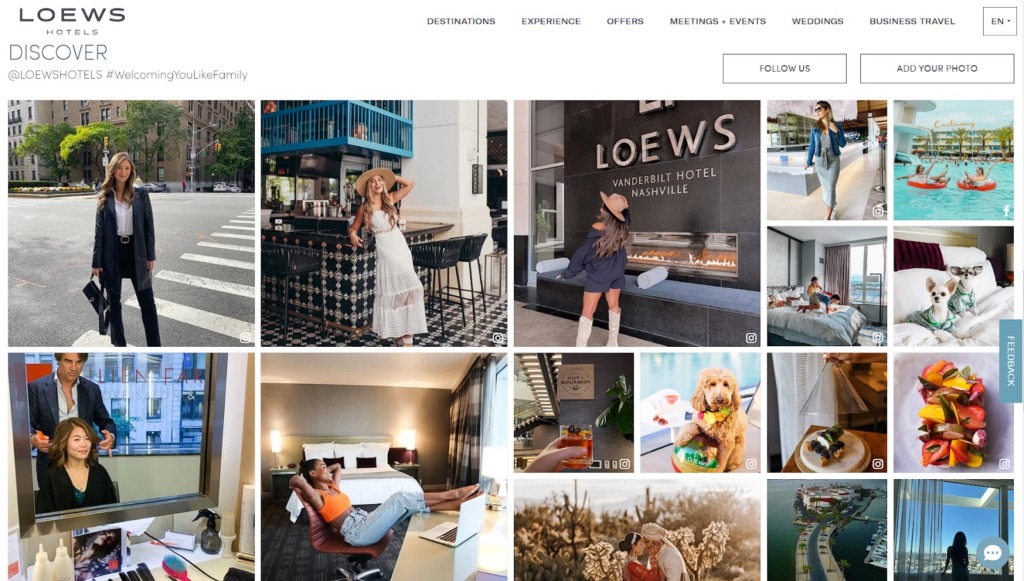 Repost Social Media Mentions
Elevating your brand's social proof can't be just about speaking. It should also be about listening and valuing the conversations happening around you.
Enter the realm of social listening and reposting – a modern tactic to not only monitor brand mentions but to use them to foster credibility and enhance visibility.
The beauty of reposting social media mentions lies in its authenticity. It's basically organic endorsement. When potential customers see real people talking about your brand, unprovoked by sponsorships or ads, trust naturally follows. Reposting these mentions is akin to a digital stamp of approval from the public.
Try following these best practices when reposting on social media:
Stay active.
Constantly monitor mentions and ensure that you're not just looking for praise. Engage with all kinds of feedback.
Seek permission.
Before reposting user content, always ask for their permission. It's not only courteous but also builds rapport.
Engage thoughtfully.
Don't just repost. Add a comment or a thank-you note. Make it personal, and let your brand's personality shine through.
There's a multitude of different tools that brands have at their disposal for effective social listening and reposting. Platforms like Brandwatch, Hootsuite, and Mention offer comprehensive monitoring, allowing them to track real-time mentions across multiple social media channels.
A classic example of this tactic in use is Liquid Death, a brand selling canned water and iced tea. Scan their Instagram, and you'll often spot reposts of customers experiencing their products and engaging with them in entertaining ways.
A user might share how they prepare their favorite mocktail using Liquid Death, and the company amplifies that moment, resharing the image/video with a note of gratitude or a witty comment. This does two things: it validates the authenticity of their products and deepens trust by showing the real, unfiltered experiences of their customers.
Include UGC in Customer Reviews
Let's get real: text-only reviews? They're everywhere. And while they can be helpful, there's a growing yearning for something more genuine, more tangible. It's time for reviews to get the upgrade they deserve – User Generated Content (UGC) integrated right into those customer testimonials.
Imagine you're browsing a product, and there, right below the description, you see a review. Not just any review, but one accompanied by clear images or videos showcasing that product in action.
Instantly, your trust in that review skyrockets. Why? Because what you're witnessing is evidence! It's one thing for someone to say, "This product is amazing!" and another to see it being used, loved, and showcased by real people in real settings.
This practice worked wonders for Dress Forms USA, a brand selling professional dress forms. For instance, a quick glance at their female professional dress form product page, and you'll notice a plethora of reviews. But here's where they shine: many of these reviews aren't just words.
Customers have added images of their Dress Forms purchases, capturing them in various settings – from sewing rooms to design studios.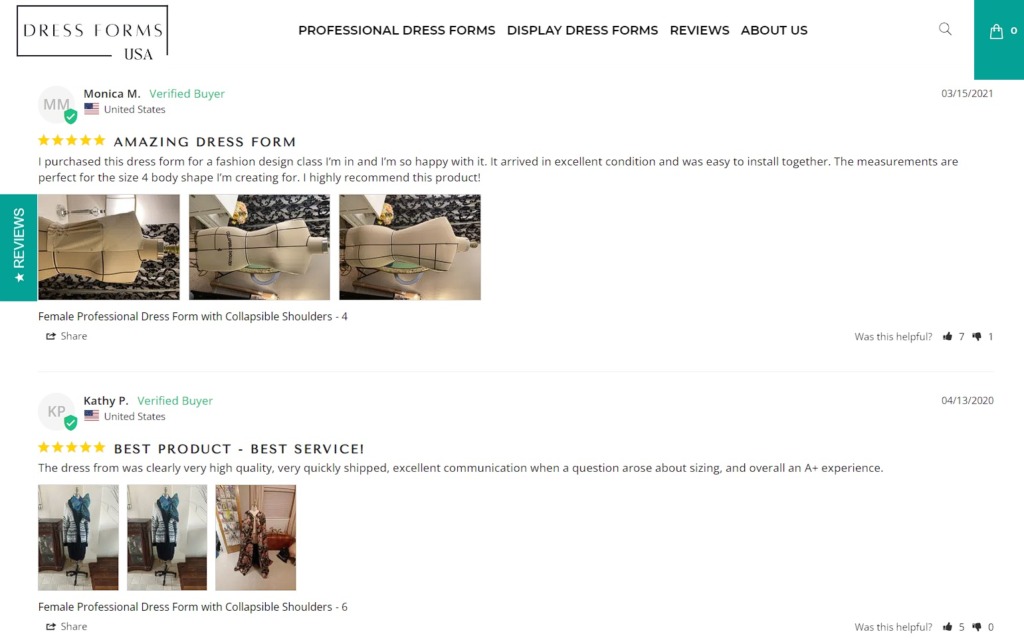 This visual addition serves multiple purposes:
Validation
Prospective buyers can see the product being used by others, affirming its quality and usability.
Inspiration
New users can draw inspiration from how existing customers are using the product, potentially discovering new ways to utilize it.
Trust boost
A picture, as they say, is worth a thousand words. These images tell a story of satisfaction, reinforcing the brand's credibility.
Ensure Your Reviews Are Visible Off-Site
Brands often put massive efforts into curating and highlighting reviews on their own website. But here's a pro tip: Don't just keep these golden nuggets of trust within the confines of your site. Spread them wide and far, ensuring they're visible even off-site. After all, your potential customers are everywhere, and so should your credibility markers.
Here are a few ways to maximize visibility with off-site reviews:
Google reviews
This is a no-brainer. When people search for your business, the first thing they often see is your Google listing. Having positive reviews right there can make a significant difference in a potential customer's decision to engage with your brand.
Trustpilot:
A go-to platform for many shoppers before they make a purchase, Trustpilot has become synonymous with reliability. By actively collecting and responding to reviews here, you're reaching an audience that's actively seeking validation.
Social media
Facebook allows brands to feature reviews on their pages. Other social networks like Instagram, TikTok, and LinkedIn don't offer this feature, but you can always get creative and "advertise" your stellar reviews through regular posts.
Now, let's talk about a brand that's mastered the art of off-site review visibility. Enter FOCL, a forerunner in the plant-based gummies space. They've transformed the traditional review system. Instead of just showcasing reviews on their site, they turn them into social media content.
This strategy works wonders because this way, they're reaching a much wider audience than just their website visitors. Additionally, when turned into eye-catching content, reviews can get likes, shares, and comments, further amplifying their reach.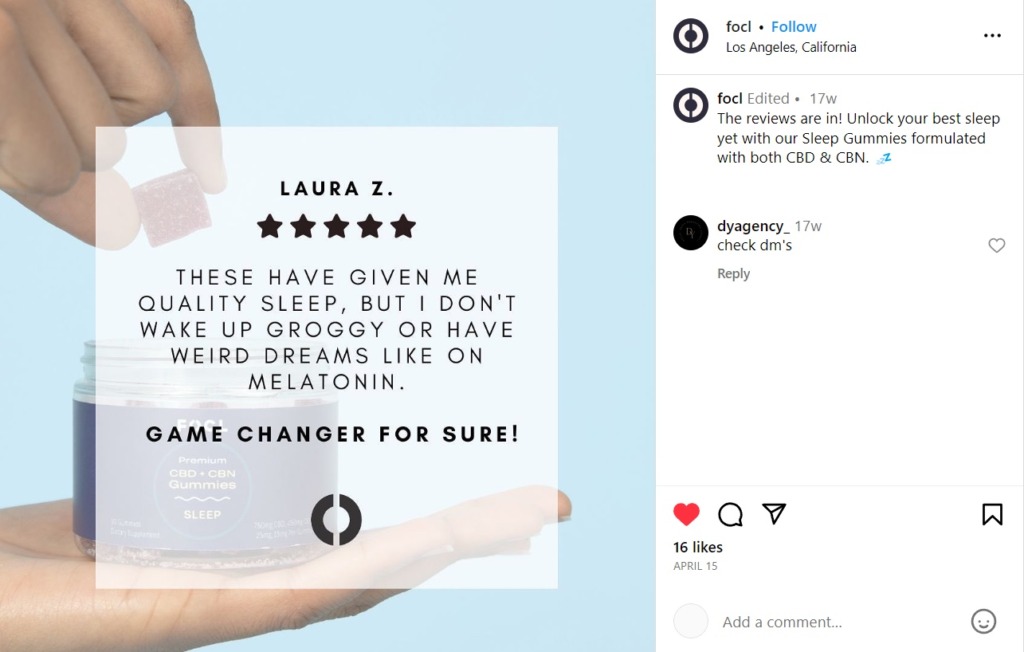 Flaunt Your Credentials
What makes your brand special? Well, those shiny certifications, awards, and recognitions could be your ace. However, the real trick isn't just having them – it's about showcasing them right where they'll make the most impact.
When someone lands on your site, seeing credentials front and center gives them an instant assurance of quality.
As shoppers debate whether to make a purchase, these credentials can tip the scale in your favor by addressing any lingering concerns about quality or reliability.
Let's unpack how Send Payments, a trailblazer in the money transfer domain, levels up their trust game. Instead of discreetly nudging their achievements to a corner, they flaunt them proudly.
Visitors to their site are greeted with a prominent 5-star Trustpilot badge and an accolade from a reputable source. By placing these badges prominently, they ensure that even the most casual browser is aware of their industry standing.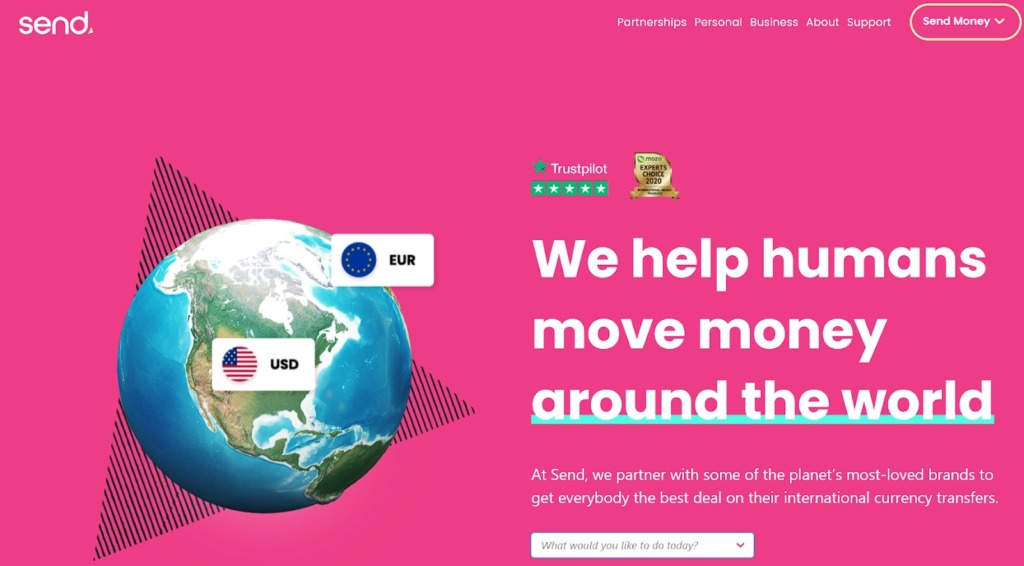 Final Thoughts
Elevating your social proof goes beyond just collecting reviews or testimonials. It's about strategically placing them, amplifying voices, and showcasing your brand's genuine achievements.
Whether you're a rising startup or an established giant, these tactics offer a roadmap to build deeper connections, foster trust, and ultimately drive growth. So, harness the power of social proof and watch as your brand reputation reaches unparalleled heights.