The 15 second rule is pretty well known in the marketing circles. Simply put, you only have fifteen seconds to create a good impression in the minds of your website visitor. This can be a daunting if a major chunk of your business comes from PPC advertising – how do you get a visitor who has no clue about your business to like you and trust your business in fifteen seconds? The answer lies in these specific components that need to feature in your sales page.
Component 1: Tell who you are and what you do
The first step in any relationship building process is to be forthright about who you are and what your intentions are. It is important that you not only communicate this in no uncertain terms, but are also consistent in doing so. For PPC advertisers, this would mean targeting keywords that precisely define what you do and continuing with this messaging on both the ad copy and your sales page. For instance, if you offer carpet cleaning services in Manhattan, then target keywords like 'carpet cleaning in Manhattan' and use this exact keyword in both your ad copy and the header of your sales page. Being vague about what you do, or using a boilerplate template for all the various keywords you target may cause inconsistencies in messaging and impacts conversion on your sales page. To do this properly, you need to have enough experience with running PPC campaigns. While this might be challenging, you can always get some help by contacting one of the best PPC advertising companies and getting an opinion regarding your strategy from professionals.
Component 2: What you can do to solve the customer's problem
Relationship experts have a golden rule for people looking at dating success – stop talking about yourself and instead talk about the other person. This advice holds true for marketing as well. Your sales page must talk about your customer and their problem. You could do this by listing out the various problems customers typically face and how your product solves these issues. Going back to the example of the carpet cleaning company, this component of the sales page could talk about issues like spots or stains on the customers' carpets and how your steam cleaner would help with this problem.
Component 3: User validation
Validation is a big component of the trust-building process. Testimonials are a fantastic way to tell customers that you are trustworthy and have many happy customers with you. That being said, testimonials can also backfire. Do not showcase anonymous testimonials – they seem fake and may make your visitors trust you less. Also, it is important to showcase testimonials from people that customers may relate with and trust. For example, take this sales page from Shopify. There are three testimonials on this page – two are from small business owners that the target customers can relate to. But the third one is from Daymond John who is a popular figure thanks to his appearance on Shark Tank. This elicits trust from customers and nudges them towards conversion.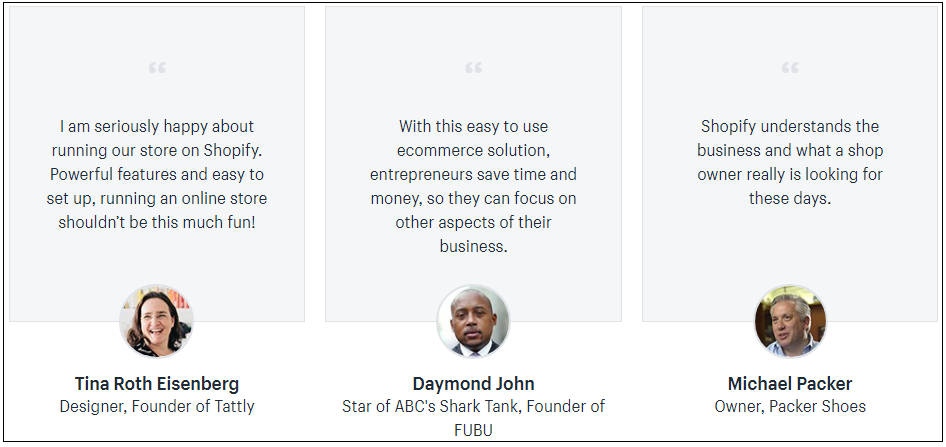 Component 4 : Third party validation
Besides testimonials, there are also other forms of validation that you could showcase on your website. If your business has been cited in major media outlets, showcasing these indicates third party validation of your business. Similarly, if you are a local business, then showcasing your ratings and reviews from sources like Yelp or TrustPilot tells your visitors that you are trustworthy in your location and have happy customers who can vouch for you.
Component 5: Call to action (CTA)
The last and by far the most important component on any sales page is the call to action. Once you have created interest and built trust with the customer, it is time to go for the kill and convert them. However, there is no 'one size fits all' when it comes to CTAs. Regardless of how trustworthy your business is, it is not realistic to expect your customers to open up their wallets within minutes of landing on your website.It would be ideal for a software service to request a sign up for a free trial. A local service company could request the visitor's phone number to get a free estimate. An eCommerce store selling impulse goods like candy or accessories, on the other hand, could nudge the customer to buy.
A sales page must evoke credibility, trust and authority while making it easy for a visitor to convert. These five components mentioned in this article are critical towards delivering exactly this.
Pipeliner CRM empowers salespeople to follow up sales page leads with precision. Get your free trial of Pipeliner CRM now.