The millennial shopper. The internet shopper. The shopper who only trusts online reviews. The shopper who already uses their Amazon Prime account so much to buy their own stuff, it just makes sense to do Christmas shopping on Amazon too. This is the shopper that makes it hard to do traditional holiday sales in a brick-and-mortar location.
What Amazon does (and what it will do every Christmas until the death of the internet) isn't rocket science—it's data science. The e-commerce giant takes about 1 billion gigabytes of customer data and uses it to make product recommendations through a process called "item-to-item collaborative filtering." In other (more understandable) words, Amazon is making recommendations based on product data and how that data intersects with user activity. Amazon's personalization doesn't have as much to do with the complete customer as you'd think.
That's where your sales can differ from Amazon's. Your personal interactions with customers offer true personalization. Your customer isn't the sum of the products they purchase—although that does say something about what they like. Your customer is a living, breathing person, open to new possibilities.
NetElixir projects Amazon will capture 34 percent of this year's holiday sales, an increase of four percent from last year. To wrest away any sales from Amazon, your business must get as close as it can to personalized omnichannel sales. You must be prepared to meet the customer on every channel, physical and digital. Here's how to do it.
Start With Knowledge and the In-Store Experience
The in-store experience is by no means dead. Brick and mortar still matters: although 70 percent of Americans will buy things online in 2018, those purchases will only account for 8.8 percent of retail sales. According to Rutgers University,
"Online stores may have made shopping convenient. But shopping is not just about convenience; there's also something called experience, which, at the moment, only a physical store can offer. As per a consumer survey, 78 percent of buyers chose to shop in-store, spending six times more in brick-and-mortar stores than online. The primary reason why the odds are so heavily in favor of brick-and-mortar stores is these stores let consumers touch and feel products."
By maintaining a brick-and-mortar location, you're doing something Amazon can't do: providing a warm, physical experience, a place where customers can touch and feel products. Now what if you were to take this to another level and personalize the in-store experience?
To personalize the in-store experience for your customers, consider the following:
Who are your customers? Who are your potential customers? What data can you find on them that will help predict their Christmas shopping needs?
In terms of items your customers are likely to want for the holidays, which ones can you discount? Can you afford to increase your inventory of items that will be in high demand? Can you branch out and stock items you don't normally sell?
How can you optimize the point-of-sale experience to showcase items your customers are more likely to buy? Place these items front-and-center with attention-grabbing displays
How can you equip your salespeople with information similar to what Amazon's recommendation engine uses?
That last one might seem complicated, but it's not. It's similar to encouraging your salespeople to upsell a bike helmet if the customer comes into the store looking for a bike. But what if you also know people who buy a bike around Christmas time also typically buy a backpack or a GPS device? What's more, salespeople can ask customers who they're shopping for and get into detailed specifics. Now we're talking.
If you haven't been collecting data on your customers' buying habits with CRM software, researching potential customers' habits, and plugging the numbers into a predictive analytics tool, data-as-a-service (DaaS) is a good go-to. According to Forbes' Daniel Newman, DaaS allows you to "access real-time data streams from anywhere in the world. It removes the constraints that internal data sources have." It allows you to be agile with your offerings and your upsales. Some DaaS providers include Oracle and Informatica.
Continue With Facebook Offerings and Physical Mailings
A quality offer can get the customer into the store, where you'll have the chance to increase sales. This is marketing, but with the stakes as high as they are, given Amazon's ferocious growth, you must align marketing and sales this Christmas.
Armed with data on what customers want and need, open your company Facebook page and click the "create an offer" icon in the status update field.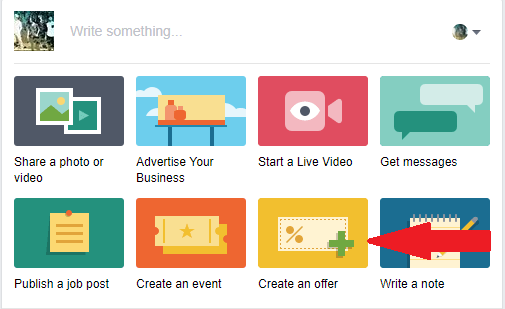 The lightbox that opens on your screen will look like this: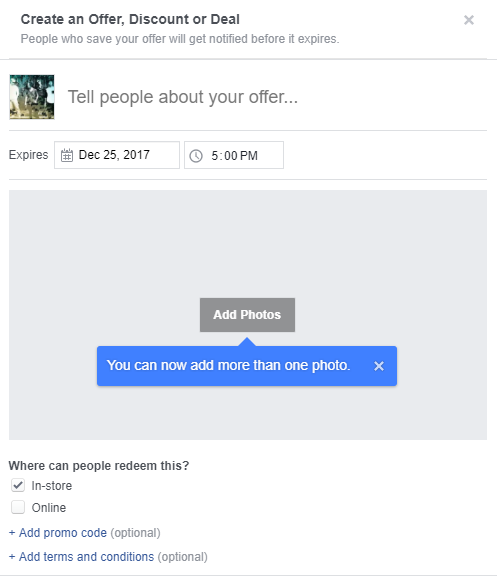 This is a way of catering to your target audience before they even get into the store. Make sure to add good photos and make it an offer that's hard to pass up. Remember, you'll be using CRM data on your Facebook audience to determine what the offer should be.
The Facebook offer is a digital version of a physical mailing. For example, Target used predictive analytics to target the new baby market. The retail chain identified 25 products new mothers need for their babies, and when customer data indicated they were nearing the point when these new baby products would be useful, Target sent them coupons. Yes that's right, Target used purchasing data to figure out when women were pregnant. This helped boost revenue by $23 billion over eight years.
Your special holiday offer doesn't have to be as sophisticated (read: intrusive) as Target's. On a personal note, when I moved into my new home recently, I got a coupon for a free pizza from a pizza chain I'd never heard of before. All they did was look at data on new homeowners and renters in the area. It worked; I used the coupon, I'm a fan of the place now, and I plan on going back to use the second coupon (which will require me to spend some money) before it expires.
Finish the Deal on Your Website
A content management system (CMS) is one of the essential tools for running and growing a business, especially since 72 percent of people look to brands' websites for content, reviews, and testimonials. CMS allows you to build a site, optimize it for search engines, and incorporate an online store.
So how do you compete with Amazon in this arena? Amazon is a large, faceless entity. Your website will have specialized content in your niche, you'll showcase your brand's personality with pictures and posts, and you can update it for the holidays, which will help you rank in Google. This is all in the marketing realm, but it drives sales. A CMS like Squarespace includes analytics, customer accounts, promo pop-ups, and a big one for Christmas: digital gift cards.
You can also connect your salespeople to visitors through live chat software (such as Zendesk or Olark). This is where you can really stand out against Amazon, because your salespeople will use their expertise and intimate relationship with your company to answer customer questions and close deals online. Customers won't have to install Amazon assistant or make a request for help.
Use everything you have that Amazon doesn't have. Use your personality, care, and personal touch. Your customer will notice the difference.