Even as you're reading this, the future of work is being reshaped by technology.
Remote work and tech-driven changes are nothing new, but the rapid transformations we're witnessing right now is unprecedented.
Understanding that these changes are predictably only going to increase in both breadth & frequency, it is wise to implement steps to ensure that even if your job doesn't exist in its current form in a few years, the career you've worked so hard on will be able to survive.
Here's how:
1. Never Stop Learning
Education shouldn't come to an end after finishing school.
If you want your career to be future-proof, the single most important thing you can do is to get comfortable with being a lifelong student. Remember that true learning cannot take place in a disorganized, unstructured way.
You have to be conscientious and deliberate to support learning new skills on a consistent basis.
Some options to consider on a quarterly basis are:
Attend a training course
Join a development program
Participate in workshops
Sign up for weekend classes
Pursue learning opportunities provided by relevant professional bodies
2. Don't Pigeonhole Yourself
We're living in a world that's more connected than ever before. Social media and networking resources make it easy to gain insights into how people live, think, and work. Remote work and technological advancements have helped create diverse workforces all over the world.
This isn't just a passing trend, but rather the new standard. In this kind of environment, the only limits you face are likely to be self-imposed.
To be a successful part of the global workforce, you need to identify how you can contribute to it and what you can learn. You can start by:
Making an effort to understand other cultures
Seeking international exposure or working opportunities whenever possible
Spend some time learning how professional practices and workplace cultures differ from one country to another
Embrace interacting with a diverse range of people and taking note of individual differences
3. Always Stay Flexible
Rigidly structured professional settings are becoming a thing of the past.
Today's employers are not forcing employees to fit themselves into a one-size-fits-all job title.  Instead, they're markedly more open to actively listening to their employees and embracing alternate views that lead the way in shaping a company's evolution.
Holding on to outdated ideas of how things 'should' be or worse the way 'always have been done', is a guaranteed path to irrelevance. Staying flexible is key to making your voice heard, finding your niche, and creating a positive contribution to your workplace and industry.
4. Keep the Future in Mind
You can't adequately future-proof your career without understanding what it holds.
It's difficult to predict with complete accuracy how the future will change within your specific industry, but it's possible to make educated guesses.
Keep an eye on the trends in your industry, and the economy as a whole
Get familiar with the drivers of change in your field
Connect with industry leaders through mentorship opportunities, following their speaking engagements, or through social media
Periodically perusing Indeed & Simply Hired to see what types of roles are in high demand provides valuable information.
Recruitment agencies can oftentimes provide a unique perspective into what skills and abilities are most relevant today and will continue to be in demand for tomorrow. Building relationships with recruiters that specialize in your industry is always a smart move, for a multitude of reasons.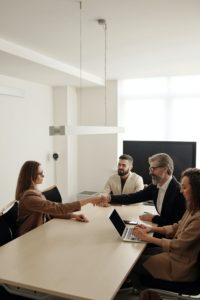 As the #1 most recommended recruiting agency in the entire US, International Search Consultants offers expert recruiting services to ensure your team is equipped with highly skilled and experienced professionals. By strategically targeting the top talent that matches your requirements, we will find the perfect fit for your company.
Find out more about our proven track record to get started! You can follow us on Facebook, LinkedIn, and Twitter.