Earning the loyalty of your customers should be a top priority for your business, especially if you are in an industry that is highly competitive.
Customer loyalty measures how likely a customer is to do business with your brand again and again. It's important to have loyal customers because they are the ones who will keep your revenue flowing by buying your products and recommending your business to their family and friends.
In this article, I will share 7 tips that you can use to earn the loyalty of your customers.
Offer multi-channel customer service
You want to make it as easy as possible for people to get in touch if they have questions, concerns, or complaints. Just remember that different people like to communicate in different ways so, to cater to as many customers as possible, you should offer a variety of communication channels. These could include email, phone, social media, or live chat options.
Choose one or two that you think are best for your brand and get started with those. To figure out the best options for your type of business, you should identify the places where you receive the most questions.
So for instance, if people regularly leave messages on your social media channels, you can make use of social media automation platforms that can provide automated responses when you are away. Or, if you find that you get a lot of email and phone queries, it might be worth hiring a team or company to help you deal with these quickly and effectively.
You should also be keeping a record of all the calls or messages that you get from customers, so you can review these at a later time and identify processes that need to be improved.
Create informative content that provides value
If you want people to make repeat purchases, you need to give them a reason to visit your website time and time again. One of the most effective ways you can do this is by publishing high-quality and informative content your target audience will be interested in.
One of the best ways to come up with relevant content marketing ideas is by looking at what your competitors are doing. Check their websites and social media channels to see the different types of content they are creating, and then see if there's anything you can do better or if there are any gaps you could fill.
Another strategy is to conduct keyword research, which will help you identify the words and phrases your ideal customers are typing into search engines. Choose a keyword research tool and start typing in topics or phrases that are relevant to your industry or business.
When you do this, you will be given a list of relevant search terms or topics that your audience is already looking for more information about. With this list, you can start to create informative content that will answer customers' search queries. Creating such content can help your website's SEO because it will give you a much better chance of ranking for your ideal customers' searches.
Your customer service team can also be a great source of content ideas. Ask them for the most common inquiries they get from customers. If you find that your website visitors keep contacting your team to ask the same questions, this is a sign that you should create content that answers them.
To provide you with some inspiration, let's take a look at an example of a business that creates informative content that provides value for its audience, so you can identify ways to do the same for your brand.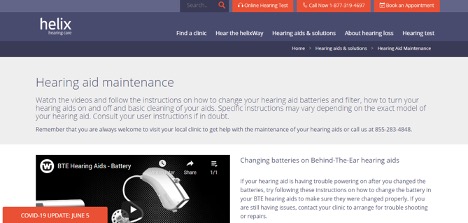 Helix Hearing Care is a company that is dedicated to providing customers with the best solutions for hearing problems. On their website, they have a page dedicated to teaching people how to care for and maintain their hearing aids.
They have done a great job of providing detailed information and explanatory videos that show customers how to change their hearing aid batteries, turn their hearing aids off, and change their filters. Their patients and even prospective customers will find these tutorials very helpful and it can help increase the loyalty people have for the brand.
Want kinds of content could you create to provide value for your customers? Coming up with ideas can be difficult so, if you're finding it hard or you just don't have the time to focus on this, you can enlist the help of professionals like Loganix, who offer SEO copywriting services to support you in creating quality content for your brand.
Consistently engage with your customers on social media
One of the easiest ways to regularly communicate and build relationships with your customers is through social media. However, not all social media platforms are the same and you don't need to use all of them for your business.
One tip for discovering which platform you should focus on is by looking at your audience. You want to consider relevant details like their age, education level, and the platform they are most likely to interact with. For example, you are most likely to find younger audiences on Instagram and Tiktok as opposed to Facebook. So, to avoid being on platforms where you don't make any impact, you should focus on investing your time and efforts in a few key channels that are relevant to your audience.
Engaging with your customers on social media is important as it will help you maintain a relationship with them. You can do this by replying to comments, responding to their posts, posting relevant and engaging content, and making use of social media features like Instagram Reels and LinkedIn stories.
And, because it can be a lot of work having to keep up with all your social media platforms, I would recommend investing in social media tools that will allow you to bulk schedule posts, as well as measure the effectiveness of your social media strategy. SocialPilot has a great round-up of the best social media analytics tools that will help you to choose the right platform to suit your needs.
Offer free tools and resources your customers will appreciate
Another way to provide value and ensure your customers revisit your website is by creating free tools and resources they'll love. People love freebies and creating useful tools that don't require any financial commitment can make your customers appreciate and trust you, even more than they already do.
Let's study some examples of businesses that offer free tools for their customers so you can get some ideas for your business.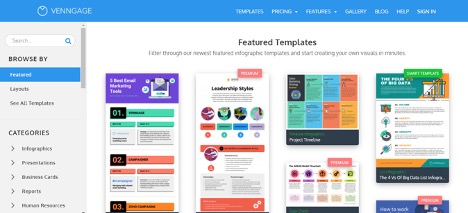 For instance, Venngage is an online platform that people can use to create attractive infographics, presentations, and other catchy graphics. So, on their website, they have provided access to free infographic templates.
These templates will be of great value to small businesses and brand owners who need attractive designs for their content, so you can be sure that customers will appreciate them. These are also valuable resources that will translate into a loyal customer base for Venngage in the long run.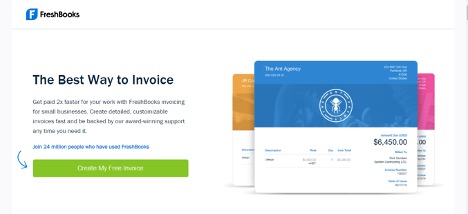 Also, we have FreshBooks, an accounting software provider for small and mid-sized businesses. They provide various accounting solutions for clients, and they have also created a free invoice template. This can be used by individuals who need to arrange payment for their services and may not know how to create an invoice of their own.
By providing a free tool that solves this problem, the company has shown that they really care about their customers, which is a great way to earn their loyalty.
And of course, as a business owner, it is your responsibility to keep track of orders and supplies, and for that purpose, you'll need easily-customizable online forms for your clients' every need. The best thing is, you don't need coding experience to implement them into your website! Click here for a Form builder and simply choose a template that resonates with you and your style the most.
Provide personalized content where appropriate
Creating personalized content can help your customers to feel more connected to your business. There are different types of personalized content you can create, including personalized emails, interactive quizzes or tools, retargeted advertisements on social media, and more.
For instance, an abandonment cart email could be sent to customers if they put an item in their shopping cart and leave your website without checking out. These usually include the first name of the customer, items that were in the cart, and a call-to-action telling them to go back and checkout. Most of the time, a discount code will be included in this email and it shows that you are thinking of the customer and want them to get the products that will be useful for them.
Personalized content is not only great for developing a relationship with your customers, but it can also help you to generate more leads, increase sales, and build brand loyalty.
To start creating personalized content, you want to think about your audience and analyze their activities online. You can also track user behavior data using tools like Facebook Audience Insights or Google Analytics that allow you to monitor your audience based on their demographics, how they landed on your website, and their activities once they're there. With this data, you can begin to create personalized content that will be relevant to your audience.
Show customers behind the scenes of your company
If you allow customers to see behind the scenes of your business, they'll feel a stronger connection to your company and will be more inclined to trust you. It also helps you show a more human and relatable side of your brand.
You can do this by posting photos or videos of your team hard at work on your website or on social media platforms like Instagram, Twitter, or Facebook. These will help to show your audience that there are friendly faces behind the brand who are working together to create the products and services they love so much.
Here's an example of a brand that uses behind-the-scenes content to relate to its audience. You could take a few points from this and replicate the strategy for your business.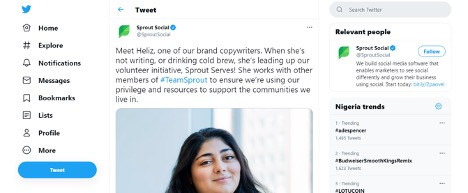 Sprout Social is a social media management platform that allows people to publish social media content and track the results from it.
On their Twitter feed, they shared a behind-the-scenes post introducing a member of staff and talking about the activities she enjoys when she's not working. The post lets customers see their brand in a different and relatable light, especially since they highlight their volunteer initiative. This can drive up loyalty for their brand, as people will want to associate themselves with a company that is doing what it can to help the community.
Repurpose user-generated content
If you want to improve customer loyalty for your brand, you should consider publishing user-generated content (UGC) on your website. This could be in the form of customer comments, their images, or even blog posts written by fans of your brand.
These types of content are seen as trustworthy and reliable, as they are essentially word-of-mouth recommendations from actual users of your products. Just remember that it's important that you get permission from the original creator of any content to avoid copyright or legal issues around intellectual property. You should also make sure that the content isn't offensive before re-sharing it on your platform.
Let's take a look at an example of a brand that uses user-generated content to engage its audience so you can get some ideas of how to do it for your own brand.
Even though Apple has risen to be a household name, they still understand the importance of user-generated content.
On their Instagram page, they've shared the post of a user who took pictures of their dog using their iPhone. The post shows how high-quality their phones are and gives Apple a chance to engage with the customer who owns the photo to make them feel special and valued.
When people buy a product and shout about it, they don't always expect to be reposted by the brand but, when it happens, the customer is likely to feel appreciated. This can help to build loyalty as people will most likely stick with a brand that recognizes its customers.
So, if you also want to encourage loyalty for your brand, try to repost or republish customers' posts. It will make those customers feel especially valued and encourage more people to post about your products or services, which can generate a lot of free marketing for your business.
Summary
Having a long list of loyal customers is a great asset for any business. And, as I've covered, you can build this by offering multi-channel customer service, creating informative content, and repurposing user-generated content, amongst other techniques.
Following these tips is key to ensuring your customers stay happy, will recommend your business to others and, ultimately, remain loyal to your brand.
Author bio 
Adam Steele is the COO at Loganix, an SEO fulfillment partner for agencies and marketers. We build easy-to-use SEO services that help businesses scale. If you liked this article, please check out our SEO guides and templates on the Loganix blog.