In this series of blogs on the role of CRM in 2020, we've discussed the role of the customer experience, and the battle between the "suite" approach, and the best-of-breed approach. Now we come to the specifics of the CRM application itself.
At Pipeliner CRM, we evolved something called the Product Philosophy Wheel, which describes our approach, and which I believe describes the future in technology: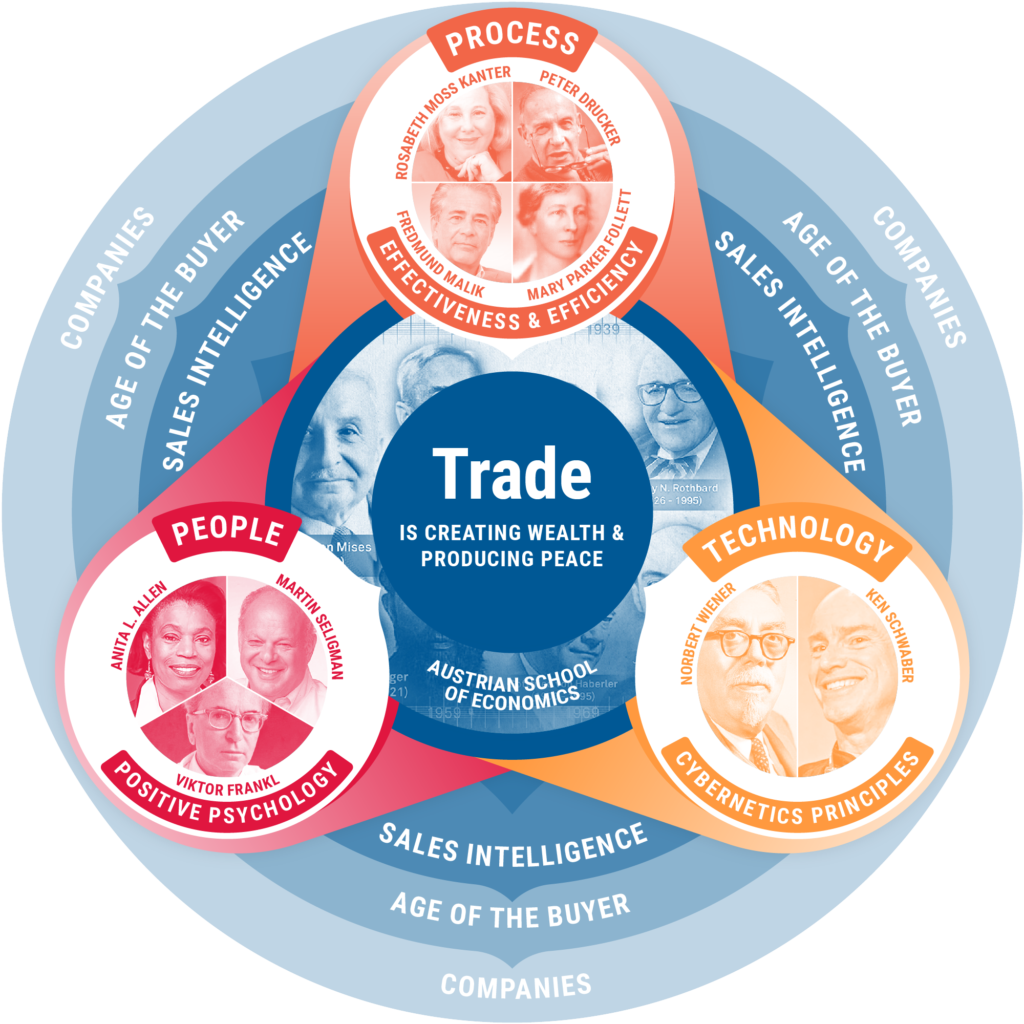 In describing a CRM, we're focusing on two parts of this wheel, processes, and technology (because we are describing CRM, the third part of the wheel—people—will be not addressed in this article).
Here I'll quote renowned management consultant and author Peter Drucker:
"Efficiency is doing things right, while effectiveness is doing the right thing."
First, let's talk about why we at Pipeliner feel that our system is the most effective CRM for 2020.
Effectiveness and Efficiency
For an analogy, let's go back 100 years, and say we're out in the woods and want to build a cabin. To do so, we need to cut down a number of trees for lumber.
One tool for the job, and the most traditional one, would, of course, be an ax. That would be an effective tool. But even a little way into the 20th century, we find one that would be far more efficient—a chainsaw. Both tools would do the same job, but in the end, the ax isn't the exact right tool. The chainsaw will save considerable time and effort over the ax.
Like the chainsaw in our example, our tool is, first, the only really effective one for sales, and second, the most efficient one. Certainly, there may be many other CRM applications that could be effective in some ways—but which would really be the most efficient? That would be remarkably easy to use and would rapidly onboard for salespeople and sales managers?
Technology
Part of the reason for Pipeliner's efficiency is the care we have taken with the technology behind it. For many years we developed on the Adobe Air platform because it was the only platform at the time which allowed us to take our approach of Instant Dynamic Visualization. Back then, web technology did not possess libraries and components which would allow us to execute and implement features we felt were necessary, so salespeople could be both effective and efficient. It took us more than 4 years, when we finally had a web technology equal to Adobe Air, to make the full transition to the Cloud. We now make use of the very latest technology, such as the AngularJS web application framework.
Cybernetic Principles
The methodology we have applied all the way through our development is cybernetics, the "science of implication" which originated at MIT. In development, we examine each possible user group—the salesperson, the sales manager, and C-level executive—and work to make Pipeliner as simple as possible for each of them. The application of these principles resulted in Instant Dynamic Visualization.
Visual: Because a picture communicates so much faster than text, we evolved a completely visual CRM, which has resulted in the fastest adoption and most enthusiastic reviews of any CRM on the market.
Dynamic: But it wasn't enough just to make it visual—it also had to be dynamic, because the world, especially the business world, is constantly changing, as is the data within it. CRM has to be able to totally keep up and change also, as CRM is the principal tool used in dealing with customers.
Instant: The "instant" part is about time, as there needs to be little to no latency when it comes to a CRM. Users need to have the latest data, in visual form, right now.
Setup and Onboarding
Setup must happen rapidly, too, as nobody has time for complex setup and weeks or months of onboarding. For that reason, we've also heavily invested in the back end to make it smooth for everyone. Our unique administration interface is one of our core differentiators and reduces the time, cost and learning of CRM in the enterprise space. We've even made it so that no full-time CRM admin is required; any person with computer skills can learn to be an admin.
Only a few years back, the importing of data into a new CRM, and cleaning of that data was problematic. Today technology makes that easy, as well. On top of that, you can now connect to your favorite applications through API, and flow that data back and forth. It's a totally different game.
Training
One facet that has not changed over the years is that users must be trained. The faster and easier they can be brought on board, the more they will actually use the CRM—which, after all, is the whole point. We have made learning CRM incredibly easy, with most users able to come up to speed in a matter of hours, instead of days or weeks.
We do realize that in some respects, the training never ends because we're constantly upgrading the product. For that reason, we have a bullhorn icon at the front of the product that will tell you what is new. Through our written and video materials, we also increase general understanding of the overall product so that new features and functionality are almost expected—they make sense. This makes learning even easier.
When it is required, our topnotch technical support is there to teach perhaps the 2 percent of functionality that might have not been communicated in the training.
Focus
Many CRM developers today are trying to concentrate on as many different features as possible, trying to capture all imaginable bells and whistles, industries and markets
instead of remaining focused on what they might do best.
As an example of focus, let's examine legendary automotive manufacturer Porsche. One of the best car engines on the road is one they have been working on and improving for years: the Porsche 3.5 liter engine. That is a true example of focus. On the more modern side, we'll see in the next few years who will win the focus on electric and hybrid automobiles.
In our case, we have focused on the most important aspects of CRM to make them as cost-effective and useful as possible for salespeople. Our CRM, while used for sales management, has been developed mainly for sales reps. If you provide a real benefit to salespeople, management will get what they want—the data for excellent reporting. Therefore we have the most flexible and easy-to-use report engine in our industry.
Besides the examples we've already given, we've made it possible, because our development on our backend, to reduce administrative time to almost zero. Compare this to other CRM systems that require one or more full-time administrators.
Our focus is not to be the "end all" CRM for all industries. We have focused on B2B sales. The only real customization required is to use our templates for your particular business and to adapt it to your individual sales process—all of which can be done in almost no time.
Processes
The revolution we are embracing deals with the future of automation. It deals with the slickness of putting processes in place and automating as much as possible—processes for sales, marketing, C-level executives, accounting, and all the rest. Human beings don't operate 24/7, are not free from failure, and take sick and vacation time off. Technology is none of those things, so the more we can automate, the further ahead we'll be. But we've reached the point that humans cannot live without technology any longer.
Our new version, due out this March, will bring all of this focus to a brand-new level. Stay tuned!