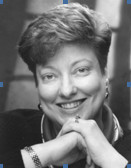 I've been observing how quickly Alyson Stone from Pipeliner CRM has made a significant contribution to the body of B2B selling content through the blog she curates. This is a high-quality destination, with a fine assortment of contributors.
I posed a different question to Alyson. How about if I interview you for your own blog. Her response was immediate and positive.
What follows is my interview with Alyson Stone, Content Director at Pipeliner CRM. Enjoy.
Dave: You've come a long way with content marketing and social selling since joining Pipeliner. Can you provide us with a few of the most valuable takeaways?
Alyson: I've been building on  my experience year by year since I started my "second career" as a startup marketing Jack-of-All-Trades. I've been lucky to work with smaller teams in which wearing many hats is considered a necessity. Because I wasn't formally trained in Marketing, I've just used all my innate and learned skills to wade in where needed until I feel confident to take a dive . (The old adage: "Don't ask permission; beg forgiveness" was written for me, for sure.) Believe me, it's easy to stay very humble when you have everything to learn!
This is my philosophy about content:
Surround yourself with the best expertise and best people available. That's a lot of protection from doing anything "bull in a china shop" stupid. Our marketing group has a wonderful "team alchemy." We say that the three of us together make one fine brain.
I believe in doing things that aren't scalable, and doing them anyway. I've seen over and over how powerfully affirming it is to be human first.
As I've seen successes in my tasks, I build on my knowledge and keep to a path where I know success will occur if I just keep plodding along, pushing that rock. In the end, when you know what you're doing is moving the needle, it's easier to keep plodding.
With just one of me managing content, I try to make the most use out of every piece of content. We reuse content; edit and repurpose content; morph content into other formats like infographics or ebooks; advertise content in other content.
I try to say "it's good enough" rather than go that extra 10% toward perfection. The returns diminish beyond a certain point.
I practice stringent triage. Like a M.A.S.H. unit, I take the most critical things first. This means some things at the bottom of the list will probably never get done. So be it. Steven Covey is my guide. (link to his quadrant illustration). I try to accept that there will always be too much work to do.
I imagine the person I'm writing to. I picture a busy sales manager or sales executive and appreciate that they will need concrete, practical advice, not dense academic content. I want them to know that if they stop by the blog or our Reference Library, they'll be able to grab something useful — something they can put into practice or use to inform someone else. And…I try to mix it up, so they don't get bored. I don't hesitate to proselytize about things I know will help them — topics they might not be aware of that will affect their jobs and their success.
Dave: Did you come up against any unexpected obstacles on the way? If so, how did you overcome them?
Alyson: Hmmm, not so much unexpected as hard to climb over! My ever-present bete noir is the inability to zap more hours into a 24-hour day. The physics are clear; there's just nothing I can do to give myself more time — or create a clone! I could really use a clone.
Absent a magical element, I try to make the most of my day, celebrate small wins, and keep my sense of humor handy. If you don't maintain those emotional factors, you'll soon be drinking antacid medicine and/or something stronger — what my family calls "Mommy's Special Water."
Dave: I know a lot of readers are curious about what tools you use to execute on your strategy?
Alyson: I count on my Apps and Tools Posse:
My Editorial Calendar: This is a spreadsheet, developed (by me and a series of bosses) over a period of years, that helps me keep as organized as possible. I have come to include information about many layers of content scheduling, including: syndication, creation of additional "companion" content for blog posts, status of each scheduled post (green, yellow, red, peach, and blue each have a significance), events and external influences like holidays or special newsworthy trends that could affect the audience). The EdCal also contains additional tabs for things like content we are providing to offsite blogs, author "cadence" (how frequently each contributor writes for us), and special projects in process by the Design Team.
Pipeliner CRM –– we've created an Influencer Pipeline (an unconventional use of the CRM system) that steers our outreach and interaction with our Contacts.
HootSuite – For promoting and curating our content — and participating in our great sales interview program #SalesChats (Thursdays, 1pm ET).
LinkedIn: What the hell would we do without LinkedIn? I shiver to think of it.
We use HubSpot for our email communications with blog subscribers (and our base). Their Help Squadron of human beings is really great.
We live in Jira (Yes, it's an unconventional tool for Marketing, but with a distributed workforce, it's the best way to keep issues organized). I'm sure our European team would tell you that I should be better at writing Jira tickets after a year with the company….
I use Pixlr for photo editing, iStock to find sedate imagery, and all these free image sites to get illustrations and photos that capture my interest and imagination.
FastStone Capture is free and great for quick screenshots.
Google Docs – Each of our guest authors has their own Google Page. Once I get drafts, I immediately move them into the author page for editing, iteration, and approval. It's my trusted file cabinet. That way, it's in one place and nothing can disappear into the hazy reaches of my memory.
Dropbox: My storage spot for images, author headshots, and project designs.
Microsoft Publisher (for when I need to jury rig a wireframe or put ideas into a visual format for our Design Team in Europe). We call it BCDA (bad content director art)
Dave: I know you're proud of your resource center. Can you share a bit about that with us?
Alyson: The Sales Reference Library is the repository to share all our own content — from infographics, to tools, to ebooks, to slide decks — and now we are sharing the content of others. We call these experts our Education Partners, because they share our commitment to elevating salespeople and giving them access to great advice.
Our CEO, Nikolaus Kimla, has a strong mission about educating salespeople. It's one of our core values as a company. Sales drives the world economy, and a more educated sales workforce can actually make a global impact.
Dave: What's ahead for you and your role at Pipeliner? Where is your content strategy headed?
Alyson: I've started posting on the blog twice a day quite often. We'll see if I can keep it up as the company is growing monthly by leaps and bounds, and as our other content partnerships and commitments escalate. My motto, plagiarized from Buzz Lightyear,  is: To infinity — and beyond!