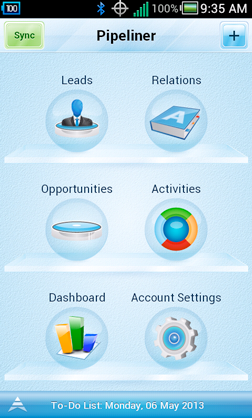 Are you happy in your current sales position? Are you productive? Does making your personal and company sales quotas come easy? Accepting that there always will be down times, but feeling that the positive outweighs the negative in your job? Are you not sick of sales software built on a sales process that makes you look like a square?
If your answer is Yes to any of these questions, then DON'T read on.
Knowing when to fold your cards and move on is as much a key aspect of any well oiled sales process as it is important in your professional career in sales. I know the sales profession has a reputation for being somewhat transitory. Some salespeople change jobs frequently. My history is a bit different: I've tended to stay in the same place for a number of years, acknowledging the ebb and flow of this high-stress, fast-paced career.
As you well know, products and demographics and expectations and markets change so rapidly – especially if you're in the technology field as I am. Sometimes you just need to start fresh, perhaps because you believe so strongly in the mission of another organization.
I recently began a new position with a very exciting company, and I'd like to tell you a bit about it. The mobile CRM app of our sales software is pictured above. Here's part of what you'll see on your desktop:
My First Impression? I loved it!
The demo of Pipeliner – sales CRM software – caught my immediately attention.
At first, I was intrigued by the look and feel of the sales software so I decided to download and give it a chance. I ran it through its paces, and the more I used it the more I liked it, I was now even more intrigued. Who is behind this?
I wanted to be part of the company that created such a forward thinking tool. A tool so different to others that I have experienced in the many years as a sales professional. Turns out, Pipeliner was just what I was looking for, so much so that I am now Pipeliner's VP of Sales – you got to LOVE it!
Tame your Workflow and Control your Sales Process
Pipeliner helps you tame your workflow. It gives you control over your sales pipeline by recreating the steps in the sales process (see image above) that mimic the way most professionals work. Your opportunities with your hottest prospects populate the bulk of your screen. Hover over one, and a small window pops-up, giving you all the details.
The lower part of the screen displays navigational tools. These are the gateways to other applications where the real work gets done.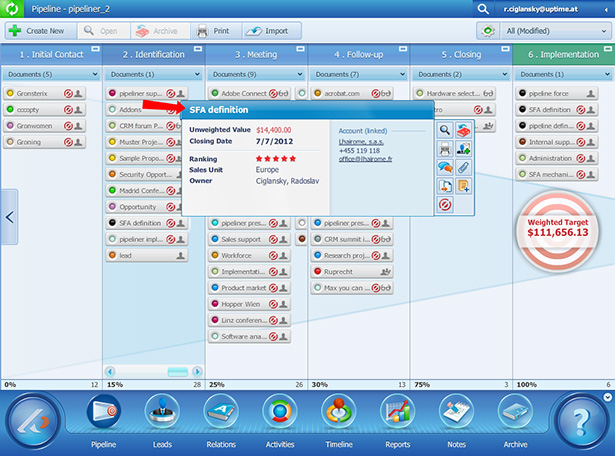 Get your free trial of Pipeliner CRM now. There is a trial version of the sales software available (no credit card required) where you can try all the collaboration features with your sales team. The CRM app for Android looks and acts like a state-of-the-art web-based solution. It's fast. It's solid and doesn't get in your way. It simply helps you develop and implement an effective sales process, increasing your productivity and documenting each stage of your prospect's journey through your sales pipeline.
It's also exceedingly thorough. Look at how you can define and track sales leads: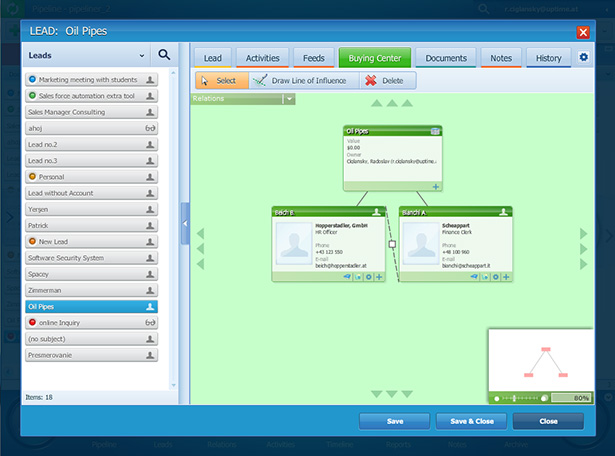 I didn't mean for this blog post to turn into a commercial for Pipeliner, but I think you can see how excited I am about this sales software and my new professional home.
No one can say when the best time is to move on in your professional career. As many of you may have already experienced, ones job always gets easier and more fulfilling, when you are optimistic and passionate about the products you're selling. For me Pipeliner is such a product, it inspires salespeople to look at the sales pipeline and the underlying sales process in more creative ways. It empowers us to work the way we want. Giving us the entrepreneurial freedom to realize our dreams.
Warm Regards,
Todd Martin