Recovering work-related documents or photos that bear confidential or personal character may turn to be a challenge. The only rule is to calm down and not to do hustle and bustle. All data can be possibly saved. First of all, to avoid unnecessary measures, it is advisable to understand whether a person should apply tools to restore deleted files or they can be extracted from a recycle bin with no trouble. Check the bin, discover if there is a copy of a document or photo. If no, proceed with the application of a designated soft.
What You Get with Disk Drill Restoring Soft
Instead of covering all ways to recover files on Windows 10, let's check how the Disk Drill application can solve this issue. It perfectly fits the small and large businesses the same as when it is used for personal purposes. Another benefit is that a user may recover permanently deleted files on Windows 10 within 500 MB without charging him. Such a bonus allows a potential customer to experience the features, and to understand whether it is compatible with set targets. As per the vendor, any user can also enjoy the next capabilities:
It is an independent platform. So, it works as a freestanding soft and does not require the installation of multiple integral tools. Also, meeting the demand for stuffing of modern computers, it reads NTFS and HFS+. To get to know about other file systems, just contact the team, and receive extra options.
Works with external devices. Anyone can recover lost documents, files, or photos even from system disks or external devices. It involves memory cards and even USB drives. Just connect them to a computer or laptop, and let Disk Drill do the rest.
Simplicity. To save time, this platform easily informs a user if it is possible to recover one or another file. So, there will be no situations that a tool starts recovering process, and in the end, it results in a mission impossible. Its Fast Scan option will deprive users of lost time.
Full hard-drive scanning. Disk Drill offers to scan the whole hard-drive to monitor if there are any other sensitive data to restore. Otherwise, at any time possible, a person can scan hard-drive partially.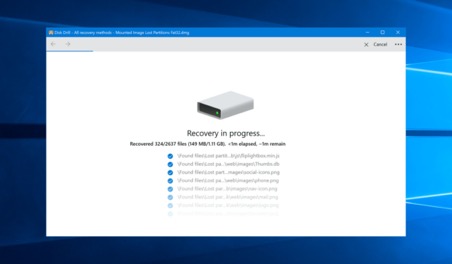 One more benefit is the affordable price. The pricing plans start from $4 per month. If choosing a 1-year plan, it will be only $49. The paid version will reveal advanced features and will let recover files with no limit. Otherwise again potential users can recover deleted files on Windows within 500MD for free.
Even the files you keep in cloud sometimes could be permanently deleted, so if you want additional security, you can also backup your most important data using a reliable third-party backup solution, in that case, you'll be always able to recover a deleted item in Microsoft 365 (or any other subscription service).
What Are Other Features?
When the application of Disk Drill occurs before losing data, it may prevent users from facing such a need. It daily supervises the system information, and keep track of all the files. So, in case a person deletes one document, it will easily be restored within a few seconds. Other advantages are quick scanning that instantly overviews the Windows on the matter of lost documentation. Duplicate finder that helps to find files that were deleted but have their duplicate variant. Corrupted and deleted partition recovery, sorting files by type and name, and optical storage recovery are also there.
Besides, if a person needs to restore permanently deleted files of different formats, Disk Drill ideally copes with the next formats:
Word, Excel, Powerpoint;
JPG, PNG, RAW;
MP3, Ogg;
MPEG-4;
ZIP, Rar.
This list is just an illustration, there are other formats that you can get to know when contacting a team personally.
Customer Support
Even when accomplished experts turn to the application of this soft, it does not mean there should be no customer support. There are events when one program stops working or faces the delays. Usually, such issues are connected with the Internet provider. But, if no, Cleverfiles' customer support is 24/7 ready to answer all the questions, and fix the issue. Otherwise, it is possible to contact them via email, and the fast response is the same guaranteed. But, for clients' convenience, every their webpage contains the description, instruction, and answers to the most frequently asked questions. Acknowledge the Disk Drill features, and start recovering or protecting the files from unexpected system bugs.