Social listening is a valuable tactic for B2B brands. It's honest and authentic and delivers a host of benefits. It can enhance reputation management, improve product development, and provide helpful consumer insight.
But social listening can also be used to boost your sales strategy. Let's break down the what and why of social listening, and how you can use it to enhance your business's sales strategy today.
Recommended reading: Being Sales-Centric
What is social listening?
Sun Tzu recommended knowing your enemy for success on the battlefield. While we can't possibly comment on that, we do know that knowing your clients can bring you success on the business battlefield.
Social listening is the process of monitoring your customers on social media, using research tools or good old-fashioned eavesdropping to discover what they're saying about your brand and your product.
By tracking mentions of your brand across a range of social platforms, you can build up an image of how your clients actually see you. Social listening is great for reputation management too, letting brands monitor events and conversations in real-time so they can nip potential crises in the bud before they get worse.
But social listening is also effective at boosting your sales strategy too. It goes to where your customers are active most. It returns genuine and actionable insight that brands can use to take their sales strategy to the next level.
We'll dive into that later, but first, let's look at how brands can get started with social listening.
Social listening tactics and tools
For marketers on a budget, simply searching for your brand name online can give you a rough idea of how customers feel about you. While this is fine for a quick spot check, it won't give you the full picture. It's arduous and lackluster and will leave your sales strategy wanting.
If you want a comprehensive overview of your brand image with granular insight and actionable takeaways, look to one of the many social listening tools available online. Here are some of the best, ranging from the affordable to the high-end.
Awario
No relation to Wario, Awario is a social and web monitoring tool that's a happy medium between sophisticated and affordable. Prices start at $29 a month for starter businesses, but there's a comprehensive Enterprise package for $299 for business heavy-hitters.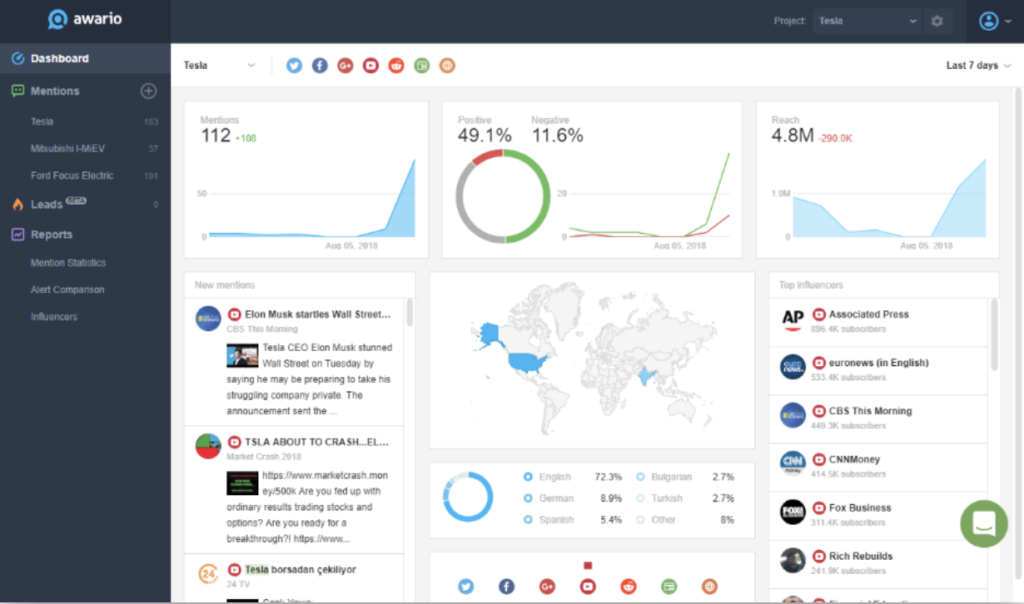 Awario provides a sleek intuitive dashboard for you to easily monitor mentions of your brand and your competitors, complete with comprehensive metrics. It even sources general industry mentions so you can gauge the role of your business on a wider stage.
What really sets Awario apart is its built-in social selling tool, Leads. The free tool identifies those individuals seeking product recommendations in your industry so you can quickly proffer yours as the best solution. Slick.
Agorapulse
For a strong 2-in-1 social solution, look no further than Agorapulse. It combines social listening with social scheduling for a streamlined tool that makes your monitoring strategy that much easier.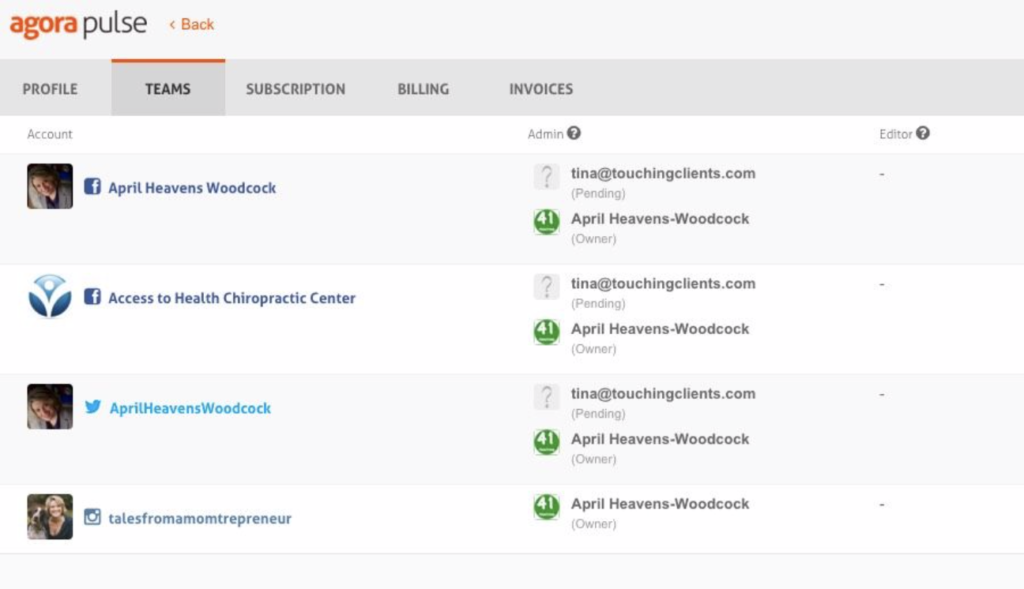 As well as monitoring brand mentions across a range of social platforms, Agorapulse also lets you scope out niche B2B influencers for potential collaborations. On top of that, it lets you assign social conversations to specific individuals within your team, making it great for growing businesses.
Best of all, prices for Agorapulse start from as little as $45 a month, making it perfect for solopreneurs and B2B brands on a budget.
How to boost your strategy with social listening
So how can you use social listening to effectively boost your sales strategy? Here are a few ways you can get started.
Use social listening for active lead generation
When shoppers are looking for the best product or service, they have a number of options at their fingertips. A quick search query returns independent critiques of B2B suppliers on Trustpilot, and Amazon offers plenty of real customer reviews to help shape the buyer's journey.
But more often than not, customers turn to social media. Asking for recommendations on social provides tailored responses from people that customers know and trust. Facebook even has a dedicated recommendations feature for this very purpose.
Social listening provides you with the perfect opportunity to turn these customers into leads. By identifying these individuals early on, you can swoop in and offer your product as a solution.
Takeaway tip: don't go for the hard sell — your prospective customers will be immediately put off. Be polite and friendly, and offer them a free sample or trial as a sweetener. Even if your lead doesn't convert, they will remember the gesture and it will spark a relationship.
Better understand your customers to position your sales strategy
Social listening is, in essence, professional and measurable eavesdropping. Your customers are as honest as they'll ever be on social media, so you can be sure that you're getting authentic insight.
And it's this insight that is so beneficial for boosting your sales strategy. Going in blind with your approach will make it ultimately fall flat. But building a sales strategy based on genuine consumer insight will boost your conversions from the off.
Use your social listening strategy to create detailed profiles of your client, their behaviors, the language they use, influencers they follow, and so on. Armed with this information, you can finesse your sales strategy and personalize it to your various customer segments.
Takeaway tip: take the data gleaned from your social listening strategy further by cascading it across your other sales channels. Socially sourced client data can be used to fine-tune your email marketing by focusing your campaigns to even more specific segments.
You can take this further still by tracking event mentions. Learning which trade shows and conferences your prospective customers are going in advance lets you meet potential sales opportunities in person.
Offer advice and authority to those in need
As well as using social listening to find customers seeking recommendations, use it to find those after advice too. Because while it might seem counterintuitive, but a strong sales strategy isn't just about sales.
Social listening can push your brand front and center during the awareness stage of the customer journey. Find individuals that are struggling with issues related to your niche and reach out to them to offer advice. This is especially true in the B2B world, where clients are more likely to seek advice from and network with other industry professionals.
No, this won't boost your conversions overnight. But it will expose new audiences to your brand, building a relationship that serves as a foundation for future sales. Customers remember informative and authoritative brands and will return to yours in the future when they need to.
Takeaway tip: rather than adopting an aggressive sales approach offer tips and advice instead.
This is where a strong content strategy comes into play — link out to relevant blog posts as a solution. Prospective customers can then discover your product or service naturally, rather than being forced to.
Social listening should form a key part of your business's sales strategy in 2019. Use it to actively generate new leads, spark new relationships, or simply increase your value in your prospective clients' eyes. Follow the tips above and create a social-driven sales strategy today.