5 Tips to Make Eye-Popping Social Media Content to Churn More Sales Leads
Digital marketing is an extremely crowded marketplace today. More competing online businesses are coming up each day as we speak. They are all mostly targeting to the same customer group you are vying too. It's also very likely that the social media marketing approach each of these businesses uses for this purpose remain the same mostly. Making your brand visible boldly with a unique value proposition becomes a big problem for all marketers. So how do you cut yourself out from the crowd?
Businesses, like most individuals, are depending on social media to spread the word out among their audiences. This has made the platform crowded, resulting in too many options for the client to choose from. This makes it confusing for them. So, if you want to reach out to your prospective customer, gain their trust and interest, then stand out from the rest in terms of what you have to offer. This is why it is very important to have more customers interested in your business for a sustainable sales pipeline. Customers gradually move through their buyer journey and grow your business sales. You can make use of different formats of social media content about your business, to have your customer's attention. And then how you use that attention for your benefit, will depend on your smartness.
Here are 5 ways to make eye-popping social media content to churn more leads:
1. Images are more impactful than text
Gone are the days when people loved to read. Your audience is a busy lot, who makes use of social media as a distraction in between a busy day. It depends on you how you use this distraction to your advantage. Studies have suggested that people prefer visual content over links or texts today. Images can deliver the same message in a lesser time. There are new tools that help you create the best social media content. Make use of these tools and look out for an image that puts out the message you have in mind. Chances of images going viral are more. Make sure you put your images with spaces so that they are highlighted enough. Visual content has higher chances of being shared by your audience, ensuring more engagement.
2. Make sure your visuals are of high quality
With the importance of visuals being cleared, it wise to know what kind of visuals work next. Be smart to use only the best quality graphics. It tells a lot about your brand or business. Avoid using images that are hazy and do not connect with your brand's tone. You cannot save someone else's images from Google for use. Because it becomes a copyright conflict later. Websites like Canva, Pixabay offer high-quality images without any copyright issues. These can be used without getting into legal battles.
3. Make use of your evergreen content in different formats
As mentioned earlier, visuals are more appealing to your customers today. It's smart to convert your best-performing articles into visuals that explain themselves. It's an excellent way of delivering a message through pictures, that ensures more shares too. You can make use of charts, bright colors and different graphics to make it more interesting. Repurpose your best articles by converting them into crispier formats of content, for your customers to digest.
4. Talk and show what your clients/customers think and talk about you
The customer group today is highly vigilant. They seek advice even from random strangers when it comes to judging a brand or product. This is why businesses today are being extremely serious about their reviews and ratings. Just focusing on your business and ignoring what your customer has to say, isn't working anymore. What's better than your old customers saying about their experience with you? This shows that you are genuine and care about what your customers think of you. Make sure you include mostly positive and some negative reviews that your customers have given you. Let your other viewers see how you respond to a complain someone has about your product.
5. Make it look human
At the end of the day, the person on the other side of the screen is a human like you. He/she would appreciate conversing with a human. It shows that you have personalized the process and value them. Whereas an automated message or content, tells very blatantly about your marketing goals. Connect with your customers on an emotional level. Make a note of topics that concern them and discuss it. IT could be any emotion that you and your customers are comfortable with.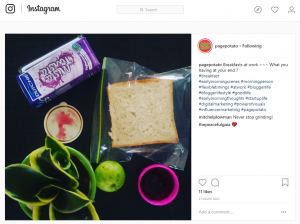 Earlier this month we were running a social media campaign at our #InfluencerSpeaks Interview series. We wanted a certain amount of traction for that event and brainstormed on different ideas. We were getting new visits every day due to these engaging interviews conducted by us. We decided on sharing the human side of the hustle in a startup like ours. We were also including sketch notes of our best-performing articles from the past. Both these new social media content strategies worked great for us. They were received well by our audience. This helped us to be consistent in who we are as a team and how we work behind the scenes of each interview.
Having a content calendar helped us automate our marketing during the whole on-going campaign. Surprisingly, the likes for our other posts and interviews gained more traction after we brought a more human transparent approach to our social presence. It was a win-win for both, Us and our customers. We got time to focus on the event and they got valuable information in form of sizable chunks.
In this way, you can improve your Lead generation process by seducing and converting strangers into showing interest in your product or services by engaging in social media updates. This would involve creating the demand and capturing interest in business, for increased sales. Most of the solopreneurs begin with, collecting names and details of prospective customers who they think will be interested in the business. You can get in touch with them with a pitch that will guide them into the next stage of your customer cycle. This forms the base of marketing strategy for your business. An engaging social media presence will aid you to bring in more prospective clients to your lead generation process.
You might have such incidents from your experience to share. Tell me about your lead generation techniques in the comment section.