The good news is that Google ads work.
The bad news is that people tend to spend more time while working on Google ads.
Understandably, Google ads has always been a platform that every small business owner can approach and utilize it to their advantage. But it can sometimes be really overwhelming. Further, Google ads aren't something that serves as a set-it and forget-it kind of solution. It takes a lot of effort to make sure that it's performing to the best of its ability.
For someone who works full-time on Google ads, it may not seem like a huge problem, but someone who is working on it part-time can really find it difficult to manage time.
In this article, we'll share with you top 10 tips to save time while working with Google ads.
10 simple ways of saving time with Google ads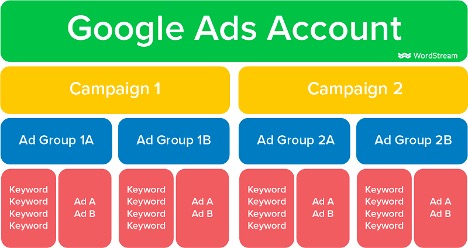 Now before we get started, you must realize it takes money to make money. In this case, it's the time that will make money for you.
Few of the strategies that we discuss below might take you little time to set things up while others may take a little longer. However, the ultimate goal is to save time in the long run.
Now let's dive right in.
1.   Set up automated rules
Automated rules have been there for Google ads for a really long time. They're used for creating specific changes or alerts in your account based on the conditions and settings you select. You'll be able to change your budget, status of your ad, bids, and much more.
For example, if you need to change a keyword bid because it has fallen off from the first page rankings, you can easily set a rule for that.
The best part is that using automated rules you can save time by cutting down the time monitor campaigns manually.
2.   Use scripts to make automated changes
Google ads scripts enable you to make automated changes in your ads account by entering Javascript codes. You can write your own scripts to add, edit, or remove items from your account thereby saving you a lot of time and effort as well as helping you manage everything easily.
Though scripts can help you with almost anything, here are a few ways you can use them to your benefit:
Make changes in your bids by using external conversion data
Take appropriate actions against multiple items in your account
Optimize bids for multiple child accounts using one script
Implement relevant changes across all items in your account
Help you do Pay per Click (PPC) ad tests the right way
The best part is that you don't have to be a coder to work with Google ads scripts. You can use any of the scripts available on the public platforms.
3.   Utilize bidding strategies
As you are already aware, when you set up your Google account, you can specify how much you want to spend on your ads. Now this can be done in two ways: manual or automated bidding.
Bids are something that the advertisers change frequently and also they are the easiest tasks to automate. As a basic rule and based on your recent performance changes, you can schedule regular changes to your bid by automating some bid rules.
Based on what your goals are for individual bid campaigns, you can select the bid strategy that works for you the best.
4.   Create new versions of your ads with automated ad copies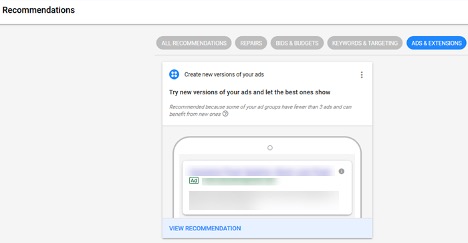 Do you want to automate your Google ad copy creation?
It's the most creative aspect of the Google ads creation process. At this stage of the process, your only focus should be to make the copy enticing enough for the readers to click the ad and make a purchase.
Since 2018, Google has been offering suggested ad copies and later in 2021, they expanded its recommendations list. With their new Ad suggestions feature, Google began suggesting new ad copies for all users' campaigns. Once the suggestion is created, the user gets a chance to review and make edits to the ad to make it more appropriate for their campaigns. If they don't respond within 14 days of the ad suggestions, these changes are automatically applied within the account.
The best part is that the automated ads have a 10% better Clickthrough Rate (CTR) than the manually-written ones.
5.   Automate Google ads receipts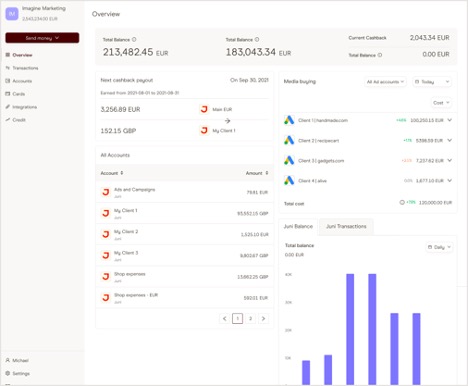 You can now automate Google ads receipts and streamline your workflow by seamlessly integrating with one of the world's largest ad platforms. Save your time by automatically generating receipts and import all your transaction receipts using the Juni platform. Besides you can get your track spend and make your bookkeeping process effortless by getting monthly invoices pulled from your account.
6.   Create and apply negative keyword lists
Negative keyword lists help you manage the negative keywords in your campaigns more efficiently.
But what are negative keywords?
These keywords let you exclude those search terms from your campaigns and focus more on the keywords that matter most to your customers. Better targeting and placement of ads will help you put your ad in front of customers that are really interested in your products.
While selecting negative keywords, focus on terms that look similar to your keywords but eventually cater to customers that're searching for a different product.
In the recent past, Google had rolled out the ability to use a list of negative keywords that can be used across several of your ads campaigns. While adding negative keywords, you can just add it to the master list and then you can use it across any of the campaigns you want. This also helps you save time by eliminating the need to mess up while navigating across different Google ad campaigns.
7.   Save additional views while customizing columns
Data visualization can play a huge role in saving time while you analyze your ads data.
Custom columns allow you to define as well as view specific parts of your Google ads. For example, instead of viewing all your CTRs at once, you can customize them in a way that you'll be able to see Desktop CTRs versus Mobile CTRs separately.
While customizing columns, you need to navigate to 'Columns' and then search for the columns you always want to use while viewing your campaign performance and then save it as your default view.
You can also save additional views depending on different goals of your campaigns — revenues, impressions, video views, and so on.
8.   Save filters for your ad campaigns
Almost like views, you can save filters for your ad campaigns. You can filter your data according to what interests you the most, such as, average Cost-per-Click (CPC), impressions, keyword texts, etc.
Filters can save you a lot of time by identifying problems with your ads, keywords, or campaign settings.
9.   Create predefined reports
Google has a very comprehensive reporting section within its interface. The best part is that you can create a report for your ad campaign with any combination of data that's available in your account. However, it's critical to use the metrics correctly when you're working with these reports. A few examples of predefined reports include Time report, Search Terms report, Landing Page report, and so on.
Here are a few best practices when you're working with predefined reports:
Have a clear aim in mind
Use relevant contexts with your analysis
Spot problems and achievements through your analysis
Personalize your reports wherever you can
10. Visualize your performance through built-in dashboards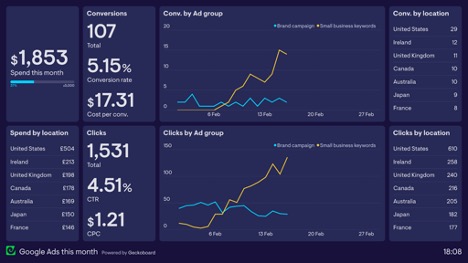 If you're a small to medium-sized business and easily make about $9-10k from Google ads campaigns, then tracking the ROI becomes all the more important.
Dashboards are the best way to view the performance across your ads account. You can create customized dashboards at any time with a consolidated view of your chart reports, scorecards, notes, or table reports. Dashboards also help you gather the most recent and relevant data so you can identify the issues your business is facing and immediately reflect them.
Majority of marketers use and review Google dashboards on a regular basis. Google offers basic dashboard features with drill-down options. A few of the basic ones are:
Overview of your campaign — Which of your ads generate the most amount of engagement?
Clicks — How many clicks does your ad receive on a daily basis?
Impressions — This is about the views or the number of times your ad showed up on the google network.
Conversions — The number of users who completed the desired action after they've clicked on your ad.
Cost — What's the amount you pay for each click on your ads?
Cost per Conversions (CPC) — How much does it cost to convert your ad?
Start doing more spending less time
Google ads can be a really significant investment. If you do it right and set yourself up for success, you can definitely save a great deal of time.
Let us know in the Comments section below in what ways have you saved time with Google ads.
Author bio
Atreyee Chowdhury is a freelance content writer with more than 10+ years of professional experience. She is passionate about helping SMBs and enterprises achieve their content marketing goals with her carefully crafted and compelling content. She loves to read, travel, and experiment with different cuisines in her free time. You can follow her on LinkedIn.