Do you know why almost 90% of the leads you attract don't end up making a purchase? That is all because resource owners don't use really good lead generation services. Such tools help to collect information about potential customers and turn them into loyal customers. After all, the process of attracting leads is not as simple as it may seem at first glance. But what features should lead generation software have, and how much does it cost to use such services? And finally, how to choose the best service for your business? We are here to answer all these questions (or even more) and help you find the best solution for your business. We will explain everything in simple words so that even marketing novices can understand all aspects.
How Сan Lead Generation Services Benefit Your Business?
The main purpose of using Lead Generation Services is to increase sales. Acquiring new customers is a difficult process. It starts with building a user base and then, creating a marketing strategy to communicate with them. That already sounds difficult. And without the use of lead generation tools, that process becomes many times more difficult.
Such tools will help increase brand awareness and customer loyalty to the business, collect data for user segmentation, target audience selection and analysis, and increase sales.
What Features Should a Lead Generation Software Provide?
Of course, each service offers a unique list of benefits. Familiarizing yourself with the key features of a lead generation software is highly important, especially if you're not outsourcing your marketing to a SEO Agency or digital marketing agency. There are basic aspects that you need to pay attention to. Among them, we can highlight:
Reliable customer service. This is one of the most important points because while using the service, you may have questions related to the work of the tools (and they will almost certainly arise). And so that you can always get advice, choose services with good customer service;
Be sure to pay attention to the targeting tools in the service. You should always be able to take action on your target audience without affecting disinterested users. Segmentation capabilities are also important;
A reliable service will give you the ability to view analytics on your target audience's interactions with your brand. In fact, this is your main tool to work with;
The price should always justify the list of services the provider offers. That's why we have evaluated this criterion as important when compiling our top;
Integration with other services. This can save you from having to deal with a lot of data manually. The more integration options a service offers, the better.
We've compared many services, their features, strengths and weaknesses, and of course, prices to create a top of options and make it easier for you to choose the best one. So, let's get to the point and take a closer look at all the options.
Top Lead Generation Services
1. Ampliz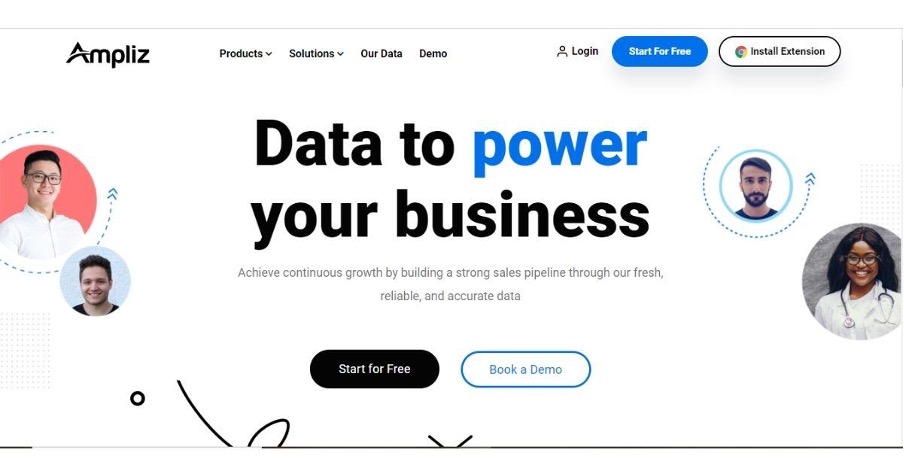 Ampliz is an APAC, B2B and healthcare data intelligence platform powered by Contextual Intelligence. With Ampliz, you can effortlessly find contact information, such as email address, phone number, location, business type, job title, and advanced data attributes. Ampliz helps salespeople, marketers, and recruiters to optimize their targeting practices by providing them access to complete data intelligence.
We've got you covered! Get Started with Ampliz 
Instant data access
5,000+ businesses trust Ampliz
Unlock 10 free data credits
GDPR & CCPA compliant
Our tool, Ampliz SalesBuddy, is a chrome browser extension that empowers Sales & Marketing people to scale their demand-generation initiatives with personalized intelligence.
In a world where as much as 40% of B2B sales leads contain bad data, Ampliz SalesBuddy is the tool you need. Finding good B2B leads is difficult and we understand that.
Hence, we have developed this tool with which you can access any information you want, with just a click.
Features of Ampliz Salesbuddy
Set target customer persona and get prospect fit score on the same
Get Similar matches for the selected persona any time
Access real-time, get a LinkedIn profile, Email Ids, and Direct Dial numbers
Bulk export your shortlisted B2B prospect contacts from your personal dashboard
Add more data points and request custom data sets with Contextual Intelligence
Benefits for Marketers and Sales Folks
Get the business leads you need to scale revenue
Save time by focusing on the right prospects
Build a strong Sales pipeline with prospect intelligence
Reduce workflows and man-hours to make the process more efficient
Ace your ABM campaigns with the Social data of key decision-makers
Leverage the power of a massive global B2B data platform Try the tool now at www.ampliz.com
2. Hunter
This is a great service for those working in the B2B segment. Many users all over the world have already used it and appreciated all its benefits. Hunter's main purpose is to help you find new clients. They have a large database of email addresses on which you can search. That means you can get the email addresses of the potential clients you need.
To see how helpful this tool is, you can use the trial version of the platform, which gives you the opportunity to do 100 searches for free. That way, you can decide if it's worth spending $39 or more a month for a paid plan that lets you make 1,000 or more searches.
3. HubSpot
Along with a blog name generator, HubSpot, in our opinion, is one of the best and most comprehensive lead generation platforms. In fact, you can meet all your sales needs with this software.
Among the benefits of the service, we can mention the ability to set a timer and sending interval, the ability to track results, analytics, reporting, and more. In simple words: you get everything you need and even more! It can easily be compared to using a business process outsourcing service to generate leads.
The service is easy to configure, and even a marketer without much experience can deal with its functionality. Paid packages start at $45 a month and can go up to $2,000 or even $3,000, depending on your needs. To calculate the cost, visit their website where you'll find a handy final price calculator for using the service.
4. Pipedrive
Pepedrive is a very popular lead-generation tool. And we also think it is worthy for you to pay attention to. Its main advantage is its ease of use (and we don't advise you to consider complicated and incomprehensible applications).
It is a great automated program that will do many things in the sales process for you and free you from the hassle. All of the important functions described above are presented in this software, including analytics, reporting, and more. You can fully rely on this service to get things done but still, easily control everything.
Pepedrive offers several packages with prices ranging from $12.50/m to $99/m. Check out the contents of each package on their website to choose the best option that meets your needs. We can't make those choices for you or give you advice because every business is unique and needs an individual approach.
5. ClickFunnels
From the name of the service, we can already make conclusions about what this service offers. It is the generation of leads through great sales funnels. They analyze the data received and suggest the best option that will work for your marketing campaign.
You will have the opportunity to evaluate all the benefits of the service for two weeks for free. Then, you will have to pay at least $97 or more for their services. According to the reviews available online, users of the service are confident that the prices are justified.
6. ConvertCalculator
The lead generation quiz by ConvertCalculator is a tool made to assist businesses in generating leads by enabling the creation of interactive quizzes that engage potential clients and gather crucial information for further marketing initiatives.
7. SeedProd
This is a very narrowly focused but essential tool in marketing trends. First of all, SeedProd is a landing page creator. Moreover, it is very handy and extremely easy to use. But what else can this software be useful for?
Once you have created a page, you can receive data about its attendance, analyze this data, take advantage of timers, and generally, get all the information about the behavior of users on your page and all the actions they take.
If you visit the SeedProd website, you'll see that this service can cost you either $29 or a pretty penny, almost $100 a month. But the functionality of this service justifies the price
8. Novocall
Novocall is a business phone system with a suite of call automation features that helps users generate both inbound and outbound leads.
Novocall's click-to-call inbound widget can be embedded onto your website so site visitors can request a callback from your reps. Capture inbound site visitors' information through the widget and store them in your CRM.
The outbound call dialer allows sales reps to create automated outbound calling campaigns to quickly contact every lead on their contact list.
The software can be set up within 5 minutes and doesn't require any coding knowledge, so even the least tech-savvy people will find it easy. Paid plans start from $19/month, and there's also an option for a customized solution. To find out more about their pricing and features, check out their website or get in touch with their sales rep.
Conclusion
In this article, we have collected services for successful lead generation. Moreover, we have shared with you the best of them because we have conducted a thorough analysis and selection. So whichever option you turn to, we are pretty sure that you will be satisfied.