It's a pleasure for me to present you my newest book Salespeople Embracing IT All, a new book that provides revolutionary sales-empowering concepts now being utilized by forward-thinking companies.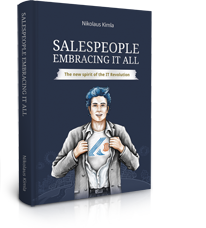 The Renaissance of Salespeople
Salespeople Embracing IT All puts forth the concept that salespeople, being the primary contact points between company and customers, are actually "entrepreneurs in the enterprise." Because they have daily contact and feedback on products and services, they can actually be part and parcel of the innovations within any company and should be a working part of that process. Software tools should fully support them—not weigh them down with cumbersome reporting and micromanaging—as should the sales management structure. These concepts have been applied in the creation of his CRM software product Pipeliner, which is further revolutionizing the sales process.
Acclaim for Salespeople Embracing IT All
Great book that all leaders should read and reference. The author has done a tremendous job outlining the importance of Sales & Sales Management. Implementing Mr. Kimla's superior strategy & revolutionary tool will drive the development of high performance salespeople and superior results. – Gregor Sideris

A timely book by an original thinker … from "Austrian" economics to the IT revolution … from creative destruction to constructive creation … Highly recommended! – Michael Flood
And now is your turn, get your free chapter now or order a copy on Amazon.
Enjoy the reading!