Are We Working More Together than Ever?
In my last blog, I described using this "shut-down" time for reflection, for perhaps learning some lessons about where we've come from, and about where we're going.
I can only relay what I myself have learned and am learning, and this is very subjective because it is how I see the world. I do, however, have the capacity to look through kind of a spyglass with a broad-ranging view, through my company and all the team members and partners all over the globe: England, Austria, Germany, Slovakia, India, Canada, Africa, and Australia.
I described in my previous article that we're at a full stop. There does remain a question of, who caused it? There is endless speculation about the answer to this question: China was out to cause harm to the West, other powers wanted to harm China, ad infinitum. While it would be really interesting to learn the truth, and we should get this information, I don't think we'll ever know. It's similar in that regard to the question of who shot JFK; we'll never know the real answer to that one, either.
We can, however, learn what kind of effects such a pandemic causes. The first important point I think we can learn is that things will definitely return to normal. Humanity adapts to all manner of problems and finds solutions to them always. It may take some countries longer than others, but we always find away.
Collaboration
Why do I believe that? Because even with everyone having to stay at home, I know many are working. And because we can't occupy common spaces, we have to collaborate—and through this experience, we are learning to collaborate in ways we haven't before. Part of this collaboration is devoted to rapidly finding solutions to these crushing issues so they don't impact us like this ever again.
With the increased collaboration we're seeing today, I believe that the world is actually getting better during this time. It's as if evolution has taken us to the next step.
Many tools enable us to collaborate. There are collaborative messaging systems such as Trello and Slack, and videoconferencing tools such as Zoom and Skype. CRM systems, of which our Pipeliner is a leading example, is also very much a collaborative tool, allowing members of a sales team and organization to work together on deals.
This collaborative approach is seen in Pipeliner's Network Selling system.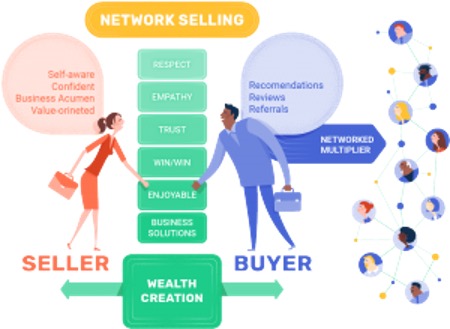 Collaboration requires a business approach. It requires empathy. It requires a win-win scenario.
There are even personal benefits to learning to collaborate. For example, you need to learn to calm your temper. You need to learn to communicate well, to be effective and efficient in what you say and do. If you don't learn these things, people won't be able to work with you. You cannot be a dictator, because that's not collaboration.
Interestingly, I think that if our cooperation and collaboration had been at a higher level when this virus was discovered, this shutdown could have been prevented. Iit may not have become such a necessity. Hopefully, we can learn a lesson out of that—we will see.
Lack of Collaboration Training
In this quarantine, we're certainly seeing the weaknesses in our education system, but one weakness I don't think anyone has spotted before is that collaboration is something that is not taught in school. A student goes to school and is mostly focused on what they themselves are doing. Yes, there is some project work, but at the end of the day, they're not learning to collaborate intelligently.
This does not adequately prepare a student for the world. Throughout their entire education, the student is working alone. But when that student finally graduates and steps out into the real world, they're suddenly thrust into being part of a team. They're involved in a much larger ecosystem, for there isn't anyone who isn't dependent on someone else, to some degree. The only way this new member of society learns how to collaborate is on-the-fly.
In short, our school system focuses the student on "me, me, me, me" and when they emerge into the business community it becomes, "we, we, we, we!"
Why is learning to collaborate important? Because it reduces the resources needed to get something done. The other, more broad benefit is that collaboration on a large scale brings peace. The Austrian School of Economics teaches us that trade has a peacekeeping element because people engaged in a trade don't engage in conflict. You could say that trade is a form of collaboration because the buyer and the seller are collaborating—otherwise, there would be no deal.
Fortunately, I think we're certainly learning it now because we're being forced to.
Community
Another effect all this collaboration causes is a sense of community. I see it right in my own neighborhood—people who would normally be inwardly focused and rush right on by now take the time to say "Hello!"
This leads me to believe that to continue strengthening the community, the real structure for the future is one which is decentralized, not centralized. If someone comes along and says that the best possible social system is the regulation of the entire world, this is a concept that is impossible to sell to me or any other intelligent person. We now know that the structure needs to be small, not big. Put another way, we need small government, not big government.
Real Value
Another interesting lesson we are learning right now is about what we value. Right now we're seeing how valuable doctors and healthcare workers are, for example, and appreciation for them is being expressed far and wide. The same is true for teachers. Many of these professions are not high-paying. especially when compared to someone like a money manager making billions of dollars for just shifting funds from one place to another. This period in time is showing us who has real value and is carrying the weight of our society.
This real value extends to our personal lives, too. Just some months back, we had wildfires in Los Angeles that threatened many homes. Many had to evacuate, and at that moment had to decide what was truly important because they couldn't take everything with them. We're not having to evacuate today, but we are certainly taking a good look at what is valuable to each of us.
Rethinking Our Path
Another lesson I think we can learn is to rethink this path each of us are taking. Are you doing what you are inspired to do? Perhaps some of us will refocus on something we'd rather be doing, rather than just jump back behind the same wheel when we get back up and running again.
Examine this closely. I think that at least some of us have figured out that some of the things we thought we needed so badly, we don't need. We thought the world would end without some of these things, and it hasn't. Every few seconds, a new product is coming on the market, and there are already thousands of other products so similar in nature. It's difficult to even comprehend how many similar products are out there.
Some Will Learn, Some Won't
Some time back in another series of articles, I referred to The Parable of the Sower, told by Jesus. In that parable he talked about the farmer spreading seeds; some seeds would fall on hard, rocky ground; some would fall on dry soil, and some would fall on fertile ground.
We're in a similar situation today, in which some won't learn any lesson; the seed just won't take. They'll just see the quarantine as a disruption, and once it's over just move on. "It wasn't affecting me. I heard about it in the media and had to stay at home. I hated that. I wanted to party with my friends." I'm not pointing the finger at anyone who is yearning to go out, to concerts, the theater or whatever—I think we all are. But some just won't learn, and we have to be realistic about that. There will be others who will learn some lessons, but once the quarantine is over they may fall back into old patterns that are most familiar to them. That seed didn't quite take, either.
But then there will be those who do learn, and the seed will take root. They have learned to value their families. They've had more time with their children, and it's been beautiful. They found they communicated so much more, and they found they really enjoyed their time together. From all they have learned, they will evolve new habits.
The Most Important Profession
Lastly, I predict that learning or not learning, implementing or not implementing, taking new paths or the old ones, one profession still stands as the most important: sales. Every company that lost numbers will need good salespeople. Salespeople will be especially important in certain business sectors that have experienced losses from this pandemic; prospects will be harder to sell. They'll need convincing arguments, effective processes, and all the other things required to bring the numbers back to a respectable level.
And that takes us back to the fact that, as we come back to normal, we are in the age of sales, of intelligent selling, and Network Selling.
The "Answer"
I think that there is not one single answer to this whole situation—just like there isn't a single answer to any of the world's problems today. One thing we can learn, though, is that without working together, without that collaboration, there truly is no answer.
I believe that collaboration, in itself, is the most powerful takeaway from this entire situation. Collaboration means less resources used to get things done, and it truly shows us we need each other.