"Never judge a book by its cover."
Albeit this proverb makes a lot of sense when it comes to most real-life situations, it doesn't quite work with E-commerce websites. When you visit a website that appears so unprofessional, has a poor design, and everything on it looks malicious, the chances are that you will exit the website as soon as possible. With websites, we do judge a book by its cover. Trust badges are the basis of our judgment with websites.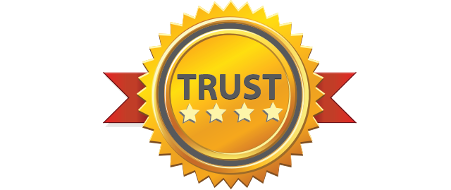 Fake websites and phishing attacks are so rampant these days. Hackers are targeting unsuspecting web visitors who appear to have their guard down. Every website owner has a chance to improve the credibility and legitimacy of his/her website. If your clients have faith in your website, you can anticipate high conversion rates, and if all goes well, be sure to make huge sales and huge revenues. Who doesn't want that?
The best way of enhancing trust and building credibility is by including recognized badges on your website. Trust badges will help you showcase the security measures that you have taken to protect your website visitors. For an E-commerce website, having trust badges is not an option but a necessity.
What are Trust Badges?
Trust badges also referred to as trust seals, are logos that confirm a website's authenticity and assure website visitors that your business is legitimate. Trust badges ensure that website visitors feel safe, and they can entrust their sensitive information with you.
The Impact of Having Trust Seals
When used ideally, trust badges can have a significant impact on the success of a website. They will help improve your conversion rates.
 Blue Fountain conducted a study to establish the relationship between trust badges and conversion rates. They replaced a privacy note that assured clients that their information was safe and secure with the VeriSign trust badge. Although the effect was so slight, the results were significant.
Another survey conducted by Econsultancy/Toluna showed that 48% of all those surveyed said that the presence of a trust badge was the most important factor they will look at when shopping online. Another study conducted by Baymard Institute suggests 17% of cart abandonments occur because the shoppers do not trust the website with their credit card details.
 Different Types of Trust Badges
Trust badges usually come in different forms. Let us look at the different types of trust badges and how they impact your E-commerce website.
Website Security Badges
Website security threats have become rampant. We hear it in the news about the data breaches and security hacks happening almost daily. Website users have become wary, and for a good reason. If they share their sensitive information with the wrong guys, then that could be the beginning of their downfall. As an E-commerce website owner, you should be willing to take proper security measures to ensure that all the data your clients share with you remain safe.
The SSL certificate is one perfect trust badge that assures your visitors of their security. Website visitors find it very hard to trust a website that does not have an SSL certificate. According to a Google Transparency Report, 95% of all pages loaded on Google Chrome in January 2021 were served over HTTPS.
If your website does not have an SSL certificate, a "not secure" message will be shown to all visitors who try to access the website. The message is a significant concern to your visitors as they will doubt the authenticity of your website. You have to give them a sense of security when browsing through your website by ensuring that you have an SSL certificate.
A website with an SSL certificate will have a padlock symbol and a URL starting with HTTPS. A website without the certificate will have a URL that begins with HTTP. This is what your visitors will be looking out for. So, when you buy an SSL certificate and have the related trust badge, you assure your web visitors that all the sensitive information they share with you is secure.
Payment Security Trust Badges
Trust badges from payment security providers are a significant element of every E-commerce website. When a buyer has made his/her selection and is on the verge of making a payment, he/she might hesitate to enter the card details. They want to be sure that they are making the payments through the right channel and no form of compromises will occur.
Showing your customers the trust badges from the payment options you are providing will eliminate any form of doubt and make your customers more confident when transacting with you. Trust badges from payment service providers such as PayPal, Visa, and Mastercard will help instill a sense of confidence in your customers. You cannot afford to lose potential customers or deal with several cart abandonments just because you do not have these logos.
Anti-Virus Badges
Anti-virus companies are the top providers of trust badges. Trust seals like McAfee and Norton are so popular and will make your customers feel secure if they recognize the trust seal brand on display. Most E-commerce stores are using the Norton trust seal because it is popular and highly recognizable. The anti-virus badges assure your website visitors that they are protected from any form of malware attacks.
Privacy Trust Seal
Privacy is one of the most significant issues of concern on the internet. Your website visitors will want to ensure that they are protected from any form of privacy intrusions. If your visitors have a reason to believe that their privacy could be compromised in any way, then they will avoid your website. The good thing is that organizations can undertake a privacy audit of your website and give you a trust seal to show your clients that your website is safe.
Final Thoughts
If you own an E-commerce website that lacks a trust seal, then you are missing out on the opportunity to scale your conversion rates to your desired levels. Your customers will most likely abandon their carts and drop the purchase idea if they fail to see a trust seal on your website. Some of these trust badges, such as the SSL certificate, are affordable; some even come at no cost. So, you do have no excuse but to ensure that you have the badges on your E-commerce website. It is for the good of your conversion rates and your business as a whole.
Reference Sources