Cross-promotion may sound like just another marketing buzzword. Only, it's anything but. Done correctly, cross-promotion can dramatically increase your sales and lift your bottom line in your value chain.
The idea isn't new either. Cross-channel marketing is offering related products or services to your patrons. Some examples of cross-promotion are Coke promoted with KFC meals, or wax polish bundled with shoes, or music from certain artists offered as ringtones in mobile handsets. These are all instances of cross-promotion at work.
But, the idea is gaining a lot more traction today thanks to social media and digital marketing mediums making themselves available. It becomes a lot easier and cheaper for brands to test related products using digital means.
Cross-promotion isn't all about related products and services either. Simply venturing into new digital channels and then tying them with your existing ones will qualify as cross-promotion as well.
Here are seven ways in which you can turn cross-promotion into your next marketing success.
#1 Start with basic keyword research
All good research starts at the keyword level. Remember, your audience is using them to find solutions after all. There are a few questions you'll need to ask yourself here —
Who's my target audience?
What product/service are they currently using?
What new value can I create for my customers?
What products can offer said value?
What companies create such products?
A quick and easy way to get started here is to take a look at what your competitors are doing. Are they offering bundled products/services? If so, then are there any commonalities that you can draw inspiration from?
Once you have an idea of who you're going to be talking to, consider conducting in-depth SEO research. Head on over to Google Keyword Planner and plug in your basic keywords. Look out for long-tail keywords that are related to your product/service.
For example, if you run a gym, then you can partner with a sports drink brand.
#2 Partner with related brands
By now, you should have a long list of potential products you can add to your cross-promotion efforts. But don't start messaging all the companies related to the keywords you found just yet.
Remember, you want to build a relationship with the companies you cross-promote with. So, the products you choose should offer spectacular value to your customers. There are a few things you should look out for here.
Firstly, don't go for tangents too distant from your offering. As a rule of thumb, your chosen companies should have the same customer base as you. A little thought experiment you can run here is to ask yourself whether your partner brand's customers would buy from you or not.
Next, your partner should compliment your brand. Ask whether their message and brand values resonate with your own. This is crucial as differing brand values can create an awkward proposal that won't make much sense on an emotional level.
Even SaaS-based services can cross-promote apps they have integration with. GoAura for example integrates with various related services which is a great example of digital cross-promotion.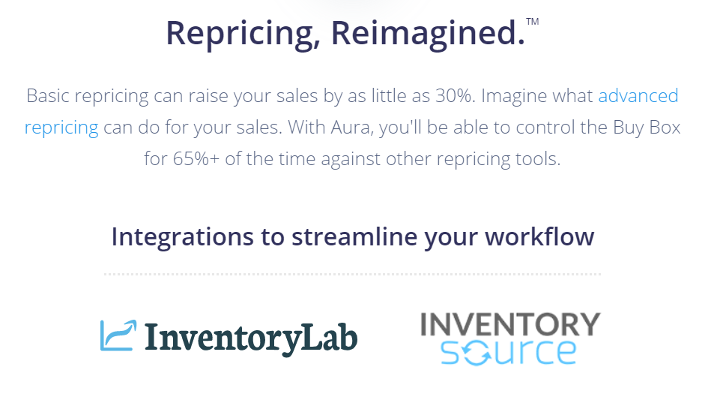 #3 Have an affiliate program
While not cross-promotional by nature, affiliate marketing programs like Overnight Freedom can be great foundations to run them off. In an affiliate program, you offer a commission in exchange for a sale. You can either create your own affiliate program or join an aggregator site that enlists affiliates.
Once your program goes live, affiliates can sign up with it and start promoting your products. But, a well-thought-out affiliate program can do more.Firstly, your affiliate program can greatly help your cross-promotional efforts as the bundled products give your affiliate's customers more options.
Next, you can offer affiliate opportunities to your cross-promotion partners. Consider offering discounts to your partner's customers should they purchase your products too.
Today, you can also use social media to amplify your affiliate reach exponentially. For example, language tutoring company Preply, partners with its users and various businesses to promote its services.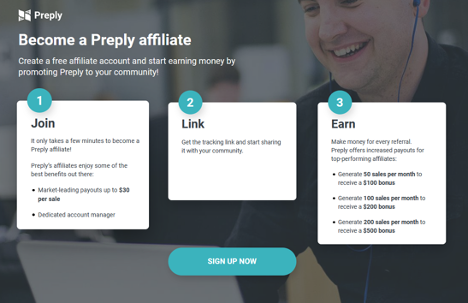 #4 Create some buzz around your product
Even though you may have an awesome cross-promotional idea, you still need people to know about it. Basic content marketing strategies can work wonders here.
Start by making a list of all your leading industry publications. Your keyword research should've highlighted the more prominent websites. But, it's always a good idea to run a dedicated search.
Use a search string like "your industry + blog" or "your industry + write for us" without the quotes. Next, go through the top results.
Make note of the kind of articles the website likes to publish, as well as what voice and tone they use. For example, a medical alert device manufacturer will want to get their product featured on a site like Medical Alert Systems Reviews.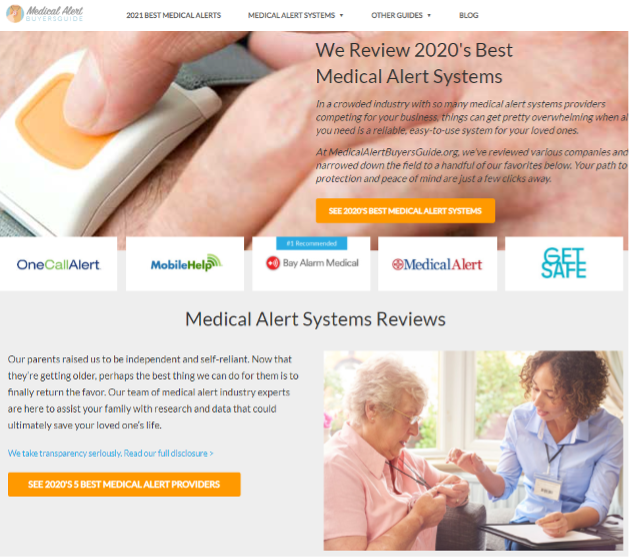 Once you have a good idea of what your target publications are looking for, it's time to pitch them ideas. Most sites will have a contact us section with detailed instructions on how to pitch to them. But, these are often overused.
Another idea to create some buzz around your product or service is to pay comparison websites to feature your company. And it works in every industry!
Paying to be featured on those websites can also be a cross-promotion strategy that works well when there's a lot of traffic to that comparison site.
These sites often also work as part of an affiliate program. For example, check out this list of the best credit repair companies.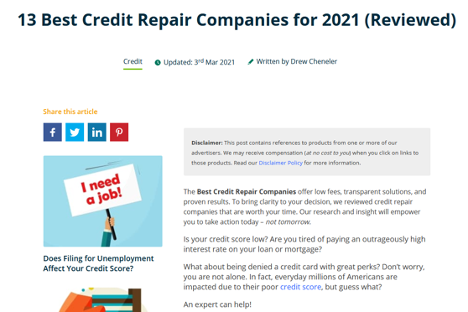 The providers featured in the article provide compensation to the website for customers they receive through them.
A better idea is to hop on to LinkedIn and find the site's editor on there. You can even use a LinkedIn email finder. Now, pitch your article idea directly to the editor. Keep repeating this process until you are successfully published on all your targeted publications.
#5 Create partner-specific offers
So far we've covered how you can find and reach out to potential business partners. But, you should consider the fact that there might be businesses out there looking to create their own programs.
An easy way here is to create a wholesale program. Not only will it let you make better offers, but you can also find cross-promotion opportunities. Part of setting up a wholesale program is to find suppliers and businesses with tangenting interests.
In this case, the healthcare professionals, retail businesses, and entrepreneurs they target will make ideal cross-promotion partners.
#6 Use free content to attract potential partners
Besides publishing to your industry's leading websites, you should have high-quality content on your own. This is important as it educates both your audience and your cross-promotion partners to understand your product's value. Self-publishing gives you content to link back to when you submit articles to other sites.
Blogging, email newsletters, informational webinars, and videos are all great ways to share what you know. But, cross-promotion may need dedicated content that answers specific questions. Here, ebooks and in-depth white papers can offer greater value than top-level blog posts. For instance, LFA Capsule Fillers offers a free ebook as a sign-up incentive —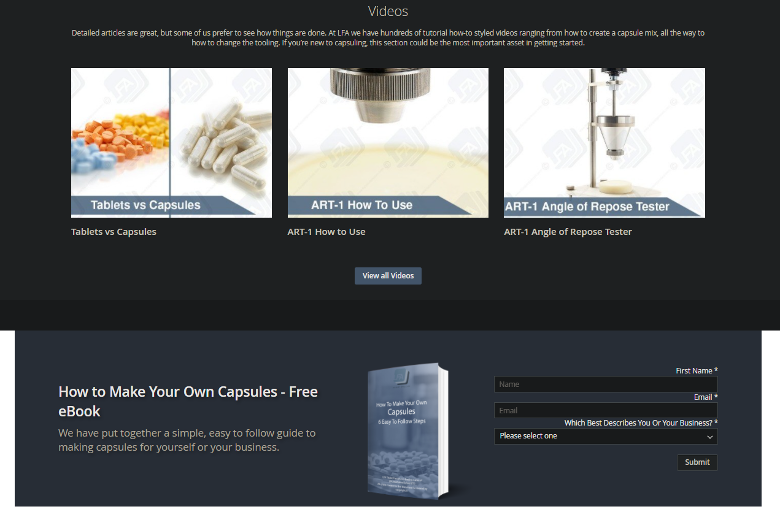 Remember that merely offering a free downloadable piece of content isn't enough here. Your content must provide a lot of value for it to work. In the case of LFA, the ebook teaches how the reader can make their own capsules, which would be something an interested party would want to know.
#7 Use omnichannel marketing
Omnichannel marketing and cross-promotion are a match made in heaven. The two strategies complement each other because both work on the same principles.
Omnichannel marketing, also known as cross-channel marketing relies on promoting a product across multiple digital platforms. It makes sure customers have a seamless experience regardless of whichever medium they use.
As cross-promotion relies on promoting related products, you need to have a good understanding of all the channels. Not all your customers are on Facebook or Twitter. Also, people who are primarily interested in complementary products may have different tastes entirely.
To illustrate, look at this homepage footer from this DCIM software company: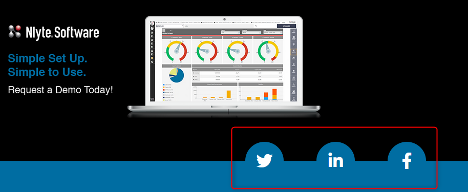 Notice how they have a presence on all the major social media channels. But, a closer look at each will reveal that the firm doesn't just post randomly to each either. Their messaging is consistent across each platform, which is key to making omnichannel work.
Conclusion
Cross-promotion is billed as a strategy that lets you offer more options to existing customers. But, its true strength lies in tapping into your new partner's audience.
Remember, the products or services you are going to promote alongside your own will have their online following. And, people interested in complementing products may very well be interested in yours as well.
About the author:
Ray Hein is the CEO and founder of Propel PLM, a cloud-based product success platform. He is a SaaS veteran with 20+ years of PLM, development, and product launch experience in both hardware and enterprise software organizations. Ray has held multiple executive positions at companies such as Agile Software, Apttus, Vendavo, and Centric Software.