Online trading journals are logs through which traders can keep track of all their trades and gain valuable insights. Even though you can create logs and keep track of your trades with excel sheets, online trading journals offer unique insights, advanced charting tools, backtesting environments, performance analysis, and even A.I.-powered recommendations.
Additionally, all the trading journals listed here are compatible with some of the largest online brokerages. With trading journals, You can automatically import your trades and access charts and filters in real-time, request detailed reports, and more.
In the right hands, trading journals can be a great addition to your investing strategy and can help you find systematic errors that may be impacting your profits. In this summary, we review the three best trading journals – for a more detailed side-by-side comparison, we recommend checking out our full list of the best trading journals.
1. Tradervue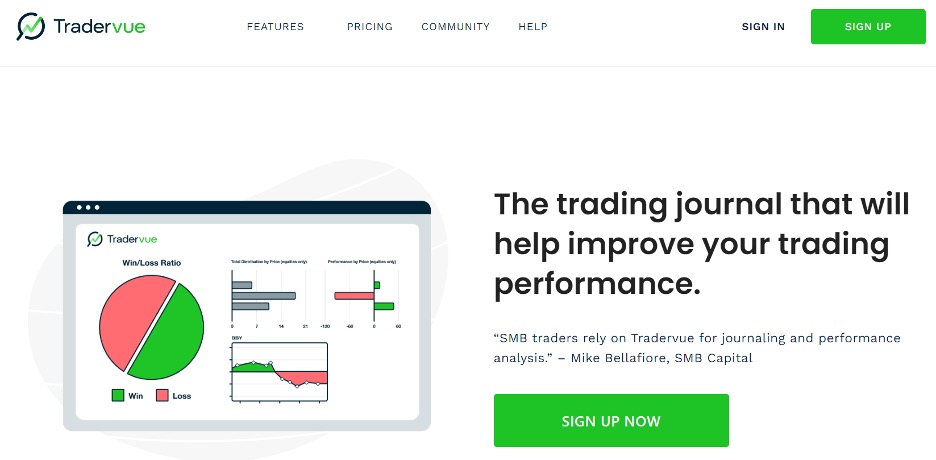 Tradervue is an online trading journal for traders looking to track their investments and gain valuable insights. Tradervue supports stocks, futures, and forex trading, and it's compatible with 82+ of the largest online brokerages. Tradervue supports equities, options, forex, and futures contracts.
With Tradervue, you can auto-import your trading data directly from your broker and get personalized reports with actionable recommendations. Additionally, you'll have access to advanced analysis tools, detailed statistics, risk analysis, and 8+ premade report templates, accessible at any time.
For beginner investors, Tradervue offers a comprehensive coaching/mentoring program where you can work alongside coaches and mentors, share your trading data to find ways to improve, and discuss how to improve. We recommend Tradervue for all intermediate and professional traders that can take advantage of the tracking and reporting tools
Pros
Compatible with 80+ online brokerages
Supports equities, options, futures, and forex
Auto-import all your trades
Very affordable subscriptions
Automatic charts and filters for all your trades
Set up daily, weekly, or monthly reports
Cons
Can't place orders from the Tradervue dashboard
Risk tracking and reporting are only available on the Gold account
Doesn't support crypto
Pricing
Basic Account: Free
Silver Account: $29/month
Gold Account: $49/month
2. TraderSync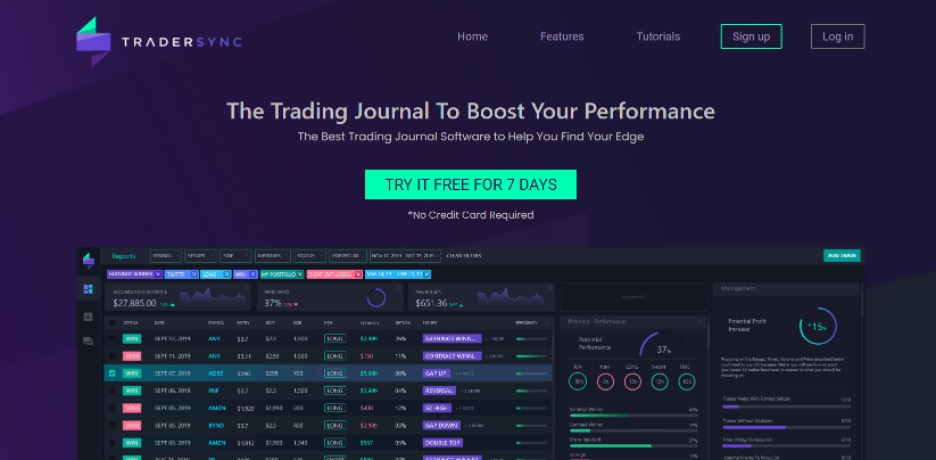 Launched in 2014 by a team of professional programmers, TraderSync is a trading journal and portfolio tracker designed for day traders and active traders. TraderSync is extremely user-friendly, and it's our top recommendation for beginners.
With TraderSync, you can keep track of all your portfolios in different tabs and get personalized reports for all your investments – currently, TraderSync supports stocks, options, futures, forex, and crypto. TraderSync can be used alongside 240+ brokerages. If your brokerage isn't currently supported, you can always reach out to the customer support reps, and they'll help you import your data.
For experienced traders and investors, TraderSync offers interactive charts, a simulated environment where you can test strategies, and 10+ easy-to-digest reports with key insights into your trading.
Pros
Compatible with 240+ online brokerages
Supports stocks, options, futures, forex, and crypto
10+ easy-to-digest, insightful reports
Interactive charts & intraday charting
7-day free trial
Available on Android and iOS
Cons
No free account
Some reports are only available for the Premium and Elite subscribers
Pricing
Pro Account: $29.95/month (or $179/year)
Premium Account: $49.95/month (or $299/year)
Elite Account: $79.95/month (or $479/year)
3. Edgewonk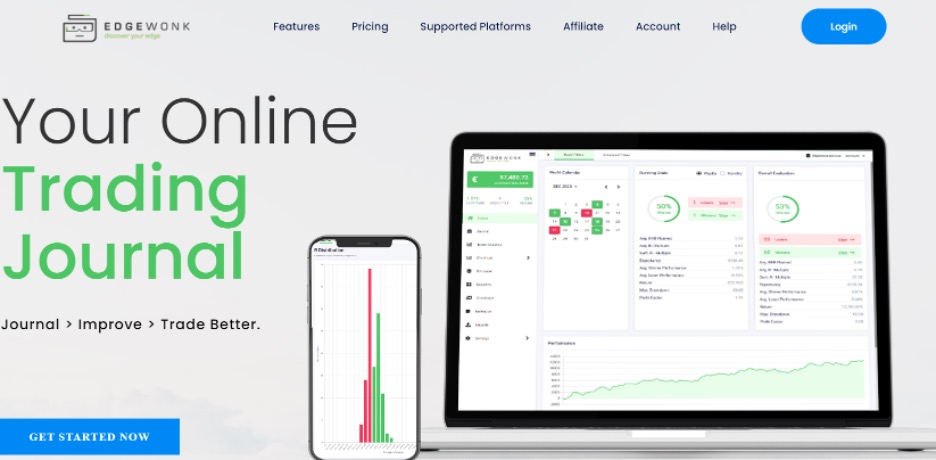 Headquartered in Germany, Edgewonk is a web-based trading journal designed for intermediate investors looking to track major asset classes, including stocks, forex, futures, CFDs, commodities, and crypto.
Edgewonk is available on desktop and mobile devices and can be used as a standalone web application or downloadable software. Edgewonk is compatible with 23+ online trading platforms, including Interactive Brokers, MetaTrader 4, MetaTrader 5, and NinjaTrader, among others.
From the Edgewonk app, you can get recommendations and actionable tips to improve your trading, sync it across all your devices, and test it in a backtesting environment. For experienced traders, there are advanced charting and performance analysis tools, including an emotional analytics tool, ideal for traders looking to find their own biases and avoid them.
Pros
Synchronize with 23+ online trading platforms
Performance analysis tools
Advanced charting
Available on desktop, Android, and iOS devices
Supports stocks, forex, futures, CFDs, commodities, and crypto.
Advanced filters & efficiency analysis
Cons
No free account and only one subscription plan
Limited compatibility with brokerages
Pricing
Annual Subscription: $169/year
Conclusion
Trading journals are an excellent option for traders looking for the quickest ways to improve their trading. With trading journals, you can quickly zero in on patterns or habits impacting your profits, access detailed charts, filter your trades, and get reports with actionable recommendations. Trading journals are particularly effective for active and day traders. Alongside the best stock research websites, trading journals have proven to be one of the most affordable ways to take your trading to the next level.
Alternatively, you can combine a trading journal with one of the best stock screeners in 2023, and you'll see how impactful trading journals can be.
FAQs
What Is The Best Crypto Trading Journal?
By a large margin, TraderSync is the best crypto trading journal available. TraderSync has an A.I.-powered trading coach, advanced crypto trackers that include detailed entry and exit points, MAE & MFE, running PnL (profit and losses), and more. TraderSync is fully compatible with most crypto exchanges, and you can easily import all your crypto trades.
Are Trading Journals Effective?
Yes – in the right hands, trading journals can be one of the most practical additions to your investing strategy. Trading journals are designed to help you organize your investments and discover any systematic bias you may be subject to when trading. Trading journals are also very effective in finding patterns and gaining market insights.
Do I Need A Trading Journal?
Even though trading journals are an excellent option for intermediate and expert traders looking to polish their strategies, they are not mandatory. For those reasons, we recommend trading journals for intermediate and experienced inventors who are familiar with investing, can take advantage of patterns, and can implement complex strategies.