The AliExpress dropshipping center has proven to be a valuable resource for anyone looking to start a dropshipping business with the popular AliExpress. Here is a good article from Sourcing Nova about AliExpress in general and if shopping there is a worthwhile experience.
And in this article, we're going to be exploring how it works and how beneficial it can be for your business.
It's no doubt dropshipping is a perfect way to get started with an e-commerce business, especially when you're tight on budget.
What's even now better is that the AliExpress dropshipping center makes it more fun and lucrative to begin with.
And with the current statistics predicting the dropshipping industry to reach a market valuation of $557.9 billion before the year 2025 makes it more intriguing.
Running a profitable dropshipping business revolves around 3 important factors and this include;
Product
Supplier
Marketing
All three factors must work hand in hand if you want to be successful with your dropshipping business.
First, you need a unique product that is guaranteed to sell and secondly a reliable supplier to fulfill your order and finally, a market to sell your product.
If I must say, these 3 steps have led to so many people quitting their dropshipping business even before they make their first sale.
The AliExpress dropshipping center, however, helps to tackle this challenge by providing over 60% of what's needed to be successful with your dropshipping business.
Using the platform gives you access to top-performing products on the AliExpress website, and also provides you with their best suppliers.
Best of all, it's totally free.
All you need to do is activate your account and you'll be granted access to the AliExpress dropshipping center.
So read on to see what's in store for you
What is AliExpress?
AliExpress launched in 2010 by the Alibaba group is a robust marketplace with a wide selection of products and over 60 million active buyers.
The platform facilitates small businesses selling to customers all over the world and almost anything can be seen for sale on the website.
Product prices are very competitive because most of the sellers on the platform are overseas manufacturer
This, however, made AliExpress a perfect platform to source dropshipping products at a ridiculously cheap price because of its competitive nature.
What is AliExpress Dropshipping Center?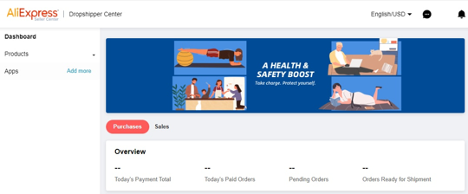 The AliExpress dropshipping center is a product analysis tool that lets you source for winning products across the AliExpress website.
This same tool is also known as the  AliExpress booster program and it's primarily created for dropshippers and users that order products in mass.
The aim was to provide the best products on AliExpress to these users so they can keep coming back with more orders.
With this tool, you can do so much with your product research; you can find hot selling product using several filters such as;
Product keyword
Shipping condition
Product video
Delivery time
And much more…
So basically, the AliExpress dropshipping center focuses on two features which include hot selling products, and product analysis.
How Does AliExpress Dropshipping Center Work?
This tool was created for dropshippers using AliExpress to source for unique products to sell, and it also comes with better advantages based on your level of dropshipping.
So the more you use the more discount you'll get. But its main features include hot products and product analysis.
#1. AliExpress Hot Products

The winning product tool being the primary feature gives you many options when it comes to finding the perfect product to sell.
You can search for the right product to sell using the available filter option on the platform.
If you are a fan of niche products, you can search for winning products in your chosen niche and you'll be provided with top selling products in that category.
The search filter makes it easy to narrow down your product search to exactly what you want and they include the following:
● Location
This filter allows you to search for products based on your supplier's location and where you want to ship the product to.
So if your target market is in France, you can choose to source products from suppliers based in France and reduce your shipping cost and equally increase the delivery time.
Currently, you can ship products from China, Russia, Spain, Italy, Turkey, and France.
● Exclusive DS Price
This search filter lets you search for products with an exclusive discounted price. Products under this category are way cheaper than the normal price.
However, the price varies based on your dropshipping level. This means the more order history record you have on the platform the cheaper product you'll gain access to.
● Sponsored Product
This search category shows you top-selling products on AliExpress that are sponsored by the sellers. This will let you know the kind of product sellers are pushing on the platform.
● ePacket and Free Shipping
With this, you can search for top-selling products currently using the ePacket shipping option. These are products with faster delivery time and less shipping costs.
The free shipping option on the other hand shows you products with free shipping options but usually with longer delivery time.
● Image Search
Just like Google Image, this search filter allows you to search for products using the product image.
Perhaps you ran across an advert of a product, you can easily use the product image to search for it on your dashboard.
● Delivery Time
This allows you to source for products using their delivery time. If you want products that can be delivered within 10 to 40days, then you can find that, using this search filter.
#2. AliExpress Product Analysis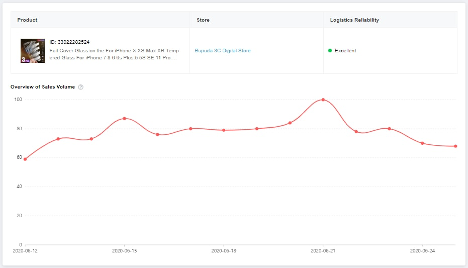 The product analysis tool lets you analyze a product by punching the product URL on the analysis tab to see all data related to the product.
Just like Google Trend, you can see how well the products have been performing over time. The data provided includes the following:
● Sales Volume
The sales volume of product analysis is analyzed from a scale of 1 – 100. So a product with higher value indicates products with high sales volume.
● Product Logistics
If you're obsessed with the timely delivery of your product, then this is one tool you need to be using. This feature lets you filter out suppliers that are reliable with their product delivery.
How to Activate Dropshipping Center on Your AliExpress Account
The AliExpress dropshipping booster program can be activated in two ways. The first is activated automatically if you've processed enough orders with your AliExpress account.
The second option has to be manually activated by you if you're just getting started. To do this, simply head over to the AliExpress dropshipping center home page.
But before that, you need to be logged in to your AliExpress account on the browser you're using to sign-up.
After that, accept their terms and agreement and fill in your correct details to have your account activated.
Once your account is activated, a new tab "dropshipping center" will be added to your AliExpress account for easy access.
Or visit the AliExpress dropshipping center URL to have you redirected to your dropshipping center dashboard.
How to Use the AliExPress Dropshipping Center to Sell Hot Products
The good thing about this tool is that it's free to use and you don't need any extra product research tool to find winning products to sell.
The AliExpress dropshipping center can be used to sell hot products in your store in two ways. The first way is using the available integrated tool on the platform.

Currently, it supports Users, Shopmaster, and Topdser. These tools allow you to easily link your preferred product directly to your dropshipping store.
So if you're running your dropshipping store on platforms like Shopify, WooCommerce, eBay, etc.
The tools allow you to import products in bulk and add them to your dropshipping store. It also allows you to fulfill your order by linking you directly to the supplier of the product on AliExpress.
The second option is by adding the product to your store manually. For this option, you can use a tool like Google spreadsheets to save your product links.
This will be the best option for users using platforms like clickfunnels for their dropshipping business.
And once you start making sales, you can easily use the same link to have your product fulfilled on AliExpress.
Conclusion
The great thing about this tool is that it's free and most importantly you don't have to dropship with AliExpress before you gain access to it.
All you need is your normal AliExpress account to gain access to the dropshipping center.
The winning products itself can serve a product sample for you to sell if you are using a different dropshipping supplier.