Pipeliner 5 puts essential sales tools at your disposal that help you gain better insights into your sales pipeline, and enable you to manage your sales process more effectively. The sales software makes sales teams more productive by automating, and facilitating repetitive tasks so salespeople can spend more time customer facing and less time administrating.
Pipeliner 5 introduces new ways that make it now easier for you to access all of Pipeliner's sales CRM features, allowing you to work faster and more productively. The streamlined workflow enables salespeople to do common sales tasks in half the time keeping everything organized and always up to date. We call this ultra-fast selling!
We upgraded what used to be the "Action Panel", into what we now call the "Relationship Management Center". From here, you have access to all SIX essential sales tools that you will need to effectively manage your customer relationships, accelerate your sales process, and win more deals. These six b2b sales tools are part of your ultra-fast selling toolkit.
Opportunity – The opportunity window gives you access to all opportunities in your sales pipeline with all opportunity details available at your fingertips, and customizable to reflect the way you do business.
Activities – The activities center integrates task management software features that help you conveniently track activities, meetings and shared tasks in real-time.
Feeds – Social selling streamlines internal communications allowing you to post messages and share files with other sales team members like on Facebook.
Buying Center – Allows you to map out the roles and political influence inside your prospects buying organization to help align your sales process activities.
Documents – Makes it possible for you to share best practice documents with your colleagues. Upload any type of file specifically to align with any one stage in your sales process.
Notes – Take notes and simply remember everything. Attach notes to anything along the way and never forget another one of your great ideas.
History – A detailed history of all customer interactions with logged activities that help you to back track changes made to the CRM software and which can easily be exported for in-depth analytics.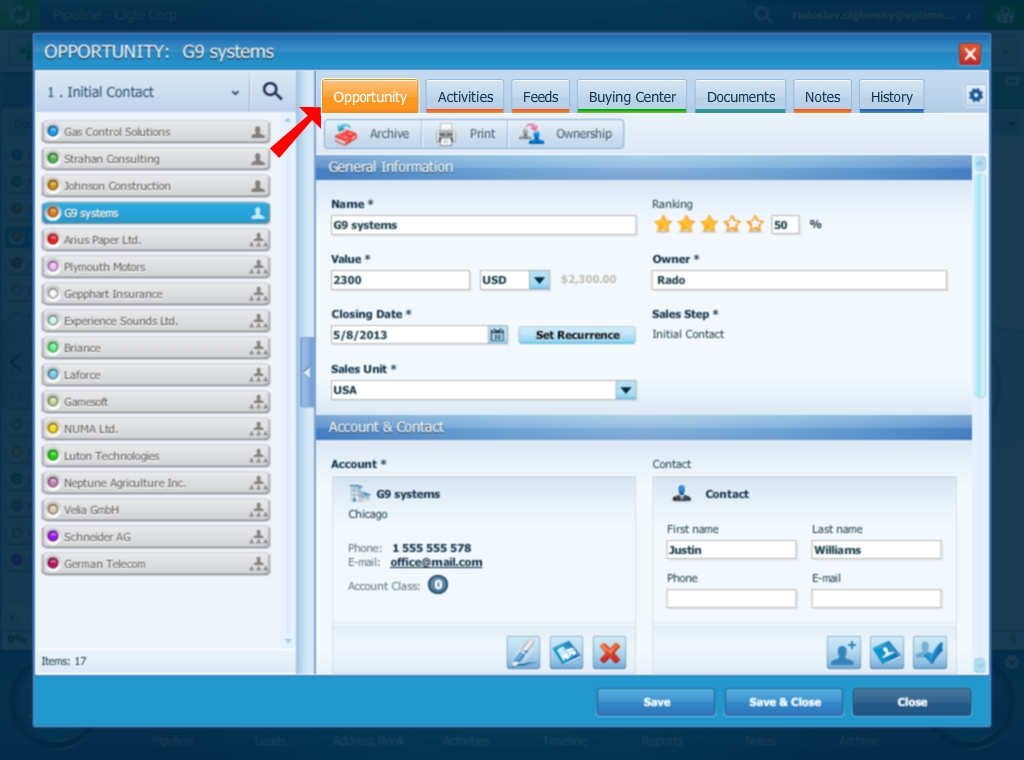 Searching Smart with Global Search
The new global search feature is really smart. It may look like a simple search field, but we have now implemented an advanced search algorithm that makes it possible to search everywhere inside the CRM software database.
A preview of the search results, sorted by relevance, appears as you type the search term into the inconspicuous looking search box. You can then further filter results by selecting to view only those items inside your opportunities, leads, accounts, contacts, documents, or activities. How smart is that?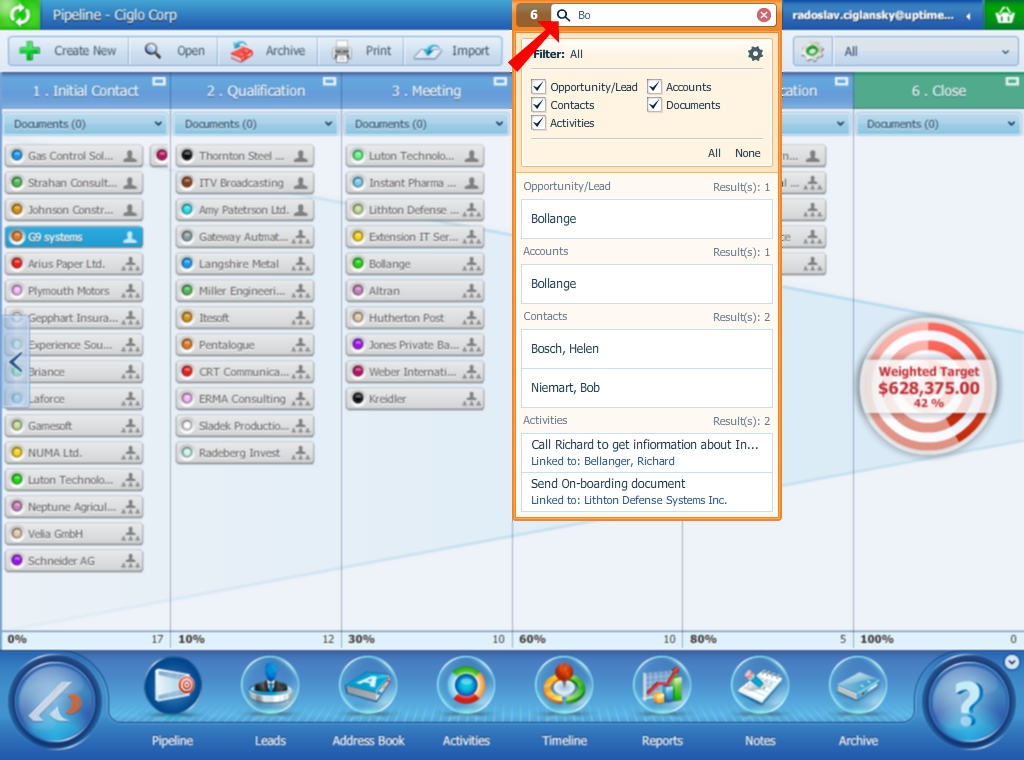 Custom Filters Enable New Views into the Sales Pipeline
Pipeliner is easy to customize to the way you do business. You can create an unlimited number of custom fields to gather the information most important to your success, and that best reflects your sales process. With the new Pipeliner custom filters, it is now possible to use custom defined database fields to filter through the data in your sales pipeline. In fact, you can now use ANY field in the sales CRM database, to filter through the data in your pipeline, customer accounts and sales leads. You can, set-up any number custom filters to help you describe the specific set of conditions by which the sales software should screen your customer information.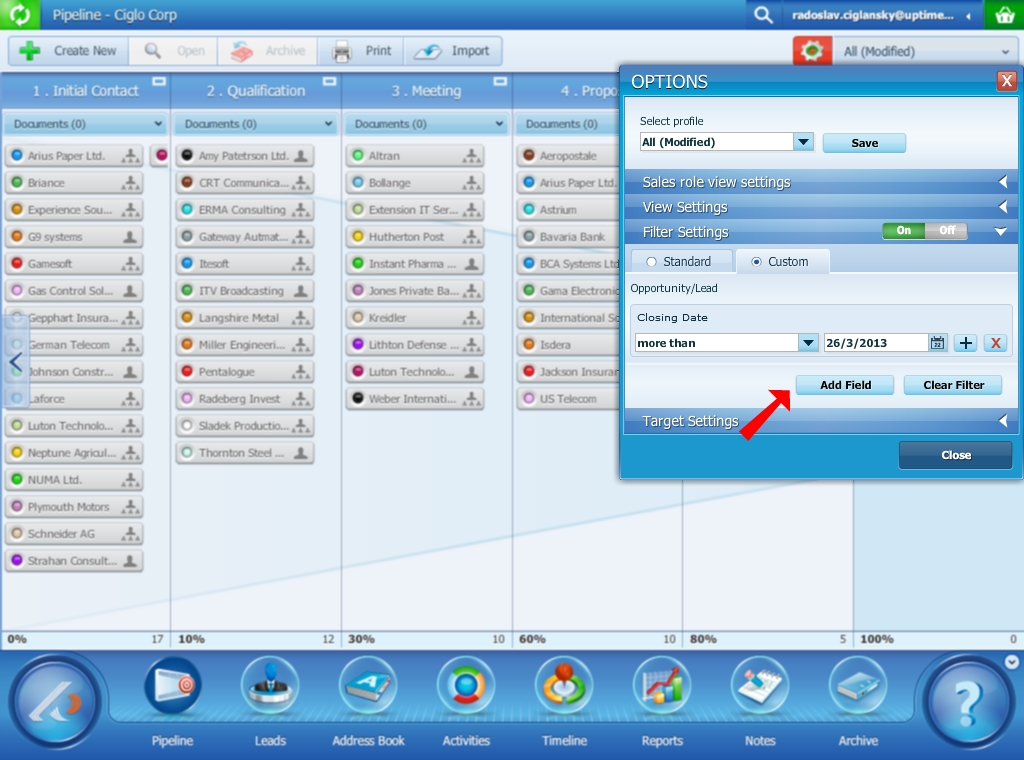 Filter settings are easily saved for one-click access from your  user profile. The sales software allows you to use custom filters to search through anything in your sales pipeline, anywhere inside the sales CRM database.
The New Activity Center Improves Team Collaboration
We entirely rebuilt p-connect, our former set of task management sales tools, to make it even easier for you to track assigned tasks, and follow activities in Pipeliner. The new activity center helps streamline internal communications and makes online team collaboration effective and fun. It functions much like a hub for all your tasks, scheduled appointments and internal messages. It helps you stay organized, always on track, and positively on schedule.
Post Messages – Enable social selling with the built-in messaging system. Discuss opportunities with your colleagues, share your status, provide valuable insights others needed them most.
Manage Tasks – Create, delegate tasks, and schedule activities using the built-in task management software.
Set Alerts – Set reminders for any task or activity to get automatic alerts and never miss another important deadline again.
Share Documents – Online team collaboration makes it easy to share documents with other sales team members and attach important files to make your point and help close the deal.
Feeds – Follow anyone and anything and get automatic updates when things get done.
Status Updates – Update the status on any of your activities and automatically push the information to your team members or anyone following your developments.
Activity Reports – Track all activities from within the Activity Center and easily generate customizable activity reports on the fly.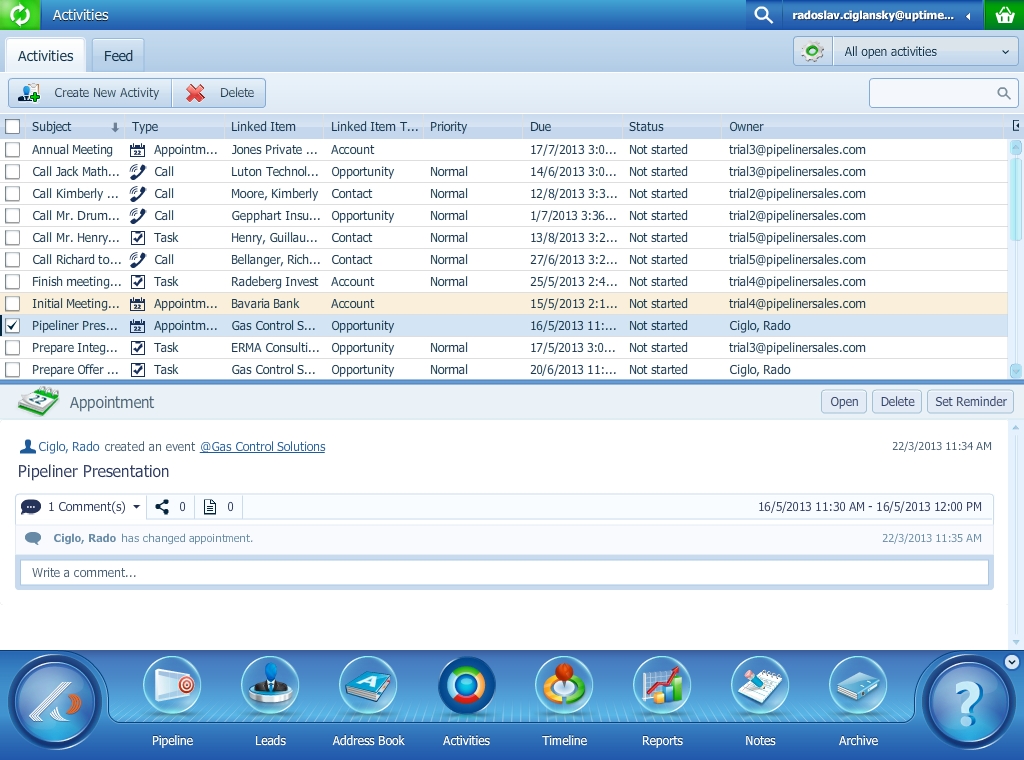 If you haven't done so already, we encourage you to download the new Pipeliner 5 sales CRM user-guide; a valuable resource that will help you get started using the sales software in record time. To get a jump start into the world of Pipeliner 5 and b2b sales, we  recommend downloading one of our Quick-Guides for easy CRM implementation. You can also browse through our Knowledge Center and further explore the many features inside our sales software, or get the answers you need to the most frequently asked questions.
Customizable Sales Reports Provide Greater Flexibility.
With the new custom filter and the upgraded report settings it is now possible to generate absolutely unique custom sales reports in only seconds.
Sales reports using Pipeliner are now generated in record time. We improved the performance of the sales software, so it now generates custom sales reports much faster. In addition to the performance improvements you can now also:
Rearrange and rename the columns in your report
Print reports to PDF
Export report data to Microsoft Excel
Easily save report settings under your profile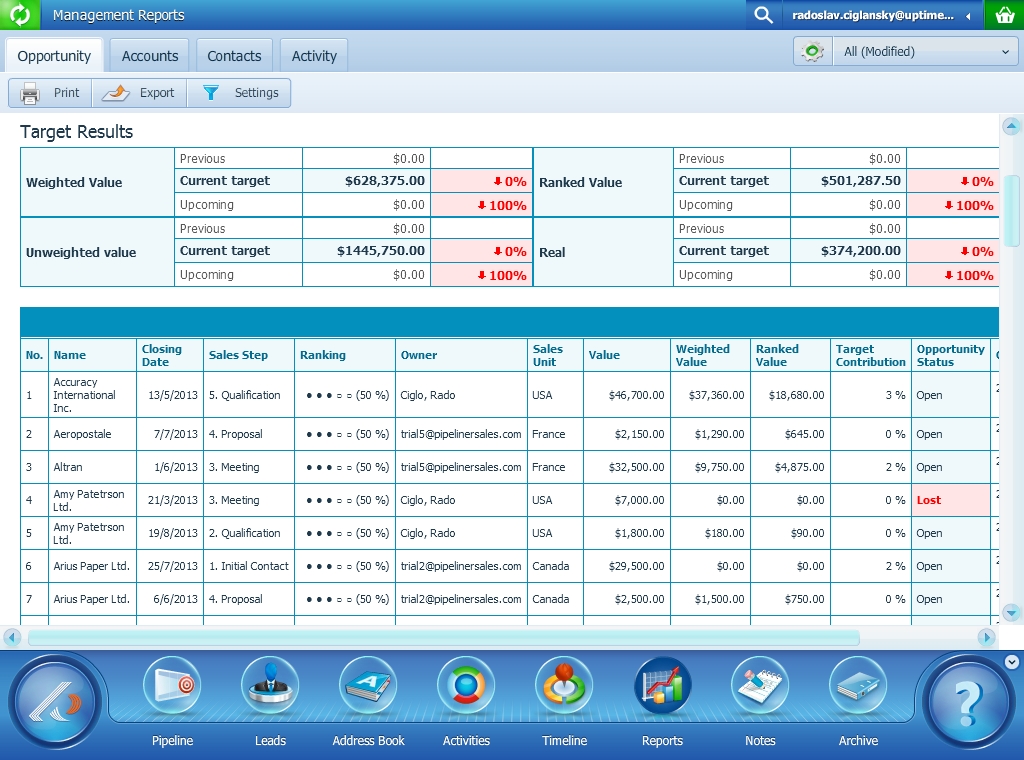 With the Pipeliner 5, you can fly through the data in your sales report! Give it a try.
Many More Cool CRM Tools and Features to Try-Out.
This was just a short overview of the innovations that we have built into this new release of our CRM software. With cool CRM tools and a host of new features that are part of this our most ambitious sales CRM software release yet. To get a feeling for how easy CRM can be, give Pipeliner CRM a try, we believe you will love it.
Get your free trial of Pipeliner CRM now.
Warm Regards,