How your CRM benefits your business?
How socially responsible is your CRM solution?
On the surface, this might seem like an odd question. But today there is a growing movement in business practices to benefit more than the company's bottom line—to benefit employees, the community, society in general and even the environment. Terms for these new approaches include conscious capitalism and natural capitalism, and another term, triple bottom line, provides three measures of a company's prosperity: people, planet, and profit.
A CRM solution is—or at least should be—the backbone of your sales operations and the interface between your company and clients. A modern approach to the choice and deployment of CRM would be to examine it in light of its number of CRM benefits to various entities both inside and outside of a company.
CRM Benefits to Users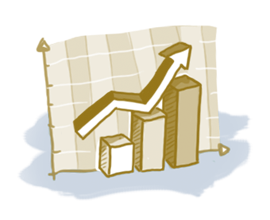 The most basic objective of a crm software application is its benefit to users. It exists to somehow make the life, job, or task of the user easier, faster, more profitable, or all of the above.
This would certainly be true of a CRM application. CRM was originally invented and exists to this day for the purpose of coordination and synchronizing of all of a company's various activities in relation to its prospects and customers.
The problem is that, as with anything, "you can't please all the people all of the time". Hence you end up only pleasing some of the people part of the time. And if you take apart the meaning of CRM—Customer Relationship Management—there is one particular area of a company that should be benefiting the most from CRM: sales. They are the creators, first contact and the front line of customer relationships.
The problem is that sales rarely benefits from CRM (just ask them). While they are required to dutifully enter plentiful data into the CRM tool, salespeople often cannot fully utilize that data in organizing, planning, and analyzing their sales activities themselves. Hence it becomes a bit of a one-way street: from the sales rep to CRM.
What if a CRM actually empowered salespeople? What if it were arranged in such a way that it was logical, intuitive and made it possible for salespeople to control every step of their own sales cycles—from lead, through prospect, to hot prospect, to close?
It would be found that if a CRM application were so enabled, it would not only provide great benefit to sales reps, but better benefit to the rest of the company using it as well.
Benefits to Customers
In recent trade articles there has been mention of CRM benefits to customers. In the context of the articles, this probably more applies to specialized CRMs to which customers interface directly for purchasing, checking on orders, and so on. But a CRM solution as described above, even without a customer ever seeing it, is of great benefit to a customer or prospect.
The reason is that a logical, intuitive CRM solution would exactly mirror a company's sales process. If that sales process has been properly established, it in itself reflects the buying pattern or patterns of its company clients. That means that sales reps, customer service reps, tech support and anyone else dealing with a client is also following that buying pattern and will end up helping the client in their interaction with the company, not just selling to them. Such activities go a long way into fulfilling the purpose of CRM: establishing and reinforcing lasting customer relationships.
Benefits to Community
Obviously most of the CRM benefits a company provides to the community fall outside the scope of a CRM solution. Does the company work well within the community and help it to survive better? Are its products and facilities environmentally friendly? How are employees regarded and treated? Is the company engaged in charitable work, work-study programs or other forms of social responsibility?
But a flexible, intuitive CRM solution can also be aligned with these efforts. Better interaction with your customer base can provide you with community endeavors which align with customer or community needs—and this type of activity can also be recorded and coordinated in CRM.
And of course if you are operating a socially responsible enterprise, you might also want to check out your CRM provider and see if they are also being socially responsible.
So take a look: how socially responsible is your CRM benefits? The more benefit it can provide, the more of a benefit your company will be in its marketplace, the community, society and the world.
Watch for further articles in our series on socially responsible business.