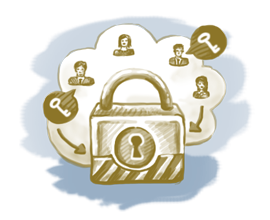 When considering a cloud CRM solution—or a move to the cloud in general—many companies still have a concern over security. A 2013 survey by 451 Research of enterprise IT professionals and decision makers revealed that security remains the primary concern relating to cloud-related activities. This is understandable, as exposure to the internet always carries some degree of security risk, no matter how small.
Despite these concerns, the move to the cloud continues to grow, as cited in our last cloud CRM article. Cisco Systems projects that 51 percent of corporate workloads will be handled in the cloud in 2014, rising to 63 percent in the next three years. They also predict that by 2017 cloud traffic will account for 69 percent of total data traffic, far up from 46 percent in 2012.
What, then, is the truth of the matter? If companies are concerned about security, why are they continuing to entrust their valuable data to the cloud? When one examines the facts, it can easily be seen that worries about cloud security are considerably exaggerated.
Boosting Security for Many Companies
Taking a look at traditional on-site security, it will be seen that it is only the large corporations that have truly robust security measures, such as data encryption, advanced firewalls, and security protocols. SMBs (small to medium business) on the other hand usually cannot afford such measures and are therefore more vulnerable to cyber attacks and data theft.
SMBs, then, stand to make the most gain in data security by moving to the cloud. Cloud providers will generally employ state-of-the-art cloud security measures so that they can obtain and keep their clients. Additionally competent cloud storage providers employ data security experts; smaller businesses cannot usually afford to hire such experts, and even the in-house personnel at larger companies often do not have IT personnel who possess that kind of data protection expertise.
Regulatory Issues
Some types of businesses have data privacy and security requirements dictated by law and are concerned that a move to the cloud would find them falling short of these requirements. Addressing these concerns is simply a matter of inquiring about them to cloud providers who, having established their operations to meet the steepest regulatory requirements, can outline clearly and precisely how their measures could apply to specific needs of your company sales pipeline management.
It can also happen that a company's clientele has strict data security requirements. These can also be addressed in the same fashion. Utilization of private cloud security for an added layer of data protection is also an available option.
Cloud Security for Remote Access
One of the benefits of a leading-edge cloud CRM solution is remote access. Today's sales force is armed with the latest in computing devices—iPhones, iPads, Android devices, tablets, and notebooks—and if CRM cannot be accessed from these devices it is not very useful.
A company that provides access to its data through the web needs to have protected web access, or else is vulnerable. Where a smaller business has not been able to employ protected web access due to cost or other reasons, this issue is immediately solved by moving to the cloud. So it can be seen that most worries about cloud security are indeed unfounded. Today's cloud CRM solution is, for many businesses, far more secure than traditional in-house measures.
How could a cloud CRM solution benefit your company? Find out by signing up for one of our free webinars. Get your free trial of Pipeliner CRM now.