Building Real Relationships Through Networking
Nov 21, 2019 / 9:00 am

-

9:30 am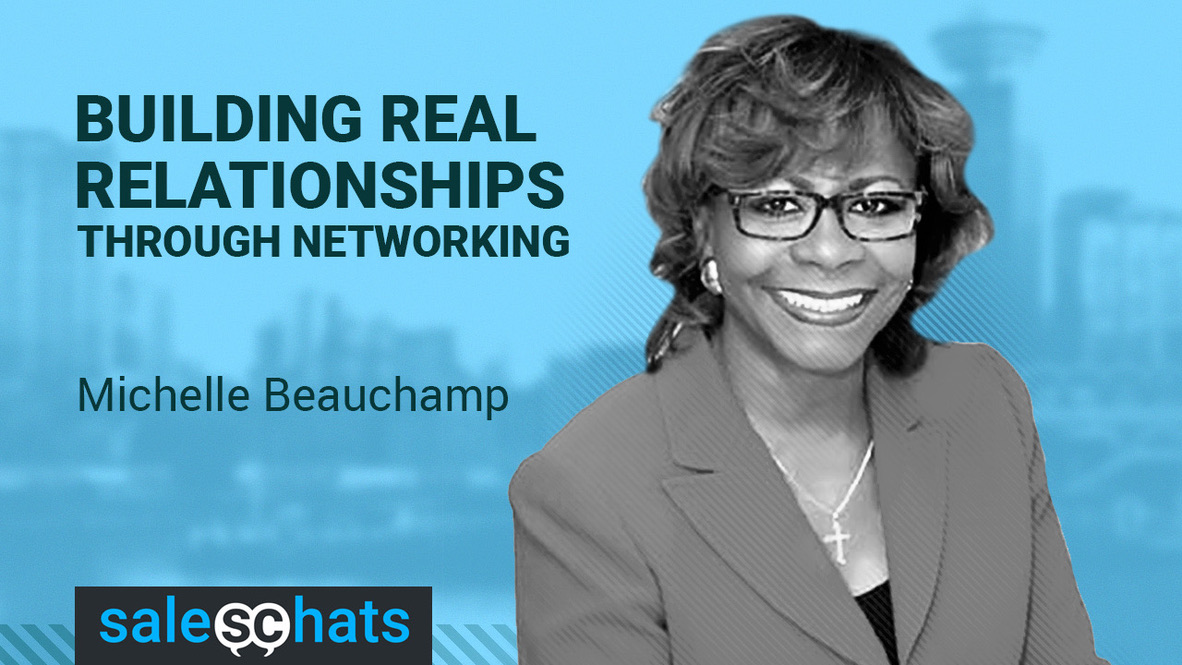 Join us for a high-energy sales chat with Michelle Beauchamp who will provide you with great insights into how to be a top networker. Michelle will uncover for you steps you may have missed when starting your networking strategy and ways to maximize the effectiveness of every interaction.
Hosts John Golden & Martha Neumeister will keep the conversation going in-person and on the hugely popular #SalesChats Twitter Chat.
There are 2 different ways to watch this #SalesChats Episode:
Register for this Event
Visit our #SalesPOP! YouTube Channel and start playing the Live-Discussion
#SalesChats and the accompanying Twitter chat are very popular ways to learn and engage with other sales professionals – join in and offer you own insights during the show.
Live on 21st November at 9am PT/Noon ET
EPISODE QUESTIONS:
Q1: Why salespeople should networking? What is the motivation behind building relationships through networking? #SalesChats
Q2: What are the most important steps for salespeople who didn´t include networking in their strategy yet to start with? #SalesChats
Q3: How can salespeople improve their networking skills to ensure they´re networking efficiently and effectively?
Our Guest

Michelle Beauchamp
Michelle Beauchamp is the founder of The Champ Group, brings her real-world experience to your business environment. Her combination of corporate sales and leadership, as well as multiple years as an entrepreneur, has equipped her to empathize with a variety of business needs and challenges.
Links › beasaleschamp.net | linkedin.com
Our Hosts
John Golden
John is the Amazon bestselling author of Winning the Battle for Sales: Lessons on Closing Every Deal from the World's Greatest Military Victories and Social Upheaval: How to Win at Social Selling. A globally acknowledged Sales & Marketing thought leader, speaker, and strategist. He is CSMO at Pipeliner CRM. In his spare time, John is an avid Martial Artist.
Martha Neumeister
Martha is a social media strategist, responsible for all social media platforms of Pipeliner CRM. She is a communication expert with social media affinity, which she has been focusing on throughout her professional career. She has a bachelor´s degree in Entrepreneurship & Management and a master´s degree in Online Marketing which supports her in her career as Social Media Strategist.
About SalesChats
SalesChats is a fast-paced (no more than 30 minutes) multi-media series that provides leading strategies, tactics and thinking for sales professionals worldwide. It can be found on Twitter (#SalesChats), as a live Google+ Hangout, and as a podcast available on iTunes, SoundCloud and right here on SalesPOP! If you think you would make a great guest for #SalesChats, please contact co-host Martha Neumeister.
SalesChats is co-hosted by John Golden, CSO Pipeliner CRM, and Martha Neumeister, Social Media Strategist Pipeliner CRM.