You're already familiar with the benefits of personalized communication for your brand. Customers are good at detecting mass-marketing campaigns which makes them ineffective, at least for the majority of businesses. If you're looking for a response from a customer, you're better off tailoring your marketing content to more specific segments.
The best strategy to personalize your marketing communication to customers involves using data analytics and crafting a detailed plan for your customer-focused content.
Here are some ways for you to implement customer-driven marketing communication:
Collect data about your customers
Try to collect as much data as possible and identify your target segments. It's only after analyzing your customers that you can create customized content for each segment. The data will reveal these segments, their behavior, and what they're looking for from your brand. With this information, you can create more compelling content that is relevant to each target segment.
To do this, you can first establish a list of attributes that you want to collect. Keep in mind, however, that sending questionnaires to customers that contain too many questions at once is not an effective strategy. It's better to send shorter questionnaires every now and then. You can also include more actions on your website to gather more personal information from your users. Each action that a user has to take on your website adds to your collection of data.
You can also take an interactive approach and post a quiz on your site, for example. You can use the quiz to categorize participants into different segments. You can then create customized content relevant to each segment's needs.
Use audience demographics
To gain a better understanding of your audience, you can take advantage of demographic data. You can take into account factors such as industry, company name and size, job title, and location. This demographic data can help you create customized landing pages and industry or location-specific coupons, for example.
Listen to your customers
Once you have collected the data about customers, it's time to analyze it and plan marketing content that resonates with your audience. Take your time to consider the objective of your content, and keep in mind that expensive content is not always the most efficient option. User-generated data has proven to be an effective alternative. In fact, user-generated content is 35 percent more memorable than other media, and it's also 50 percent more trusted.
Map out your marketing content
In this stage, you have to map out your content to the specific needs and interests of each customer segment. To encourage people to view and share your content, you must first ensure that your content resonates with your target segments. Evaluate what content is of unique interest to each segment and map these interests using a marketing funnel diagram such as the one below.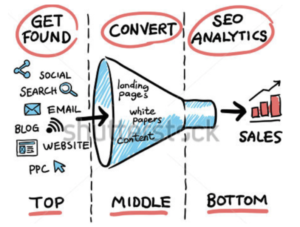 Determine what kind of content your target segments are interested in and map them to your buyer's lifecycle. You need to have a strategy for guiding your audience down the conversion funnel all the way to the actual purchase.
For example, an e-commerce website selling hiking gear might see that a user viewed tents. They might be interested in also checking sleeping bags or portable stoves to complete their gear. Use the map to plan the production and implementation of your personalized content on different marketing channels.
Use first name in personalized emails
75 percent of customers are more likely to buy from a retailer that recognizes them by their name, provides recommendations based on previous purchases, or knows their purchase history. Emails too are more effective when you utilize first name personalization in either the headline or the body. The reason is simple: it helps the reader connect with the content. This is an important factor affecting your customer's purchase decision and takes you closer to an actual sale.
Personalize the entire customer experience
You can tailor the customer experience on a website that is based on past behavior. This means that different customer segments see different content that is designed specifically for each segment. This can involve using the company CRM to tag people based on what content they have viewed and using this information to tailor your content.
Automate your marketing communication
To tailor your content for each segment, you can use marketing automation software. It's usually the case that some of your content is, for example, more technical and some of it is geared more towards business people and marketers. By using marketing automation, you can make sure that each customer sees the right content at the right time.
Know where customers consume content
You can personalize your content by identifying the topics that resonate with your audience for each marketing campaign. First, you should understand where your customers consume your content. Then, you need to create an editorial calendar based on your customers' preferred channels. For example, if your customers consume your content on a social media platform, you can analyze the social media publisher's editorial calendar and use it as a guideline for your own.
If you have trouble with producing the actual content for your marketing communication, there are tools and services that can help you make sure that your content is polished. Your content is a key determining factor for the conversion of your audience. In case your content could benefit from some enhancement, you can, for example, take a look at Grammarly, Handmade Writing, or the Hemingway App.
We hope you find these tips helpful in your task to personalize your marketing communication for your customers. It's also recommended to estimate the costs and benefits of such personalization strategies to understand how much effort is required.