The search for solid salespeople itself requires a healthy dose of salesmanship.
Much like the presentations you'll be hiring salespeople to deliver, recruitment pitches should be approached with a progression of goals in mind.
Follow the widely accepted AIDA formula – Attention, Interest, Desire, Action – to improve your sales hiring success rates and chances of having your next hire be your BEST hire!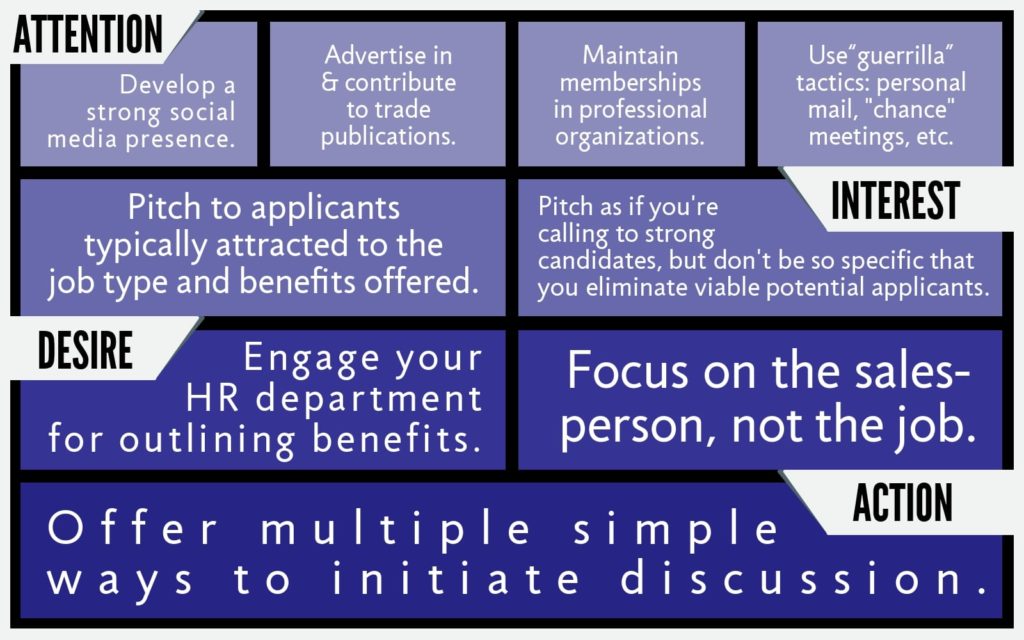 The AIDA formula
The first step in catching the best sales performers for your team is to figure out what kind of bait to use. What do top performing sales professionals yearn for? What would entice your direct competitors' top competitor to switch teams? What is their 'carrot'? Figure this out, and you will gain their ATTENTION.
Surprisingly many hiring managers fail to give this real thought, and it is critically important to know what will entice someone to make a move. High performing sales professionals are a unique breed, and they are motivated by different things than other personality profiles.
Research shows that a strong motivator to encourage that superstar in the sales world to switch teams is public acknowledgment of their success. Being recognized amongst their peers is an extremely strong motivator and compels top performing sales pros to go that extra mile. So with that knowledge, it makes sense to make grandiose announcements when you have a top performing sales pro on your team. Not only will that serve to keep your current high performers happy but will also serve as a tremendously effective 'bait' to attract other peak performers to join your team. Take out an announcement in a trade journal, hire a sky writer, shout their achievements from the rooftops.
For smaller wins that go into the big wins, such as adding prospects to the sales pipeline, be sure to utilize a sales board that shows everyone's numbers.
Other rewards that you can offer to incentivize your team, that need to be announced to the entire team to gain the maximum benefit, can be any of a multitude of rewards, depending on your sales team. Is it a day off once a month to be able to watch their kids play, prime seats to a sporting event or a concert, a month of meal delivery, or maybe a cleaning service? Take the time to ask what type of rewards would most motivate your current team. The answers are worth their weight in gold. You can also bet that the answers from your current team will be similar to those of your direct competitors in the same industry/region.
Capture the targets' attention by consistently placing your organization and its quest for stellar talent in front of attractive applicants. By announcing your current top performers' accomplishments, you will also be gaining the attention of other top performers within the market that you want to attract.
Invest in creating and sharing content that stresses not what you demand from your salespeople, but what you can offer them. When hiring sales professionals, the focus should be on SELLING your opportunity. You can vet the candidates all you want, but do not forget the very important aspect of recruiting sales professionals, and especially sales superstars, and that is how crucial it is to court them.
Create INTEREST in your company and the role of sales professionals by highlighting your strengths.
Is yours a business with established clients? Consider emphasizing steady income to appeal to salespeople with families and strong ties to the community.
Is it a startup? Appeal to young rising stars eager to accept the challenge of building client relationships in exchange for large potential financial gain and career advancement. Having the opportunity to join an organization that is enjoying strong growth, and inviting someone to 'ride the wave', can be extremely appealing.
Start thinking in terms of how you can offer what your targeted candidates most DESIRE, and you are halfway there. Create an appetite for the position by painting a picture of success with recruits in the spotlight. Show how salespeople command respect within your organization; emphasize that they receive state-of-the-art training and marketing support; that the territory is target-rich and the product is the best in the marketplace. Paint a picture that shows that salespeople are coveted within your company culture. Encourage your employees to write positive reviews on Glassdoor, which spreads the word about your company culture.
Entice targets to take ACTION by making it easy for them to apply. Invite them to click a link, email a recruiter, or telephone the hiring director. Stress the importance of acting now, rather than letting a possible once-in-a-lifetime opportunity pass them by.
To improve your sales hiring success rates and bring top sellers into your organization, you must be willing to conduct a bit of selling yourself, as Liz Ryan, writing in the Harvard Business Review, notes "If we want to hire sharp people in our organizations, we need to market TO them….We have to be willing to woo as well as vet them."