As tech companies grow and expand their business, customers start expecting more. Many customers now sign up for software subscriptions instead of installing solutions on-premises, and it's easier than ever for them to switch to new vendors who offer better features or more competitive pricing.
For marketers, the old approaches to brand and product promotion are no longer relevant, and marketing channels that were considered novelties in the past are already well-entrenched. However, the way you use inbound marketing channels will set you apart from your competitors and increase your brand recall and revenue.
Let's find out why you need to step up your inbound marketing and a few strategies you can use to grow your business in 2021 and beyond.
What is inbound marketing and why does it matter?
Compared to outbound marketing, which relies on activities such as cold calling, telemarketing, purchasing email lists, door-to-door visits, and advertising, inbound marketing is less intrusive. Potential customers are bombarded with so much outbound marketing that they are constantly finding new ways to filter out what they consider noise.
Aside from eroding customers' trust and arousing skepticism about brands, interruptive outbound marketing offers limited touchpoints. If your target audiences don't see your message at the right time and place, you lose the opportunity to promote your business.
It is also less engaging and does not let you reply to customer responses in real-time. All of these factors have made outbound marketing less effective over the years.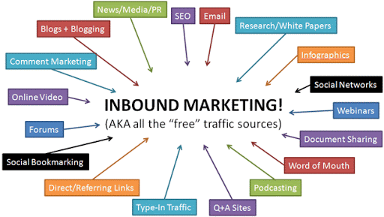 Inbound marketing emphasizes engaging customers throughout their buyer journey. It focuses on using relevant content with actionable insights to attract prospects, educate leads about your products or services, address your leads' pain points, and convince them that you have a solution for those problems. In addition, inbound marketing also involves creating content that will allow your customers to get the most out of their purchases when they do buy from you.
When you do inbound marketing the right way, you can accomplish the following:
Build trust in your business as a thought leader and a credible source of information in its niche;
Raise awareness of your brand by using SEO concepts to generate content that shows up in online search results;
Establish brand recall through well-timed messaging that addresses immediate customer concerns;
Get prospects to identify their own needs, roles, and interest levels, turning them into quality leads;
Help your customers identify your product as the best solution for their needs;
Strengthen your relationship with your customers, improve their loyalty, and turn them into advocates for your brand;
Improve your marketing ROI through the use of customer data and observing the latest web design trends to build websites that are more responsive and relevant to customer needs.
All these inbound marketing strategies tie in with the different steps in what ecommerce marketing giant Hubspot calls the "marketing flywheel": attracting, engaging, and delighting customers. While outbound marketing is still a useful tool to help sales, inbound marketing achieves the same results, but more effectively and efficiently.
Inbound Marketing Strategies for Technology Companies in 2021 (and Beyond)
Now that we are aware of the importance of ramping up your brand's inbound marketing, we can start looking at different strategies that will remain relevant in 2021 and beyond. These strategies are tried and proven effective even in the most challenging conditions for business. Ideally, your tech company will use a diverse mix of all the inbound marketing strategies we'll describe below.
Let's get started!
Gather and use client testimonials
While some marketers prefer using testimonials just before they close a sale, we think client testimonials have a place in all phases of the customer journey. They help show your prospects that other people have used your product and loved it. A good testimonial assures the customer that the product works well and will be a sound investment.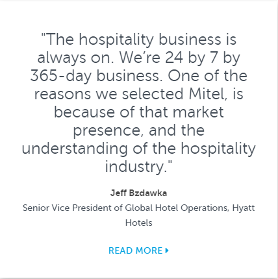 The client testimonial above for VoIP provider Mitel includes a background of the client's industry and the reasons they chose Mitel as their telephony provider. It also includes the name and position of the client, which adds credibility to the testimonial.
It's easy to confuse testimonials with customer reviews because they tell us about the customer's experience with the product. However, they are not identical. A good product testimonial will tell a story and consist of three main parts:
Pre-purchase: The client narrates the steps that led them to knowing about the product and purchasing it. They may also express their initial doubts and negative emotions about the product and the reasons for those feelings.
Post-purchase: The client tells us about the results they got after using the product and how it helped them solve their problem.
Experience: The client shares what they feel about the product and the results they achieved with it. Are they happy, satisfied, and comfortable?
How do you convince your clients to give product testimonials? Just ask! Set up an email sequence inviting past clients to give a testimonial. You can also ask them for a very short phone or video call where you can ask them a few questions about their experience to turn into a testimonial. Make sure that your client agrees to have their name and testimonial posted on your site or social media accounts to avoid any complications.
Write high quality long-form content
The usefulness of long-form content as an inbound marketing medium has been a subject of debate for a long time, mostly because many marketers believe customers have short attention spans. However, a study conducted by The Conversation reveals that the pandemic has changed people's reading habits. People started reading more because they have more time on their hands.
This is where long-form content comes into the picture. People have different definitions of the term "long-form", but for the sake of uniformity, we'll define it here as content that's over 1,200 words long.
Why should you post long-form content on your website?
Long-form content helps you with SEO: Longer content offers you more chances to add relevant keywords and backlinks that will help your website perform better in searches. It also reduces your site's bounce rate, which plays a key role in search performance.
Long-form content helps you build thought leadership: While short blogs and news stories help your brand get into the public eye, long-form content helps you demonstrate your company's expertise and positions it as an industry leader.
Long-form content increases user engagement: Because long-form content allows you to present more information, people are more likely to share and react to it. Your readers are also more likely to return to it again and again, especially if it becomes their go-to reference material for specific topics.
Now that you understand why you need more long-form articles on your site, it's time to search for relevant topics for your content. It will take time before you see results, but the benefits are worth the time and effort. You can use a scheduling app to ensure that your team adheres to an editorial calendar to create high-quality content.
Build a guest posting strategy
Along with posting quality long-form content on your site, guest posting should play a key role in your inbound marketing strategy. Guest posting, also known as guest blogging, is similar to on-site blogging, but is done on another company's website. Most bloggers do guest posts to achieve the following goals:
Draw traffic from a guest website to their own site
Develop relationships with similar companies in the industry or expand to other niches
Establish your brand identity and position your company as a thought leader
Improve their SEO profile by building backlinks from high-quality sites
Guest blogging is almost always mutually beneficial for the businesses that do it. On one hand, businesses that write guest posts get to share their expertise with others and gain valuable exposure for their brand. Meanwhile, the sites that publish guest posts offer fresh perspectives to their audience, keeping them engaged. Here's a guest post I wrote recently as an example: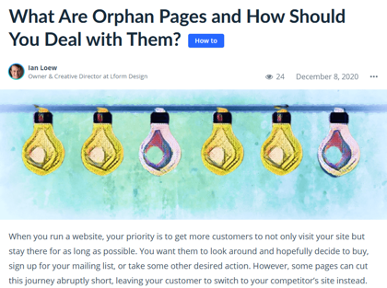 To start guest blogging, you need to search for industry blogs where you feel your ideas will find an audience. Many of these blogs will be hesitant about accepting content from a company they don't know, so you need to build a good portfolio of internal content first, then try guest-blogging with your existing partners or clients.
Once you've built up a portfolio with both internal and guest content, it's time to target suitable, non-competitor blogs with high domain rating. Domain rating (DR) is a measurement of a website's credibility and recognition in its industry.
How do you find suitable sites for guest posting? It isn't as complicated as it seems. You can find them by searching for a relevant industry keyword + "guest post" on Google. Aside from Google, you may also use a tool like Ahrefs to identify sites with high DR (try to aim for those with DR scores of 50 or higher) based on specific keywords that you'd like to rank for. Both methods will help you build a pretty extensive list of sites where you can pitch guest post ideas.
Not all technical experts are great writers. If writing isn't your strong point, don't panic – it's totally acceptable to hire an agency or ghostwriter to do it for you. If you'd like a more technical discussion on this topic, here's a good article on guest posting that we highly recommend to content marketers who want to get started.
Up your SEO game
Both internal posting and guest posting help your site perform better in search rankings. These practices are part of what we call search engine optimization (SEO). The goal of SEO is to make your site rank higher in search results for specific keywords. For example, if your data science company wants to rank for the keyword "data science", it can do the following:
Write internal posts that contain the keyword more often
Publish guest posts on relevant industry websites that use "data science" as anchor text for a link back to your site
Go into your site's HTML code and insert "data science" into the metadata
Use appropriate alt tags for media, such as images and videos, on your site
Improve your page speed (this also plays an important role in search rankings!)
Optimize your site for mobile
Fix broken links to help Google "crawl" through your site faster and more accurately
These activities should help your site do better in Google searches, and incorporating internal blogging and guest posting to your SEO strategy will only boost your search ranking further, increasing your traffic and improving your chances of getting new customers. While it costs very little to start doing SEO, it's better (and more cost-effective) to partner with dedicated SEO specialists who know what it takes to get into the first page of Google results.
Organize a webinar
Webinars (a portmanteau of "web" and "seminar", or a kind of online workshop) make it easy for you to raise awareness of your brand and its products to a wider audience. They engage your audience, allow you to interact with participants and answer their questions in real-time, and generate high-quality leads – people who are more likely to make a purchase from you. This year, webinars have often taken the place of industry events, most of which were canceled because of the pandemic.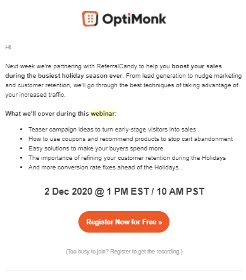 To make your webinar successful, choose a topic that your company is really strong with. For example, if you run a cybersecurity company, you may hold webinars on basic cybersecurity principles. You may even divide your topic further into different segments, such as banking, education, and marketing, to allow you to deliver more relevant content to your target audiences.
It doesn't cost a lot to host a successful webinar. As long as you have good presentation content, a working webcam, and a microphone that captures your voice well, your audience will be able to see and hear you. For more effective webinars, you will need to avoid hard-selling your product right away. Instead, focus on addressing your audience's concerns and giving them useful and actionable content, then invite them to join your email list after the webinar.
Supercharge your email marketing
Outbound email marketing has a less-than-stellar reputation for being spammy, especially when the email content is not targeted at the right audience. However, did you know that quality email marketing can also form part of an inbound strategy?
While outbound emails involve clicking the "send" button and hoping that someone will reply, inbound marketing involves segmenting your mailing list and sending highly targeted content. It's different from a cold email in that, with inbound email marketing, you already know that the recipient is already interested in your brand and solutions.
Most of the email contacts you'll use in inbound marketing come from previous transactions, newsletter sign-ups, webinar registrations, content downloads, or blog comments. These customers have already engaged with your brand before and are aware of what your solution can do. You need to use effective email segmentation and targeting to ride the momentum and keep the relationship going strong.
For example, we signed up for an Introduction to R program on edX back in October. The following month, we received the email below: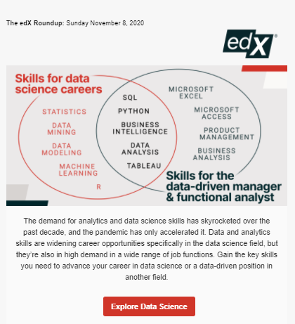 edX knew that we were interested in data science because we signed up for a course in R, a popular statistical language. The website used that knowledge to offer us other courses related to the subject. While we don't have time to study all the topics above right now, we do intend to go back to edX and sign up for more courses one of these days.
Here are some more elements of high converting email copy:
Subject line: There are very few set rules for subject lines. You can either be formal and straightforward or be creative. You can even use emojis in your subject lines to increase your email open rate. Use A/B testing to find out which subject lines work better for your brand.
Personalization: Your email should speak to the recipient as an individual. It should go beyond just using their name in the subject line and greeting line – you should consider the recipient's industry, position, age, and interests when deciding what to send them.
Voice: If you've already defined a brand voice, you may use it in your email copy for the sake of consistency. If you don't have one yet, look at how your peers are doing it or take a cue from your blog content. What matters, though, is that your email copy sounds similar to the way you write and structure your existing content.
Call-to-action (CTA): Your email should state what you want your audience to do, such as "Download the free report now" or "Try LinkedIn Premium free for one month" or "Book a Call" with an online scheduling app. You may use as many as three CTAs in an email, depending on where the recipient is on the customer journey. When you add a bit of urgency ("Sale ends in three days!"), your click-through rates go through the roof.
Few email marketers get their campaigns right the first few times. You need to test different combinations of email copy, subject lines, and CTAs to find a style that resonates with your audience.
Wrapping up
The technology industry is becoming increasingly competitive by the day, and tech businesses constantly churn out new products with more advanced features and promote those products very aggressively. While you should still use outbound channels to market your brand, you need to step up your inbound marketing to set you apart from your competitors and attract high-quality leads.
Inbound marketing strategies for tech companies include using client testimonials, long-form content, guest posts, SEO, webinars, and email marketing. Each of these strategies act as a magnet for potential customers with particular pain points that they need to solve.
The highly targeted nature of inbound marketing makes it very efficient in converting prospects to customers. As long as you keep testing and improving your inbound marketing strategies and methods, you can expect to see better business results soon. Good luck with your inbound marketing!