The status quo must change. It's time to move from spreadsheets to sanity.
Sales organizations have long struggled with ways to systematize their business– to track and manage everything effectively — all in one place. In a digital world, this is more complex than ever.
With this release, you now have a way to completely track and manage your sales process from visualization to monetization — from within your Pipeliner application — with the Pipeliner Selling System.
It's a selling system that directs and focuses the entire sales team from lead to close — and beyond — aligning sales, marketing, and work tools.
Introducing the Pipeliner Selling System
Pipeliner is streamlining the sales process with a selling system that makes an entire organization productive. Here's how:
FOCUS — Opportunity Information, Compact Account View, and Visual Pipeline separate the signal from the noise in your sales process so that you can focus on what's important.
ENGAGE – All key Sales Steps, a Visual Task Board, and Integrated Communications enable you to track and interact with buyers and your internal team.
CONVINCE – Sales Tools (documents and collateral) available from a familiar file system at the right time. Integrate with Email, Calendar, Social Networks. Automatic Contact Profiling. Visual Org Chart and Buying Center help you better understand the people and organizations you sell to.
CLOSE – Move your newly-won customers through Multiple Pipelines (including a post-sales pipeline), keeping all customer details intact on the Contact Record and Account Record. We prepare you to nurture the ongoing sales relationship.
COOPERATE – Keep track of Key Customer Metrics, Customer Milestones, set Engagement Alerts, map Personnel Changes in The Buying Center, track Support Issues. Stay in sync for future sales.
Imagine — you are now visually orienting your activities process — from creation through close.
A directed process  — How should your salespeople spend their time with the prospects and customers in your sales pipeline? What to do, when, with whom?
Stages that make sense – How do your buyers buy,  and how should you interact with them at each Stage?
Activities that move the Opportunity forward  – What cues and prompts should guide and support each action?
Actions to support Activities –
The Features of the Pipeliner Selling System
Guiding Sales Steps with a To-Do List
You now have a way to augment each Sales Step with a checklist of Activities (To-Do's) that reps must complete in order to move an Opportunity from one Sales Stage to the next. This checklist-based approach is unique to Pipeliner CRM — it's not found anywhere else.
Set your checklists to required or optional — the approach is designed to help minimize risk and increase predictability. It comes with a handy status indicator to keep everyone on track.
Choose Your Checklist Tactic
You can set up the Sales Step Checklists 3 ways (in Admin Settings):
Text-based To-Do's (e.g., "Yes" or "No" to "Shared the product video with the prospect." or "Sent invitation to a demonstration.")
Activity-based To-Do's (Checkmark for straightforward completion, e.g. "Confirmed Trial as Active" or "Scheduled Appointment")
Field To-Do's (Fill in Blank, e.g., "Number of Widgets Requested," "Scheduled Date of Shipment")
Activities: A New View
Tasks and Activities now mirror your pipeline flow. Drag and drop as usual. Columns indicate status: Not Started, In Progress, Waiting, Finished, Deferred
Toggle from simple to complex view of each Task.
The previous Activities views remain — this additional functionality adds focus.
Why Does This Matter To You?
A sale is not won or lost at the close — it's the residue of all the steps in a spotless sales process. When you're informed by a process, when the minutia is out of the way, when you don't need to reinvent the wheel again and again — you're in a position primed for success.
What Else Is New in This Release?
Auto-Populated Accounts and Contacts
When you enter an email address for any Contact or home page URL for any Account, Pipeliner automatically searches for and fills in the Contact or Account record with publicly available information like: avatar, address, title, social media accounts, and more, saving you time and effort.
Pipeliner will only return data when there is high probability of an exact match (no dirty data!).
Starting today, we're sending out the first round of invitations to give this feature a try. If you do not receive the invitation, please click here to get an invitation as soon as more become available.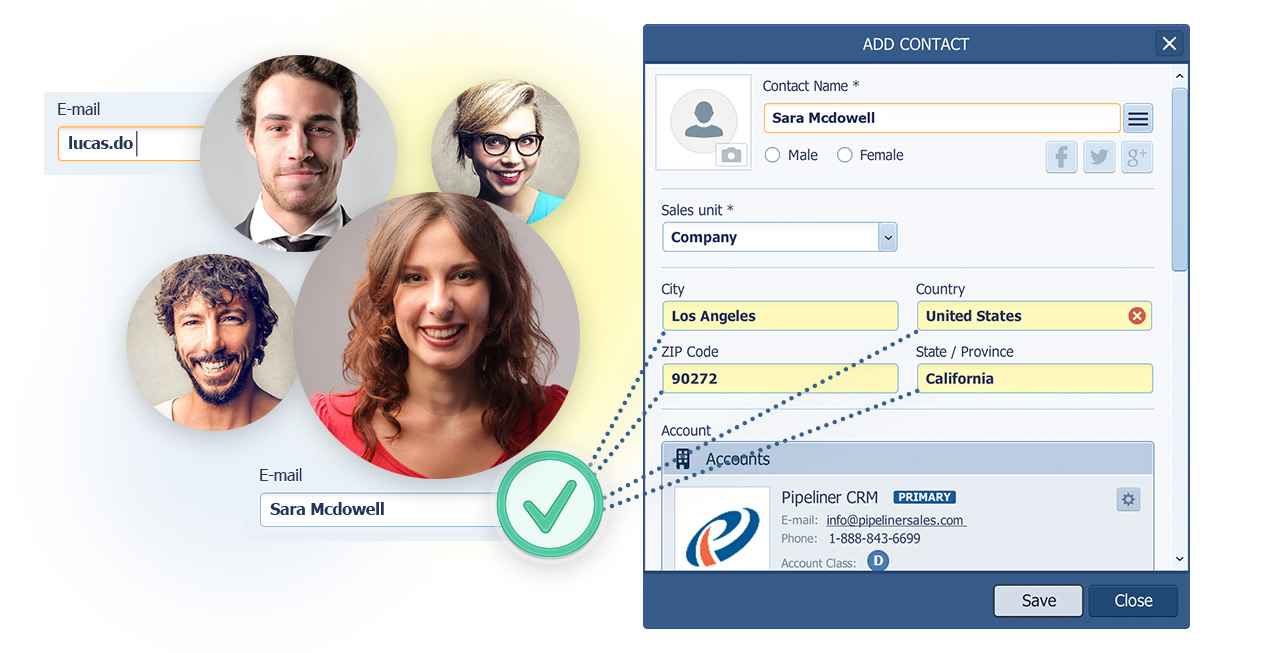 More Powerful Reports
We've made several key enhancements to Report management:
Drill down into individual Opportunities inside Reports (Time-saver)
Group Reports in folders (Familiar file structure)
Drag and drop Reports to folders (Just like in the Pipeline View)
Sort a Report by any field available (Click the header).
No More Manual Sync!
Now, the server detects your Internet connection and updates instantly between your local machine and the Cloud — on a near real-time basis. The system will sync automatically at application opening, and data transfers exponentially more quickly than ever before.
How Pipeliner CRM Is Unique
With this release, we take pride in listing the approaches and features that make Pipeliner CRM unique and game changing for sales organizations.
Our Unique Approaches
We're Unique Because We've Put Philosophy into Practice — Pipeliner is built on proven business principles — and our product reflects those principles in the practical result — a sophisticated, streamlined selling system. For us, it wasn't about stacking the database and calling something a CRM — we've applied the best thinking around sales, and incorporated all the best features of big Sales in an affordable, manageable package for the small and medium business.
We're Unique in Our Commitment to Visualization – Visualization is not just pretty dashboards. Visualization is a way to enable humans to work better by using the science of brain function. Everyone on the planet speaks Visual — it's the universal language.
We're Unique in Our Pipeliner Selling System – We embed a selling system right into our product — a game changer for your sales process. The Pipeliner Selling System continues our commitment to keeping our product and brand rooted in the practical approach to philosophical principles.
We're Unique in Creating a CRM that Works Online or Off.  Connectivity can be spotty. Companies are increasingly security conscious, and on-site access to the Internet can be prohibited. With Pipeliner, you are not dependent on being connected in order to work on your full system. Automated sync (in microseconds of real time) means you are always working on the most recent version of your system.
We're Unique in Our Commitment to Education. We are the only tool in the world that offers real help directly within the app with hovers and pop-ups — and the Help Center available from within the app, as well.  This initiative joins our Sales Reference Library, partner resources, and our award-winning sales blog.
Our Unique Features
Our Sales Archive Is Unique – Analyze sales to improve future behaviors. Instantly rejuvenate a sale any time. When you know what works (and what didn't work) you can lower risk, adjust best practices at any Sales Stage, and coach with dart-like focus.
Our Task Board Is Unique — Connect your Activities across all functions (Can you say "project management"?) in an easy drag-and-drop board available to everyone. Everything has a status; nothing gets lost.
Our Pivot Table Feature Is Unique –  You can get different value out of your data — just change the view and dive deep for rich insights.
Our Useful, Responsive Sales Targets Are Unique – Salespeople and Sales Managers keep focus exactly where it belongs — on the revenue. The five Targets are always in view.
Our Visual  Org Chart and Buying Center Are Unique – Understand your client or prospect's organization, manage the messages and the tasks needed for each stakeholder, give your whole team a full view of the landscape.
Our Multiple Pipeline Feature Is Unique – Multiple Pipelines consolidate and connect teams. One database, multiple options for organizing your sales. Systematize your segments (inside/outside, by territory, etc.).
Our All-Encompassing Pipeline Concept Is Unique – Keep everything in one place — documents, filters, views, details — for a super-efficient sales process.
Our Flexible, Instant Reporting Is Unique – Our Reporting function is democratic. Now everyone on the team can use reporting to inform the sales process. Create a report from every screen, instantly. Tremendously time-saving when anyone on the team can take what they need from the data.
Our Sales Stage Activities Checklists Are Unique – For the first time in a CRM, you can set a Checklist of actions that must be completed before an Opportunity moves through each Sales Stage. It's motivational and fun for your team.
We believe that the best systems for the job at hand are ones that have thought through an entire process, taking a practical approach guided by principles and rising above technology for its own sake. That's been, and will continue to be, our mission at Pipeliner CRM.
As always, we want to express how grateful we are to our user community for their support and feedback.
Links of Interest: